With Menu 2.1, the Purchase Order workflow will be illustrated on the left-hand side of your screen. Flowing down from the purchase request stage all the way to payments.
Each menu listing screen will have its own unique substeps and 'Actions'. On each page, the usual filters will stay available as well as the edit multiple and download options.
Note: The Submenu "Purchase Orders -> All" contains all statuses after approval. "Payments -> All" is the final menu item and also contains all statuses.

edited 13 July 2020: There is currently a bug on "Purchase Orders -> All" that prevents users from seeing cancelled and paid POs. This will be fixed within the next 2 weeks.
Below is a screenshot of the menu on the left and the new look finance dashboard.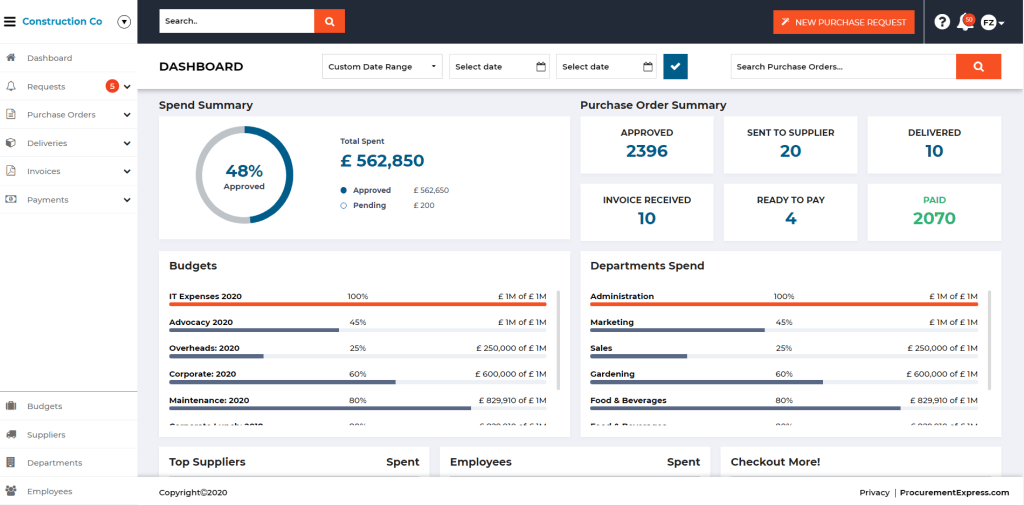 How does the search function work?
There are 2 different search boxes with different functions.
Global Search
Listing Page Search
Global Search
The global search box is located on the page header. This search allows you to find any request or order in the app. You can search for budgets, suppliers, PO numbers, requester, PO status, etc. When you click on a result, the relevant PO will open.
Listing Page Search
This search box is located on each listing screen and delivers the results for the filters that you have active. For instance, if you are currently on "Purchase Orders -> Cancelled", and search for a specific supplier, you'll get the results for that supplier with the cancelled status only.
Pro Tip: If you know the PO number you're searching for, there is an easy shortcut to find that PO. Simply open any purchase order and replace the PO number in the URL with the PO number you're looking for -> Press Enter. This will open your PO in question instantly.

Here are those menu workflow steps with substeps (or statuses) in more detail:
Requests
Drafts
Pending
Rejected
Cancelled
Archived

Purchase Orders
Approved
Cancelled
Archived

Deliveries
Undelivered
Partially Delivered
Delivered
Cancelled
Archived

Invoices
Invoice Received
Ready to Pay
Cancelled
Archived

Payments
Ready to Pay
Paid
Cancelled
Archived

Get in touch if you have any questions or need help navigating the new layout. Email: [email protected]