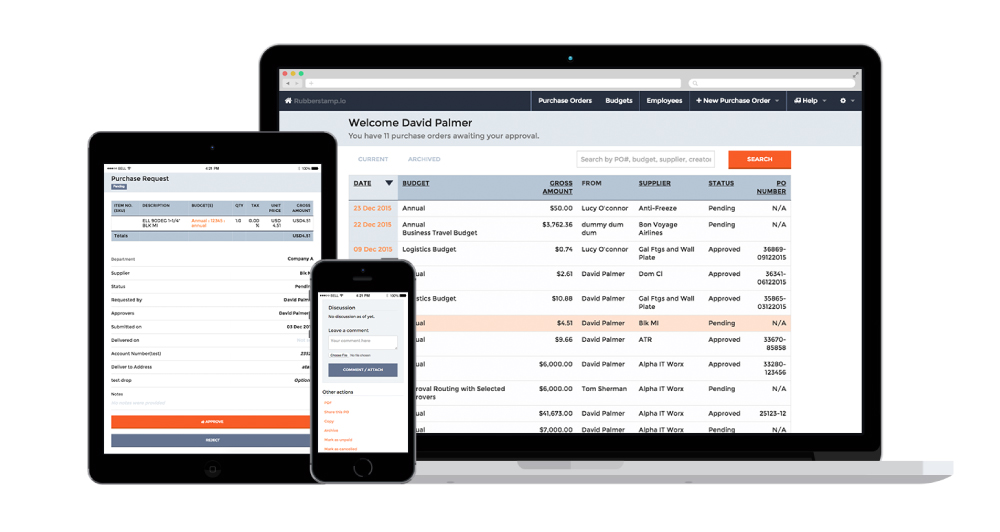 Often little things like purchase orders and subcontract bills get swept away in the bureaucracy of a manager's day, leaving behind a trail of unhappy workers and inefficient budgeting.
Add to this, company fraud + slow purchasing cycle and you will soon see what is so great about Procurementexpress.com. We take care of all that.
The app that lets you control spend from anywhere, allowing easy access to payment approval and budget management. Say goodbye to messy spreadsheets and hello to a new world of optimized spend control. But don't take our word for it. Over 900 users already prefer Procurementexpress.com, and some of them have taken to posting their opinions on Capterra.com.
With a 60 second sign-up and no download required, companies have found Procurementexpress.com so easy to implement and users start adopting the app amazingly fast.
Tricia Napolitano, Director of Accounting & Administration at TBG Homes rates Procurementexpress.com as being "easy to use and understand", as does Tonya Dibelius, Accounting Manager at Buechel Stone Corp, who is happy to report that the app allows all users, "even those that aren't very computer savvy", to utilize it without difficulties.
What's more, all your info is stored in the cloud, which means that you can access it from any device connected to the Internet. "Staff likes it because of the quick turn-around", says Ann Haselbach, a Controller at Boys & Girls Clubs of Monterey County. And with managers being able to approve, reject or comment on PO's straight from their e-mail, you can rest assured that no purchase will go unseen.
Sustainable procurement is an important factor in today's modern working environment. The Lead Graphic Designer of SPUD.ca, Jaron Mader considers that "as a green company it's important to save on paper – with Procurementexpress.com we are able to track everything to the day, store our PO's electronically, access them from anywhere, and save time and money".
Nate Kent, a Manager at Piehole, also appreciates going paperless, deeming it "a green solution" that "makes it easier to trace any previous purchase orders". Turns out you can be efficient and eco-friendly.
With support available online 24/7, we're here to help with everything from configuring the app to training your team.
"The support for the product has been great, with quick answers and bug fixes", says Michael Saffell, an Assistant Director of Engineering at WMUR.
Our on-boarding team will do the legwork for you, from importing budgets,  to loading suppliers and employees, we want to get you on the road to complete spend control asap.
"With all software there will always be things that you want to change", notes Tim Cooper, Finance Director at FN6, "what was impressive about Procurementexpress.com was the speed and willingness to make alterations based on our specific requirements".
Finally, for a feature-rich program that keeps your budget in control, Procurementexpress.com doesn't require much of an investment. Tonya Dibelius found the price to be "very reasonable", while the many companies that have already chosen to work with us are a testament to the good value offered. These companies have realized that switching to Procurementexpress.com will minimize purchasing errors and fraud which will save you 10c on every dollar spent.
As you can see, our customers' testimonials veer towards the positive side of things. Far from letting that go to our heads, we believe that anyone should be able to try Procurementexpress.com before making a purchasing decision. This is why you can sign up to use Procurementexpress.com free of charge for 14 days, with no obligations and without having to fill in your credit card information. Try it out today and take the first steps towards gaining full control over company spend.