Procurement software has shifted from a "nice-to-have" to a "must-have." Here's a look at EcoLab Recovery.
With construction teams, especially, the ability to automate the purchasing process and store records in a cloud-based system is a game-changer.
Procurement is no longer just placing orders. It's a strategic process that democratizes information and boosts efficiency.
Julia Harper and the team at EcoLube Recovery, or ELR, know this.
The company has been around for nearly two decades but recently went through a change in ownership. Since then, they've incorporated ProcurementExpress.com and have started to see the benefits of an automated, cloud-based purchase ordering system. While ELR primarily specializes in re-refining used oil collected from industrial companies, they recently started taking on construction projects, too.
Julia says they were inspired to start using the software as a way to keep track of the costs linked to those projects. These days, ELR uses ProcurementExpress.com for all POs.
We spoke with Julia, an accounts payable specialist at the company, who shared her thoughts about the software from an accountant's point of view. Here's a look at how it's helped Julia and ELR thus far.
[content_upgrade cu_id="4126″]Download 5 ways ProcurementExpress.com helps construction teams prepare for audits[content_upgrade_button]Click Here[/content_upgrade_button][/content_upgrade]
Moving to the Cloud: Saving Paper, Saving Time
The solution was rolled out in June 2018 when the company had no purchase order process in place. Before, Julia says, employees submitted purchase orders via email, verbally, or by way of a makeshift spreadsheet.
For accounts payable, that lack of documentation can spell significant headaches down the line. Every invoice required an emailed request for the original PO. Julia had to print backup POs for every transaction to match pricing, coding, and terms when invoices became due.
Accounting teams need the full picture to release funds. Otherwise, companies get stuck paying for products they never ordered or never received.
Without the cloud, accounts payable is left searching for old emails, hard copies, and sending out a lot of requests for more information. There's a lot of back and forth, and a lot of time and paper wasted in the process.
Julia says removing that printing task is one of the most notable improvements she's experienced. Paying invoices is smooth sailing, and Julia's job has evolved so reviewing POs is done in a weekly audit, rather than on an as-needed basis.
She says she reviews every PO that has not already been archived. Any red flags or questions, she can add a comment, and the requester will receive a notification right there in their inbox.
ProcurementExpress.com has a searchable archive, and records stay there pretty much forever. What's more, Julia says, "when they have a company audit, all relevant information is right there."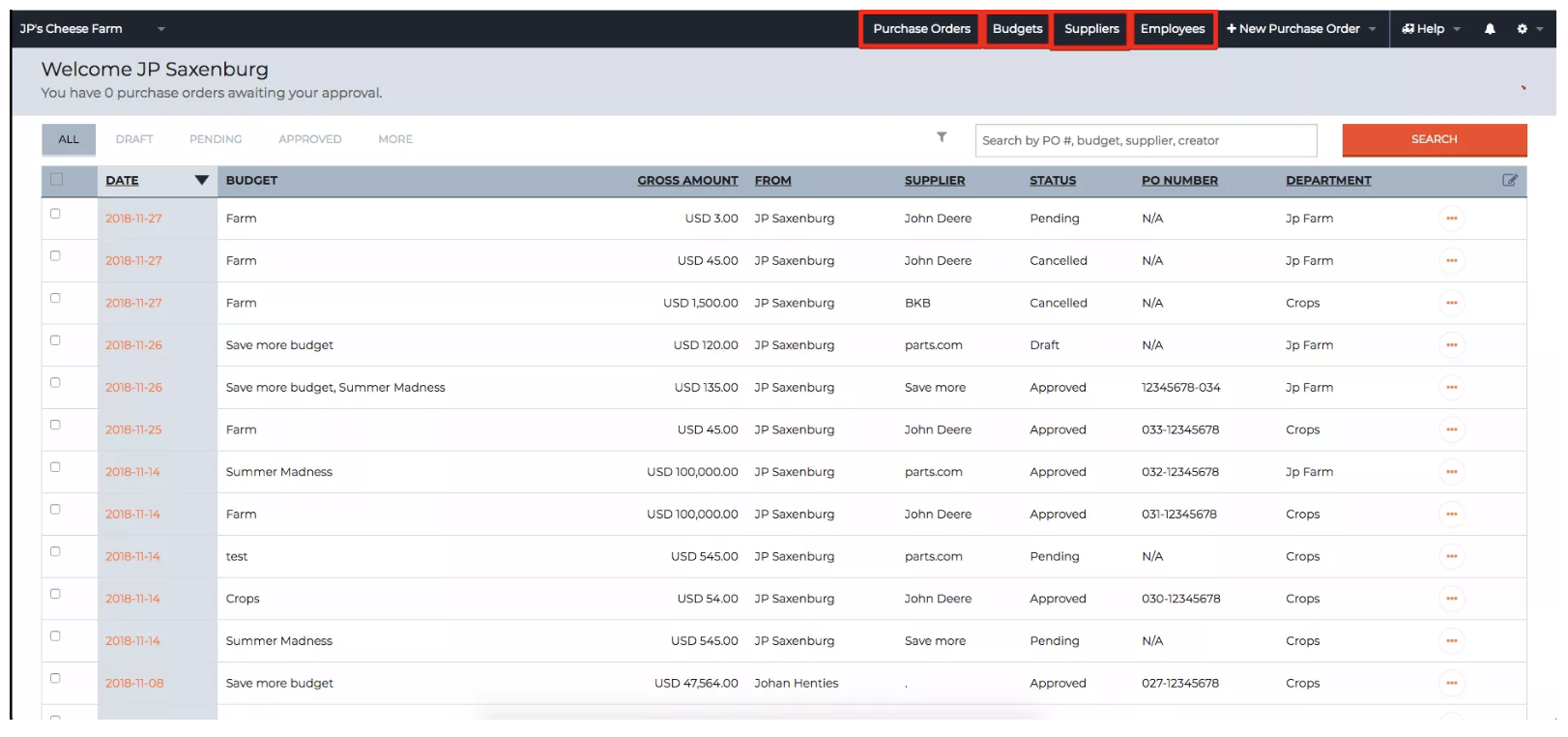 As it stands, ELR is a relatively small company. Julia says the CEO sets limits on orders, access permissions, and who can place an order. She is the system's administrator, and any time a new manager comes on, her job is to create an account with permissions determined by the CEO.
What it looks like on the admin side:

Because the company is so small, ELR doesn't have a multi-tier approval chain. In most cases, staff with ordering permissions have the leeway to use their judgment.
Julia also mentioned the benefit of being able to communicate directly with the requester without having to worry about losing track of an invoice or order. The app allows you to pull up records with a keyword search.
During our call, Julia said the software has been particularly effective for correcting mistakes. Someone might say, "do you know how I coded X, Y, Z? I put it into the PO incorrectly." She can search by vendor, then user and make the required changes.
With other invoices, Julia can review memos or notes, and comment when something isn't filled out correctly.
These little changes can now be performed during miniature audits, whenever she has time. That communication thread makes it much easier to ask questions about purchases in real time, not a month later after the requester has long moved on.
Anyone who has worked with an accountant knows they sometimes ask for information other departments don't think is relevant or necessary. Things like coding, vendor details, price, description, can easily fall to the wayside when quickly submitting a PO.
Julia calls ProcurementExpress.com a "great translation tool for trying to speak to an accountant from the perspective of someone who is not an accountant. You can translate what a manager wants into what an accountant needs."
[bctt tweet="Julia says ProcurementExpress.com a "great translation tool for trying to speak to an accountant from the perspective of someone who is not an accountant."" " username=""]
She explained that she gets all of the data she needs right away, in many cases. And is also given many opportunities to get all of the info she needs. Things like price, description, vendor, and so on. Julia says she usually has to ask employees for this information and this program forces them to tell her ahead of time.
The main reason ELR implemented ProcurementExpress.com was, the company experienced an influx in new construction projects. The software allows them to project costs they will incur related to those projects.
Julia says the team hasn't implemented ProcurementExpress.com's budgeting features, but she says they'll start attaching limits to specific projects later in the year.
The app's budgeting feature can group spend into projects, so you can set budgets by project and get a real-time view of orders, deliveries, and payments. Cost-codes and cost-types allow you to categorize items, which allows more control over spending.
On a broader level, they're looking to set a baseline. They're not quite at the point where they have a ton of data that shows how the software has saved them time or money.
The big goal is to use all of this data they've accumulated through the purchase orders. Then they can look back and say, "This is how much it looks like certain things are costing and being able to tie that back to our accounting software."
Wrapping Up
If someone were on the fence about trying ProcurementExpress.com, Julia encourages them to "look at the value added, the possibility."
"The functionality works well for small business settings," she adds. "It's great for a small company where everyone is on a first name basis—100, 200 people tops."
The software has been an effective solution for ELR, allowing them to keep order data clean and organized. And while they haven't fully implemented the platform, the plan is to start integrating the other features later in the year.
In the end, the tool is "only as smart as the people using it," says Julia. She adds that her job has changed for the better. Audits are a faster, once-a-week process she does on Fridays after printing checks. Still, she says she sometimes has to remind people to use the platform correctly.
About EcoLube Recovery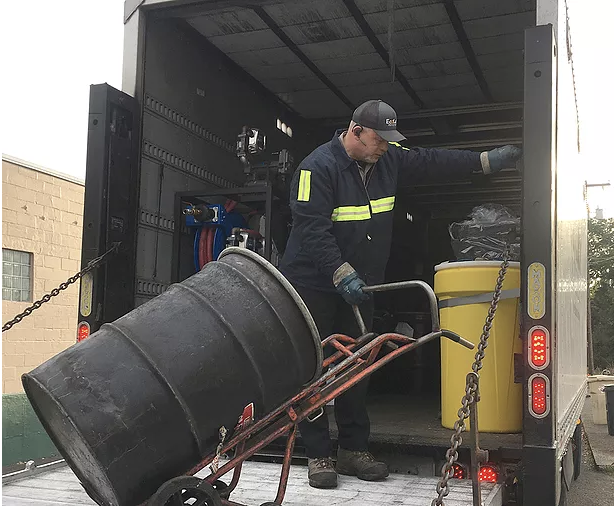 EcoLube Recovery (ELR) is an environmental services company formed in 2017 after purchasing the assets of American Petroleum Environmental Service.
The company aggregates used oil and related waste for final recycling at their Portland, Oregon plant. Since the change in ownership, ELR has allocated more capital toward improving this process and now offers a full-service waste management system.
ELR's process converts used oil into certified products such as Group 2 base oil and marine fuel. And the full system includes site evaluation, collection, and recycling solutions to a range of industrial and transportation companies operating across the Pacific Northwest.
Julia Harper is the Accounts Payable Specialist and the system admin for ELR's ProcurementExpress.com account.
[content_upgrade cu_id="4126″]Five ways ProcurementExpress.com helps construction teams prepare for audits. Subscribe to download.[content_upgrade_button]Click Here[/content_upgrade_button][/content_upgrade]