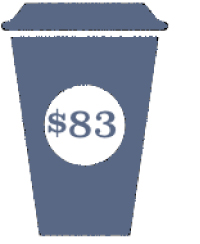 Buying a customer a cup of coffee is a small token of appreciation. Even at $4.5 organically and responsibly grown, Ethiopian Blue Mountain brew seems like small beans. Pardon the pun.
Or maybe it isn't so small. Depending on the business you are in. Lets say you work for FedEx which has a current Net Margin of 5.4%. That means for every dollar spent, they need to work to earn $18 in sales to make up for it. Put another way, if you are lucky enough to get FedEx to buy you a cup of coffee, it will cost them $83 in sales to make up for it.
If you are lucky enough, like Google or American Express, where margins are high, their cup of coffee will only cost $22.
So can you see why managing cost can have such a dramatic impact on company profitability? Procurementexpress.com is the fastest way to get company spending under control. Register for an account today.