Your outdated system is stunting your growth. You might not realize it or might avoid the ugly truth, that your paper-based purchase order system is keeping your business back from a healthy bottom line!
Let's look at the process of a paper-based system
The buyer realizes the need for a product after checking or being notified by the inventory system or a specific department
The purchase order is written out or printed and given to the approver to get the golden signature
The purchase order is mailed to the supplier, after which the supplier manually enters it into their system
The supplier prints out an invoice and sends it back to the buyer by e-mail
The buyer pays the invoice and notifies the supplier by Proof Of Payment
The buyer enters the invoice manually into their system
The supplier finally sends the shipment to the buyer
As you know, the paper-based system is a lengthy process and has a lot of space for error and delays. How many times a day do you think "Our current system is cumbersome, time consuming and erroneous?"
If 10 employees spend 1 hour per day on any kind of document management (i.e. searching for, retrieving, reviewing, indexing, storing, and/or copying paper files), and the average hourly wage of an employee is $15.00, then a company will spend approximately $150 per day on basic document management. For a year containing 239 work days, this would equate to $35,850 per year, or nearly $3,000 per month.
Work your numbers out on this ROI calculator.
The buyer raises a purchase order on the procurement software

It is then automatically sent to the relevant approvers

The electronic purchase order is sent to the supplier via email

The supplier uploads it into his system and an invoice is created

The invoice is received and paid by the buyer

The warehouse is then notified to release or deliver the goods
The collection of data is slower on a paper-based system and limiting. For example, on a field, project there is too much happening for everything to be filled in on paper, a lot is left off and it slows down the whole process. PO software can be used on a mobile device where the things done on site are listed on the same document by all employees and seen instantly, so decisions can be made easily.

Approvals on a paper-based system take a long time as documents have to be delivered and signed by hand and the production process takes longer. On electronic PO software the approver gets notified instantly and he has all the information readily available to make the decision.

With a paper-based system a PO has to be indexed, sorted and stored in filing cabinets which take a lot of manpower and wastes time. On electronic software all files are stored and accessed easily online.

Searching for a needed purchase order on a paper-based system is tedious and time-consuming. On an automated system the results are instant.
Basically, electronic PO software is faster, responsive and more flexible to the needs of your customers. Paper-based systems just clog processes and limit time.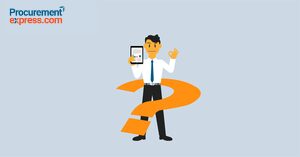 Studies have shown that an average employee will spend 20-40% of their time searching for documents manually, while professionals will spend approximately 50% of their time searching for information (and nearly 18 minutes, on average, to locate a single paper document). These would raise a company's document management costs to approximately $24-$60 per day for each employee, or roughly $240-$600 per day for 10 employees (this assumes 20-50% of employee time is spent on document management, and the average hourly wage of an employee is $15). For a year containing 239 work days, a company with 10 employees would spend approximately $57,360-$143,400 annually on paper management (or nearly $4,780-$11,950 per month)! It is important to note that these statistics are also focusing on searching for documents only, and are ignoring other common document management practices, such as reviewing, indexing, and copying files.
Tweet This: Procurementexpress.com is your ultimate smart spend toolkit in a convenient app
Saves you needed time
If you are like me, you work even after leaving work. Lists of things to do the next day run through your head and sometimes in the shower you remember that one email you forgot to send. You even dream of doing it first thing in the morning, but as soon as you get to the office, 'life' happens.
And you are thrown off your beaten path. Having so many things to do can make it hard for you to manage your time efficiently.
Procurementexpress.com saves you needed time by remembering everything so you don't have to. It gives you the freedom to be mobile and you can approve PO's on the run. If you're moving from paper-based, the onboarding team gets all your information on the system in a flash. The empowering software also sends you progress reports instantly.
Procurementexpress.com simplifies your ordering process.
"Using Procurementexpress.com as a purchase ordering tool has been very easy from the get go. It is simple and uncomplicated and user-friendly. It doesn't take very long to create a purchase order so it saves me time. Overall a good experience." Dwight Uyeno, SPUD
Helps you plan for the next project
Purchase orders provide key insights into the business performance that you need to examine product trends, market fluctuations and how the business is spending. With Procurementexpress.com, you can review detailed history records and track budgets and receipts. This protects you from ordering duplicates and ensures product specifications are met.
The app is available on Android or IOS so you don't need to worry that one of your team members can't use it. Each time a purchase is made a step by step command is recorded on the PO with a time and date.
"Internet based. Anyone can access anywhere and anytime. Budget system availability on each line item hence when sending something for approval, can see variance." Deniece Siwela, Accountant
Controls your spend so you don't have to
You set the rules beforehand and they have to be followed. For example, if you want only certain people to work on the POs or only certain approvers per PO it's all possible within the app. It's a straightforward easy to use application that anyone of your staff members can master in a few minutes, so all your departments can spend responsibly. You can manage suppliers' usage, which suppliers should be used and have special standing deals with your specific approved suppliers.
Putting processes in place you never have to wonder what has been spent on what and by whom. Comprehensive customization is also possible and keeping all your purchasing information in one easy to use place makes it simple to track where the money is going.
"The easiest way to control spend in any sized organization, and even easier for all staff and employees to learn and understand!" Luke Moon, Chief Financial Officer
The best customer service at your fingertips
Customer service is the support you offer your customers — both before and after they buy your product — that helps them have an easy and enjoyable experience with you. It's more than just providing answers; it's an important part of the promise your brand makes to its customers. And it's critical to the success of your business.
Procurementexpress.com Customer Service Ninjas are there to help you 24 hours a day. They are trained in all aspects of the business and if they don't have the answer immediately, they will build it or find it. Every account is written or adapted for your individual purpose. Plus, the Customer Success team is available 24 hours a day.
"Procurementexpress.com is very easy to use, it's well laid out and easy to read. It truly is, user friendly. Support is only a click and text away and very responsive and helpful. Procurementexpress.com has made my working day much more pleasant, I love the interface. Thank you." Deirdre Healy, Finance Admin
https://www.youtube.com/watch?v=hCG66OOQ7Bs
Making the change is easy and your business can enjoy major benefits, i.e. reduced cost, increased processing speed, reduced errors and improved relationships with suppliers and customers. Get rid of the paper-trail hassle with inclusive online reporting that eliminates fraud.
Procurementexpress.com is your ultimate smart spend toolkit in a convenient app. Try Procurementexpress.com for free today!