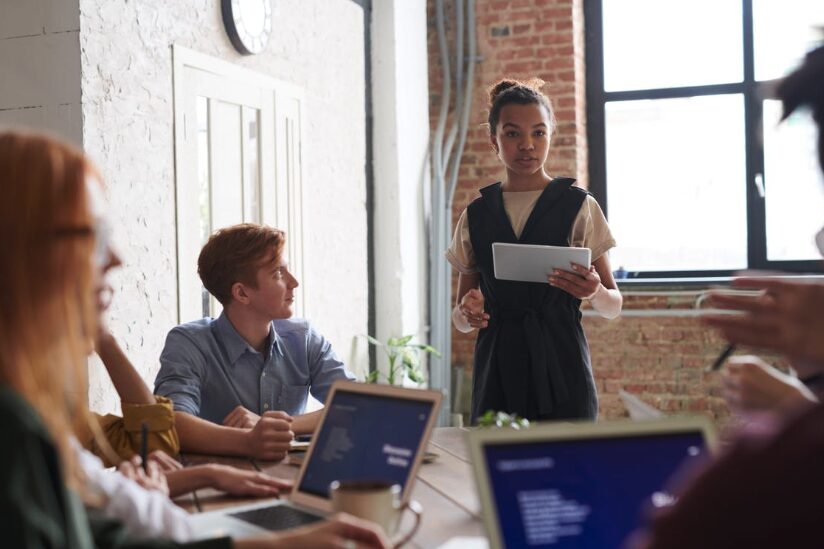 Regardless of industry, PM's have a lot on their plate. They need these amazing Zaps for Project Managers.
Between juggling resources and endless to-dos, not to mention making sure everyone submits their share of deliverables on time, PMs need a software stack that can do it all. 
In this article, we'll take a closer look at some of our favorite project management tools and how to use them with your ProcurementExpress.com account to power up your productivity.
[content_upgrade cu_id="4798″]Free Download: How to Build a Project Management Tech Stack That Gets Results[content_upgrade_button]Click Here[/content_upgrade_button][/content_upgrade]
Triggers, Actions & Instant Zaps: A Brief Intro to Using Zapier to Level Up Your Apps
Before getting started, make sure you connect your ProcurementExpress.com account to Zapier (note: we break down the steps in this FAQ post). You'll also want to get a basic understanding of Zapier's system of triggers and actions–which establish communications between apps.
If you look at any of the apps featured on Zapier's site you'll notice a list of Triggers and Actions associated with each combination of tools.
Triggers are events that set Zaps into motion and fall into one of two categories:
Polling Triggers: Most triggers are polling triggers, which means that Zapier continuously checks the associated app every 1-15 minutes for new data that triggers the workflow (timeframes are determined by your subscription plan).
Instant Triggers: Instant triggers play a more active role in driving action. In this case, the trigger app automatically notifies Zapier when new data becomes available. Those Zaps with instant triggers automatically show up in your Zapier dashboard and don't require any set-up from users.
Zapier supports the following four ProcurementExpress.com instant triggers: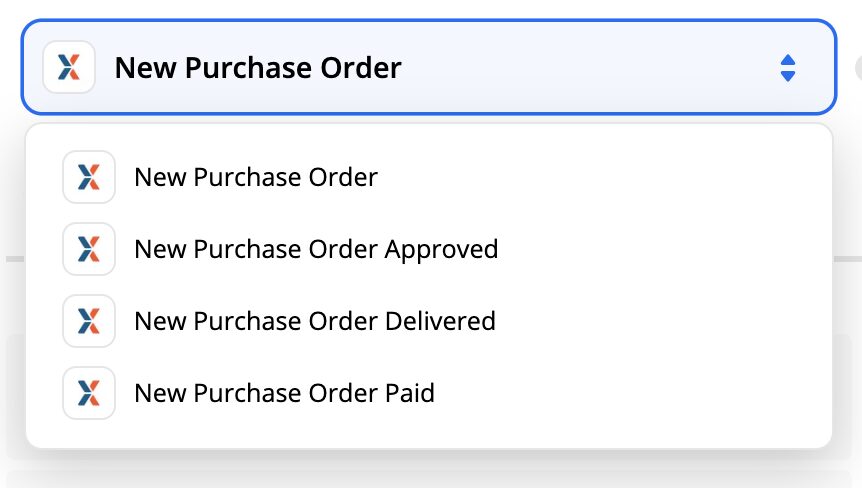 An action is an event performed after the Zap is triggered. For example, if you want to create a new project any time a purchase order is approved, the action is 'create a new project.' 
Supported PEX actions:

You can create your own trigger-action combinations using the platform's Zap Editor. Zapier covers the basics here, but the process is pretty straightforward and doesn't involve any coding. 
Basecamp + PEX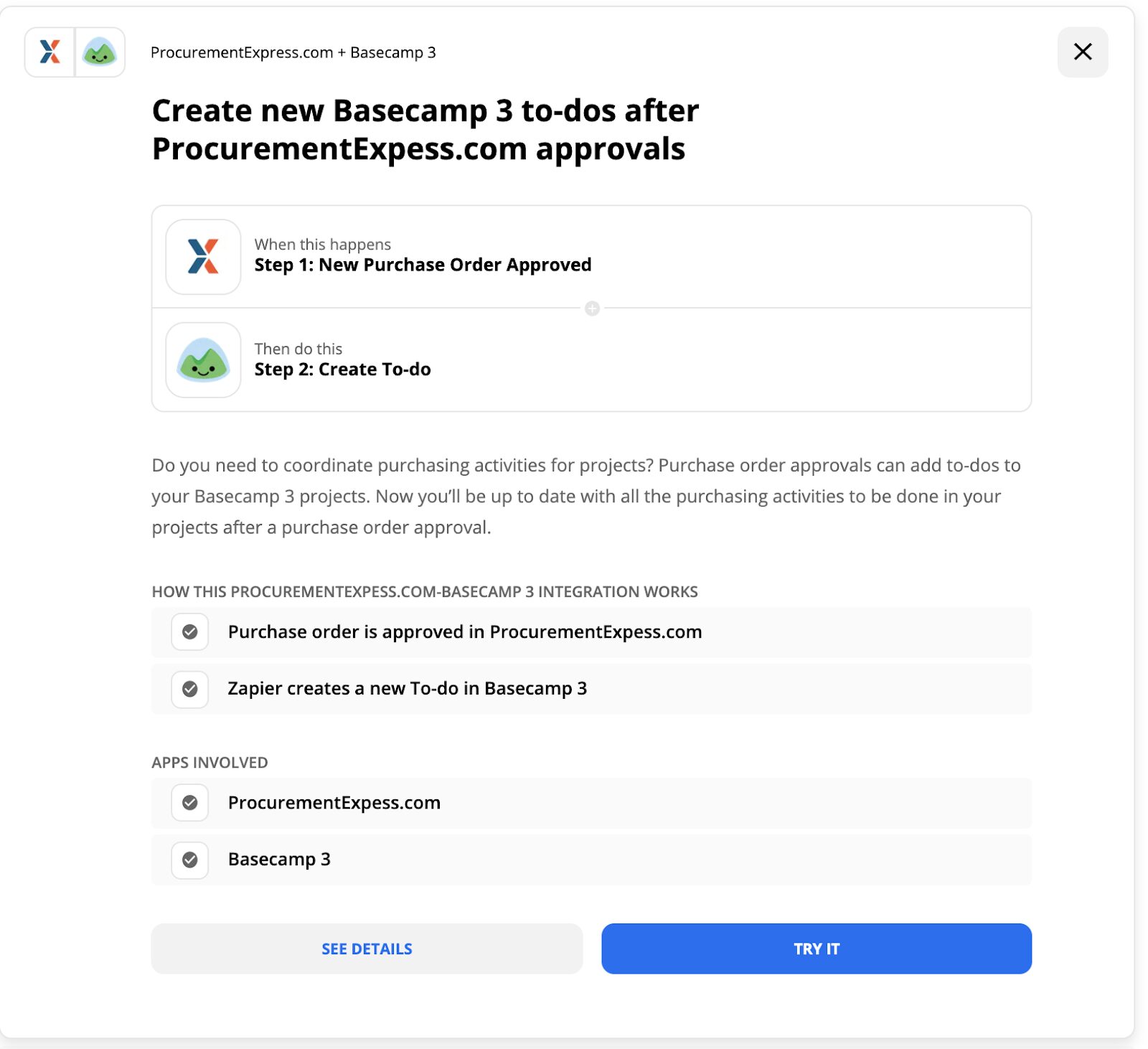 Basecamp delivers that promise of a central location for tracking all of those small moving parts from overdue tasks to upcoming milestones and aims to replace status meetings and email chains that often undermine productivity. 
The main benefit is that users can communicate through the app by commenting on projects, assign tasks to the team, share documents, and track progress using a simple checklist organized by project.
ProcurementExpress.com users can set up Zaps that help them coordinate purchasing activities with projects logged in Basecamp. Users might use these tools together to perform the following tasks:
Create to-dos in Basecamp when a PO is approved.
Create a project when a PO is generated in ProcurementExpress.com
Generate a new budget in PEX when a new project is added to Basecamp 
Trello + PEX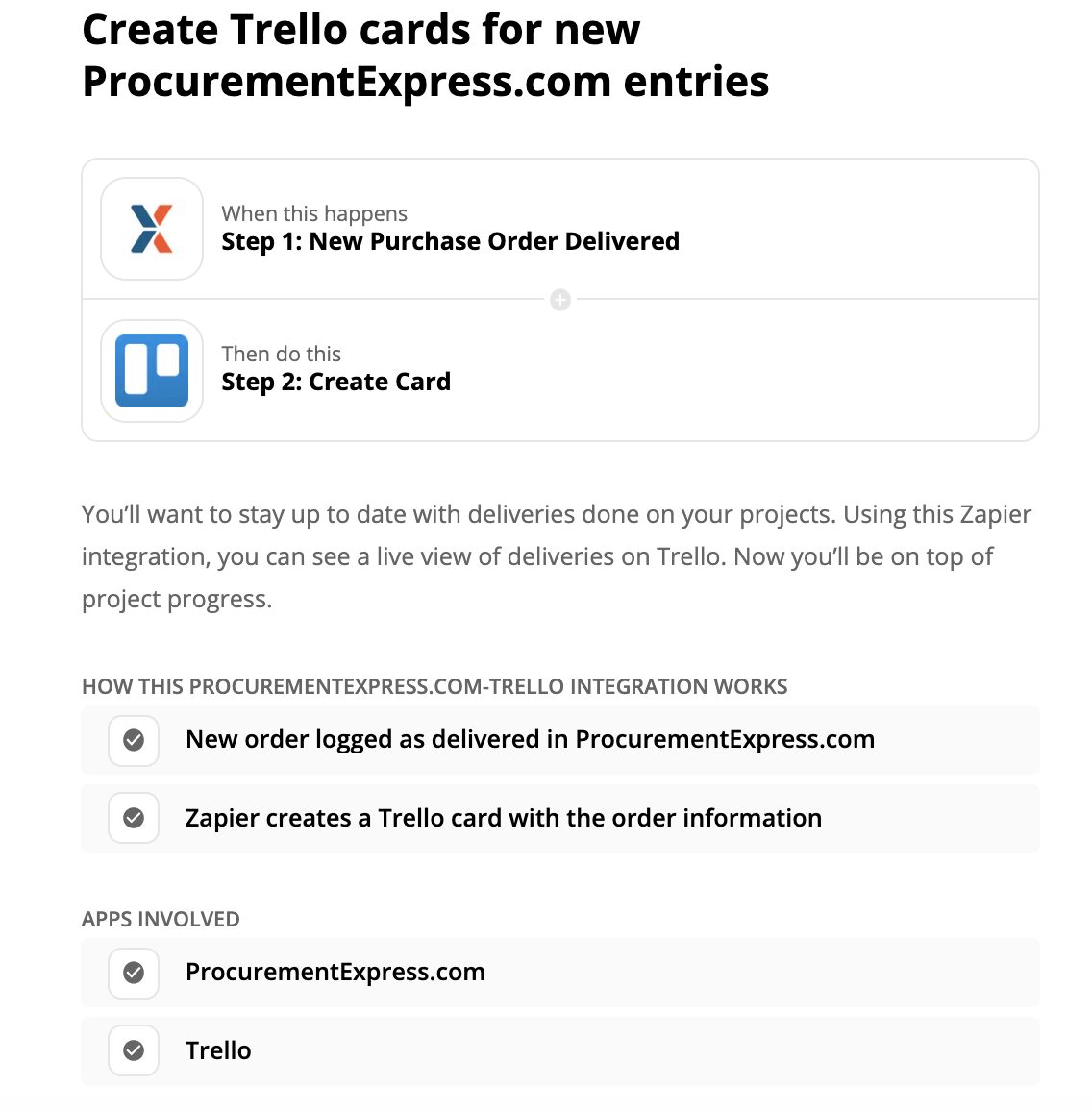 If you're more of a visual person, Trello's drag-and-drop Kanban boards help managers simplify the process of delegating tasks and tracking project progress.
Trello boards make it easy to create a map of every ongoing project on your plate, keep key players in the loop, and assign due dates and deliverables.
In addition to the better-known boards, cards, and lists, Trello offers collaboration tools like chat and document sharing and integrates with a ton of tools from GitHub to Salesforce and ProcurementExpress.com.
A few ways you might use Trello and ProcurementExpress.com to streamline your process:
Automatically create a new list when a new purchase order is created.
Update Trello cards when purchase orders are delivered.
Complete a Trello Checklist item when an order is marked "paid" in your PEX account.
Pipefy + PEX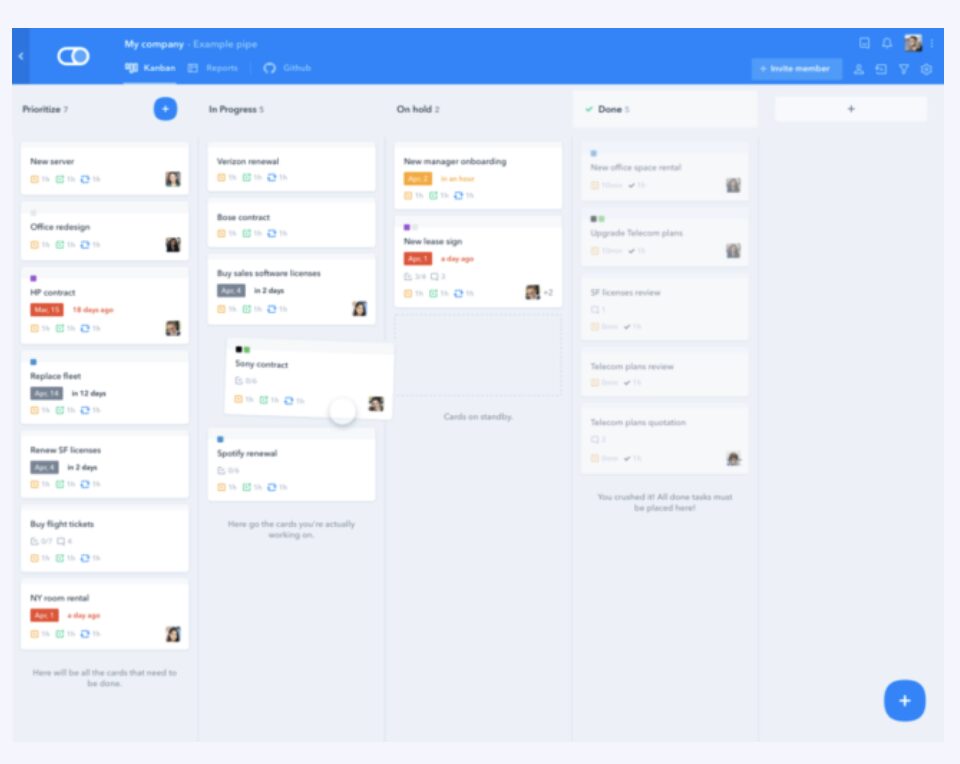 Pipefy is the self-proclaimed "easy button for processes and workflows," offering organizations an easy way to manage complex projects by bringing all of your tools into one place. 
Aside from the usual bullet points (break down silos, stop toggling between tools, keep track of everything), Pipefy offers a few unique benefits. Users can manage projects using Trello-style Kanban boards, but take things a step further, allowing users to build multiple scenarios into the project management process–a feature that could be really effective for forecasting and risk management.
You might use Pipefy and ProcurementExpress.com together to create a new budget in PEX when a Pipefy card is created. Or connect project stages to PO status.
Approval Donkey + PEX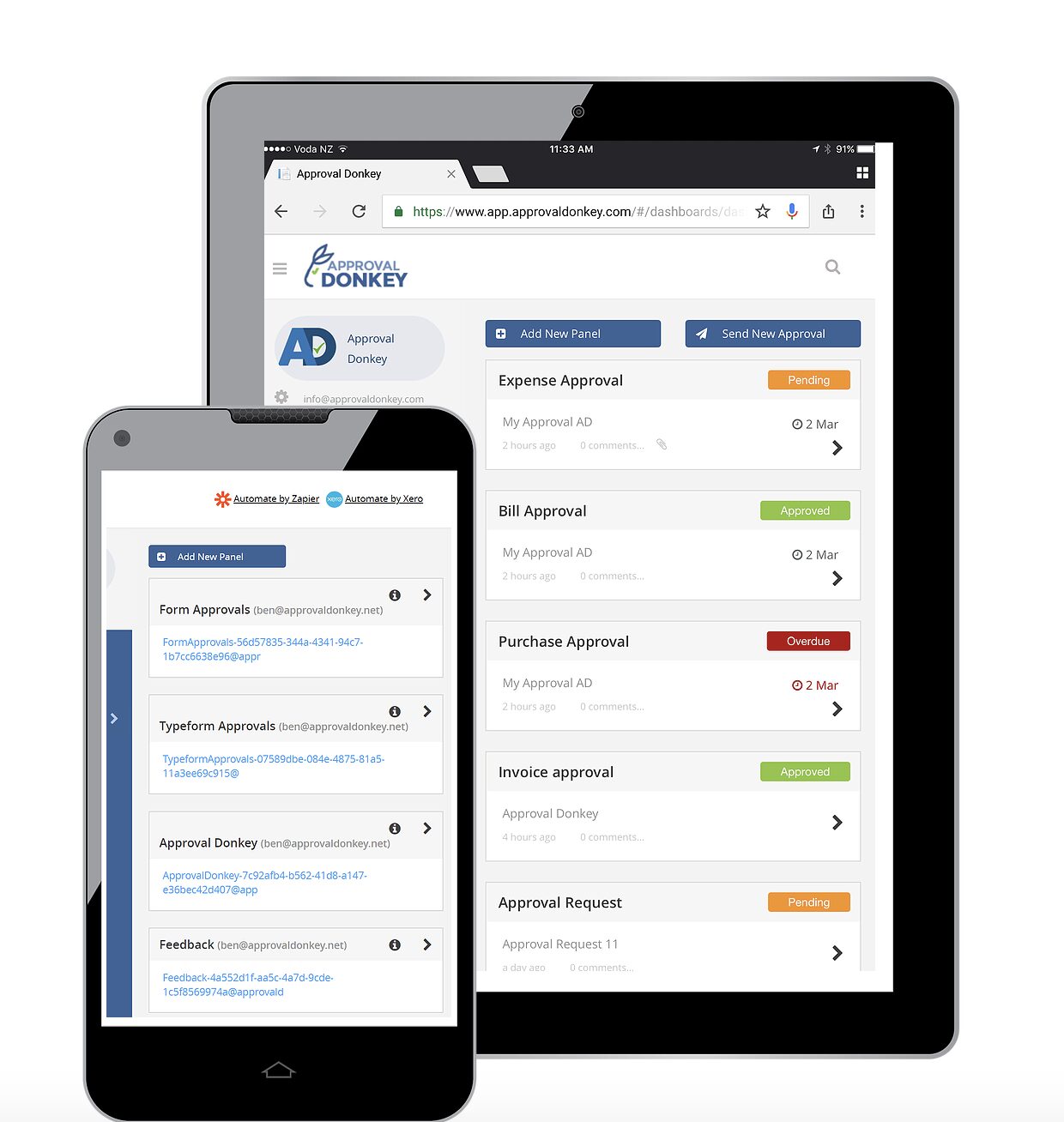 Approval Donkey is another platform centered around approval workflows. Unlike Pipefy, Approval Donkey doesn't try to do it all, choosing to stay focused on "all things approval" and allowing users to integrate with an impressive list of third-party tools.
Approval Donkey keeps track of all approvals, requests, rejections, and so on across different projects or departments to prevent bottlenecks and keep projects moving forward–much like our app does within a procurement context. 
By connecting PEX with Approval Donkey, organizations can connect purchasing activity to organization-wide accountability and compliance efforts.
Process Street + PEX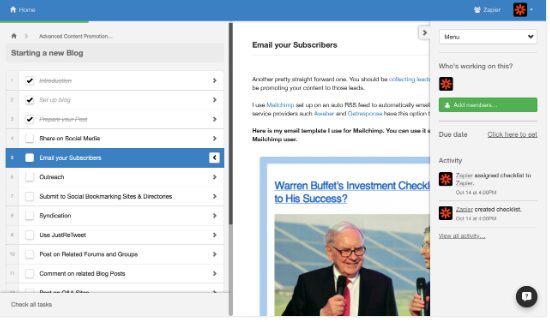 Process Street is a SaaS platform designed to help non-technical teams manage, track, and automate complex processes. On the surface, the platform sounds a lot like other project management tools or productivity apps, with lots of talk about checklists and reminders.
However, Process Street is a bit different. It offers users a way to create routine checklists for workflows, standard operating procedures, and compliance processes. 
Checklists can be used as collaborative workflows that allow project managers to track activities and assign tasks. Users can also apply conditional logic rules and approval flows and schedule automations in advance.
The PEX-Process Street integration allows users to create, find, and update checklists based on trigger events from your PEX account, making it easy to automate actions based on PO-related events. 
Slack + PEX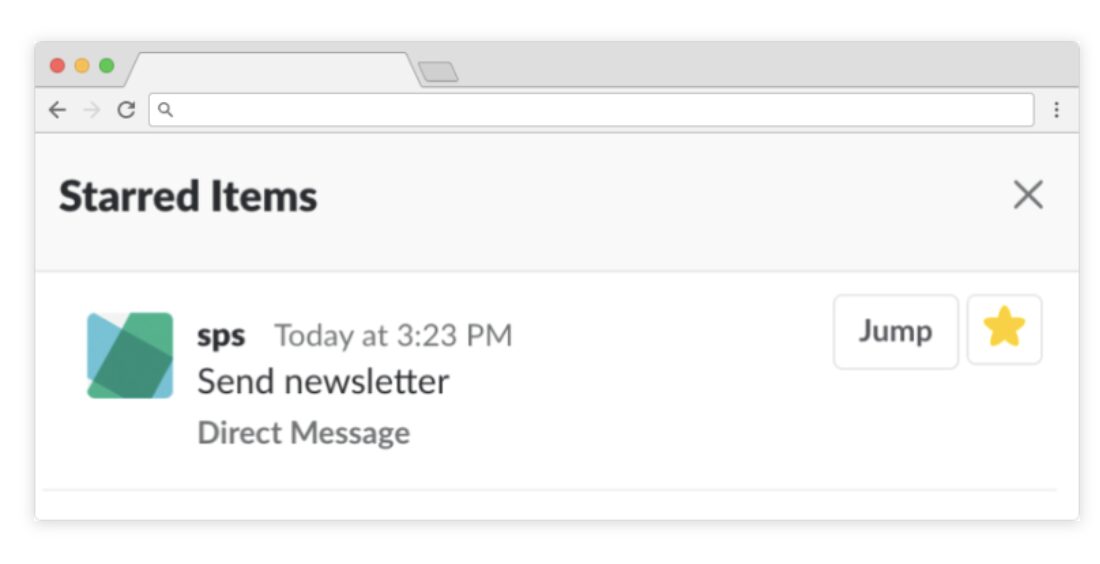 Workplace app Slack has made its mark in just about every industry on the planet. 
While some argue that the communications tool can hamper productivity efforts, it delivers some major benefits to project managers.
For instance, you might create specific channels related to a project, topic, or team. And since Slack conversations are searchable, you can use those dedicated channels as a living archive of project communications. 
Additionally, Slack is an effective tool for managing to-do lists either with an integration or directly from the app and can be used as a personal note-taking app when users start a "conversation" with themselves.
A few ways you might use Slack with your ProcurementExpress.com account:
Share project activities with your team using PEX events to Slack
Get Slack notifications for when new deliveries are documented in your ProcurementExpress.com account.
Add people to projects based on the PO cycle stage by linking PEX trigger events to Slack.
Wrapping Up
Ultimately, the best project management Zaps for your company depends on your existing toolkit and the activities you'd like to streamline or automate. 
ProcurementExpress.com can connect to 1000+ apps via Zapier, presenting a range of productivity possibilities for project managers, procurement pros, accounting teams, and more. Check out the full list here for additional inspiration.
[content_upgrade cu_id="4798″]Free Download: How to Build a Project Management Tech Stack That Gets Results[content_upgrade_button]Click Here[/content_upgrade_button][/content_upgrade]