The purchase order and delivery note can either help or hinder your company. It all comes down the right info at the right time. Get it wrong and your whole P2P process will suffer.
Here's how the two should differ:

Delivery note
When a company orders goods, the supplier usually arranges the transportation of these goods. Upon doing this, a document called a delivery note is created. This document accompanies the shipment. It should show the description of goods, the quantity/number of units, the condition of goods carried, their color(s) etc.
In most cases when a container carrying your stock arrives, the driver will use a delivery note to confirm your company name and the name of your receiving manager or anyone responsible for receiving stock in your organization. The receiver of stock will be asked to acknowledge receipt of goods by signing the delivery note or, at times, by signing a waybill (official shipping document that travels with a shipment).
Tweet this: A delivery note and a purchase order are like chalk and cheese.
What does a delivery note look like?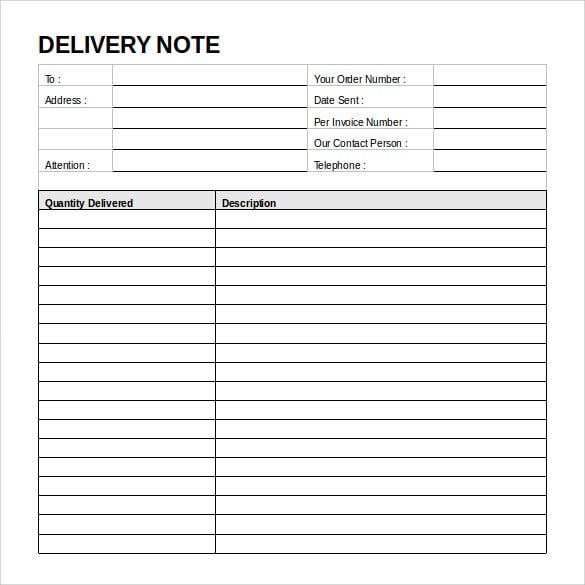 A properly prepared delivery note should reflect the following information:
Name and contact details of the buyer

Date of issue

Date of delivery

A description of the goods

Quantity of goods

Name of the recipient of goods

A place for signature and customer's stamp
[content_upgrade cu_id="4376″]Download your free delivery note template here:[content_upgrade_button]Click Here[/content_upgrade_button][/content_upgrade]
What else should a delivery note contain?
Optionally, a delivery note can contain the address of the supplier with registration number, contact details and banking information. This information is included for insurance purposes or for new customers.
What should a delivery note not contain?
Some suppliers make the huge mistake of adding unnecessary information to the delivery note, like adding product prices and the amount owed. This can cause confusion as it makes a delivery note look like an invoice or even a purchase order!
Here is what could happen when a delivery note resembles a purchase order.
The supplier's driver pulls up at the receiving window of a warehouse. He then whips out a delivery note that looks like an invoice. He hands it over to the receiving clerk, who scans it, shakes his head, and says, "This is not what we ordered, but let me ask our warehouse manager, George."
Within a few minutes, the warehouse manager walks in and shouts. "Hey, your purchase order looks different to mine!" George looks at the document then back to the driver. Then says with a frown.  "And, I didn't realize that you guys are this expensive!"
See? If prices were not included, George wouldn't confuse a delivery note for a purchase order. And it doesn't help much that the supplier sent a wrong shipment to his company.
Purchase Order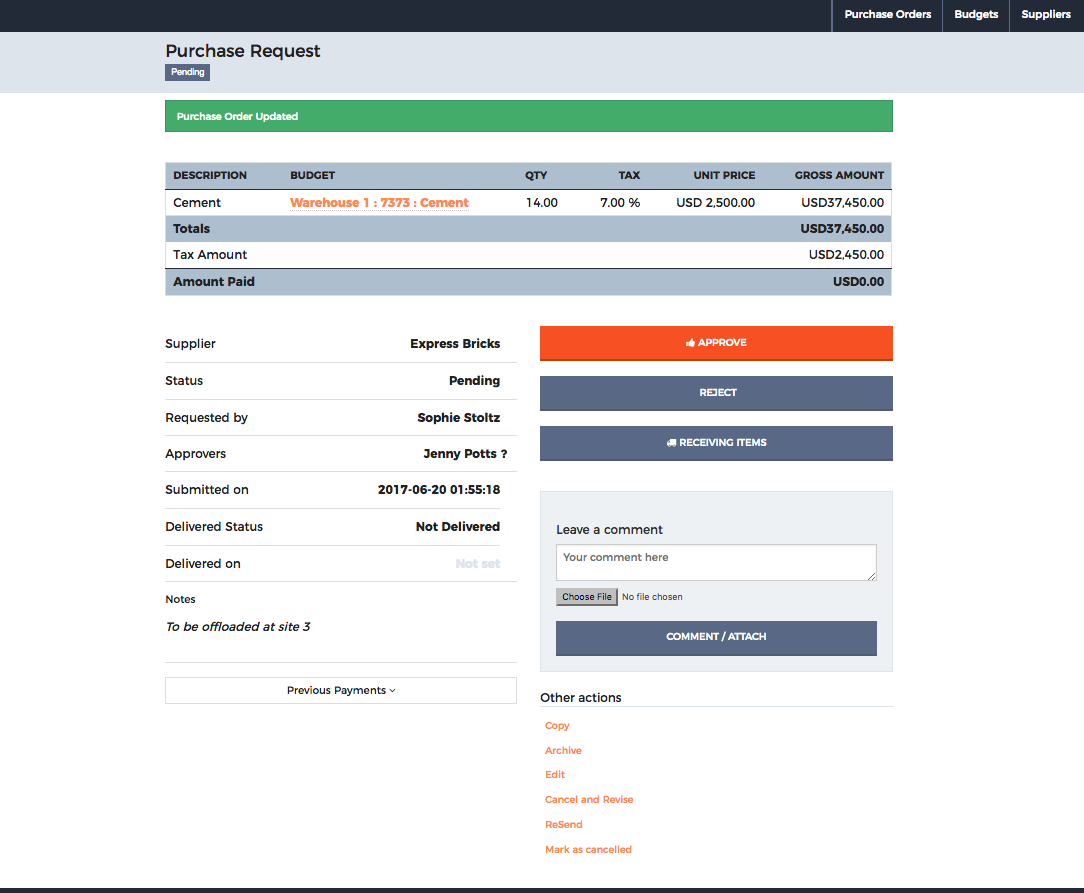 If you want to know more about purchase orders, read this blog, or this one. Once you're done reading, come back here.
Are you back? Cool!
So, let me tell you why delivery notes are confused with purchase orders. The reason could be that unnecessary information is added to either. A standard purchase order should contain information about ordered products or services, their quantities and the agreed upon prices or discounts.
George, in the example above, waits for his shipment with a purchase order he sent to the supplier. He expects the supplier's driver to hand over a delivery note that he can compare against his purchase order. Instead, he receives a purchase order that looks different from his purchase order.
Let's look at the opposite scenario. The supplier's driver shows up with a delivery note that looks exactly like a purchase order but the document's headline reads Delivery Note. The delivery note now confirms 500 red chairs instead of the 700 ordered chairs! What do you think would happen? Of course, George would go bananas! He is likely to send the driver back and never order from that same supplier again.
What should purchase orders look like? 
A standard purchase order should contain the following information:
Name of buyer's company, registration number, and contact information

Supplier's name, physical address and contact information

A unique order number

Product description

Quantity ordered

Other additional information pertaining to an order.
How can your business avoid confusing a purchase order with a delivery note?
Your company can do this by implementing a purchase order software that links your company with your supplier. This will enable you, your warehouse manager  and other approvers to view the purchasing process in real time. This is why most COOs and CFOs find using a user-friendly software like ProcurementExpress.com a blessing to their businesses.
Your company will experience:
Fewer stock shortages;

A reduction in overcharges by suppliers;

Fewer instances of receiving the wrong goods.
A problem such as the supplier's driver showing up with a delivery note that looks like a purchase order would be a thing of the past. Find out what ProcurementExpress.com users say on Capterra.
ProcurementExpress.com users follow these purchasing steps:
Step 1
With a user-friendly PO software like ProcurementExpress.com, your employees log into the app or website, using their unique username and password to create a requisition. At the top-right on the menu bar, click on the "+New Purchase Order" button and choose the relevant department. The next thing to do is fill out the form. Easy peasy!
Step 2
First, choose the currency from the drop-down menu. Choose the supplier name, enter a description of the items, choose the related budget, enter the unit price, item quantities and sales tax (if applicable). Save and send an electronic file (PDF) to the approver.
Step 3
Assigned approvers receive an instant notification in their inbox. They can review the request and approve or reject the purchase order (or make an alternative suggestion), all from their device of choice.
Step 4
Once a purchase order is approved, simply press "Share this PO" to send to your supplier. The supplier then processes your order and delivers to the address provided. You can mark full or partial deliveries with ProcurementExpress.com –  so be sure to inspect your delivered goods carefully.
Step 5
Finally, the supplier issues an invoice for payment. Add this invoice to the PO as supporting documentation. Accounting or Finance will mark this PO as paid (full or partial) when payment has been made. ProcurementExpress.com makes tracking orders and payments quite easy by allowing a purchase order report to be downloaded and/or printed on the go.
Technology is moving businesses forward. If you're an entrepreneur who refuses to ditch paper-based purchase orders, you'll be left behind!
By switching to electronic purchase order software, you can cut down PO processing time from days to mere minutes. Sign up for a free trial today!
[content_upgrade cu_id="4376″]Download your free delivery note template here:[content_upgrade_button]Click Here[/content_upgrade_button][/content_upgrade]