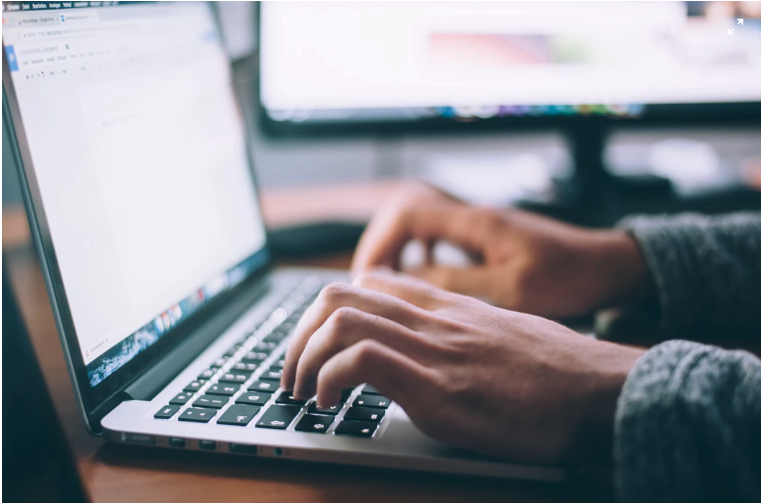 Procurement software tends to fall into one of three categories.
There are enterprise resource planning (ERP) systems, which are complex systems designed to help companies manage all ends of the supply chain. Then there is accounting software that people use to keep track of POs, sacrificing a comprehensive procurement suite for all-in-one convenience. And finally, there's purchase order-specific software.
Now, what you decide to use depends on several factors: company size, ordering process, order volume, and so on.
Here, we'll break down these options and look at the pros, cons, and features included in some of the more common software solutions used by procurement teams.
[content_upgrade cu_id="4445″]Free Download: The Features to Look for in Your Procurement Software[content_upgrade_button]Click Here[/content_upgrade_button][/content_upgrade]
ERP Systems
ERP software is typically used as a central database for company data.
The benefit is that you don't have to worry about maintaining a massive library of spreadsheets and forecasts across multiple systems.
Plus, all documents (asset management, HR data, inventory management, and so forth) are kept in a secure and centralized hub, ensuring that data is correct, up to date, and compliant.
Many ERP platforms have purchase order modules built-in, along with everything else you'll find inside. The other issue is that they're not necessarily built for everyone; rather ERPs focus on finance and accounts, and e-procurement becomes an afterthought, leaving out much of the procure-to-pay (P2P) process.
The downside of using ERP systems to manage purchase orders is that it may be an overpowered solution for many companies and can often be very expensive and difficult to roll out.
And there's also the issue that much of the data stored inside an ERP system isn't relevant to every employee who might be placing an order or even appropriate for them to have access to.
Here are a couple of ERP platforms:
SAP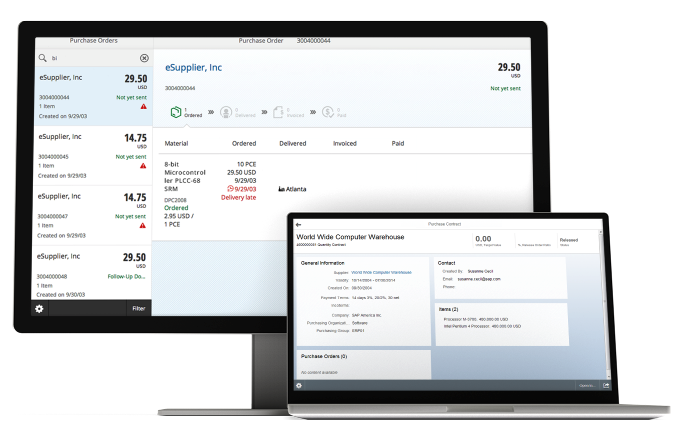 SAP is an enterprise-planning solution that helps teams manage their procure-to-pay cycle, as well as manage inventory, manage supply chain regulations, and streamline spend analysis.
This product is more of an all-in-one solution, which is great for larger organizations, as they can save a ton of time by storing data in one central location while making sure they remain in compliance with rules governing data storage and security.
That said, the purchasing process doesn't benefit from being part of this already crowded solution that includes everything from vendor pricing to P2P, plus core finance capabilities.
Oracle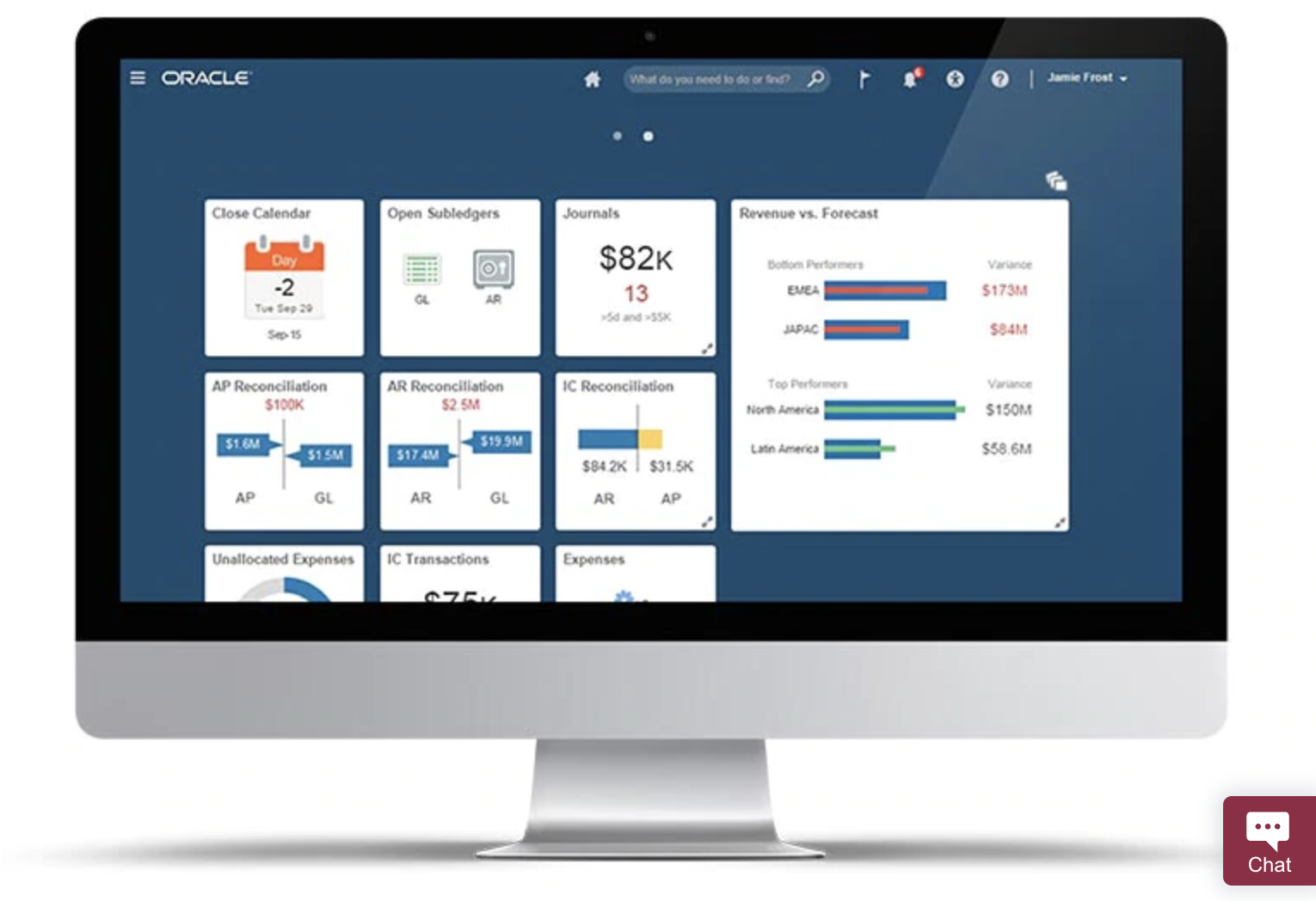 Oracle's ERP system is designed to help companies manage risk across the supply chain. Unfortunately, as a procurement tool, there's a high learning curve involved here.
Oracle has a ton of ERPs that cover everything from financials to procurement. Teams might use one of these ERP solutions or several, depending on size and need.
The procurement module is built to help teams remain compliant with contracts and regulations, manage the sourcing process, and track supplier performance. That said, this platform is likely best suited for leadership staff, as these tools are there to help guide decision-making and keep data secure.
Chances are, you wouldn't give all employees with ordering privileges access to your ERP. Instead, Oracle is ideal for decision-makers approaching procurement from a strategic standpoint.
Accounting Systems
As is the case with ERP systems, accounting software may come with a lot of features built-in, but it's not necessarily the most efficient procurement solution.
Accounting platforms make it difficult to track the approval process or set controls that prevent employees from adding new line items or ordering outside of your approved vendor list.
That said, if your company doesn't do a ton of purchasing (e.g. you're in business services and don't actually make physical products), it might not be a bad idea to seek out an affordable accounting platform with a lot of features built-in.
Here are a couple of common tools businesses use to process POs:
Xero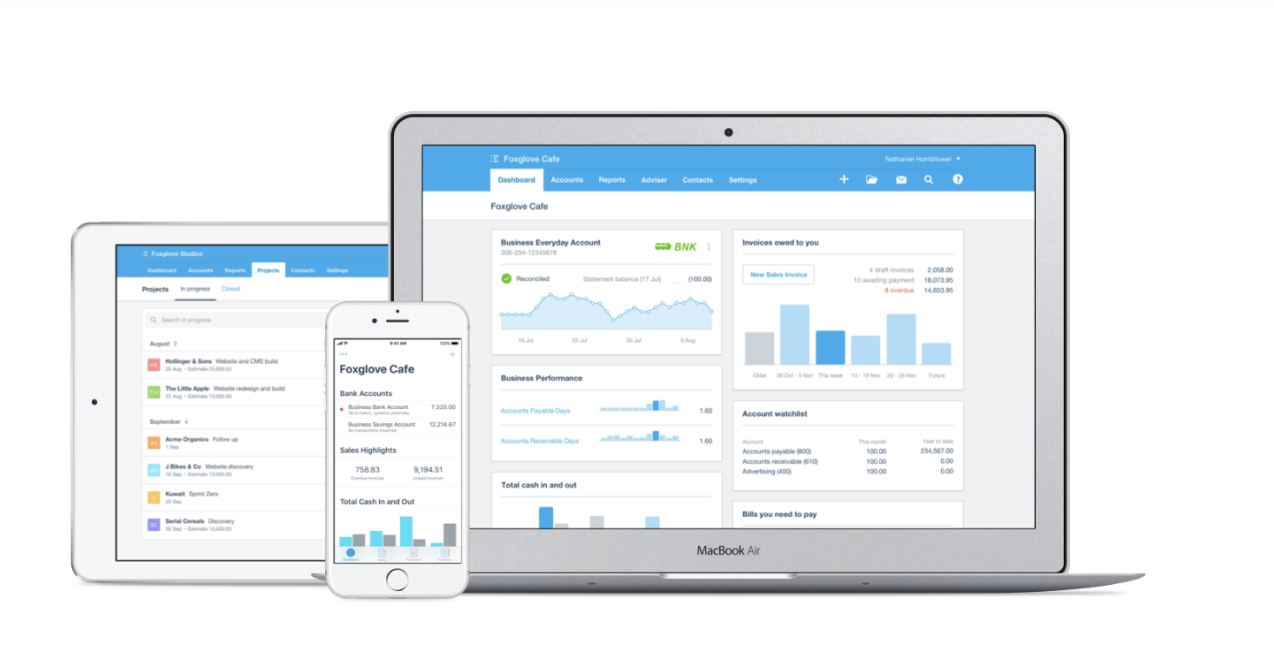 Xero is an accounting platform that's super easy to use, very affordable, and comes with a range of features like invoicing, billing, purchasing, and expense-tracking. It's not as robust as a solution like QuickBooks, but it's a solid option for smaller companies or individual freelancer-types.
Xero is very affordable, but it's important to note that the platform isn't built to support organizations with a complex supply chain. The Established Plan is $60 a month (top pricing tier) and comes with the following features:
Send invoices and quotes
Enter bills
Reconcile bank transactions
Multi-currency
Expenses – capture and manage claims
Projects – track project time and costs
Now, that might be enough for some companies, but others will need something that supports inventory planning, payroll, and of course, procurement tools that extend beyond being able to create a purchase order.
That said, ProcurementExpress.com integrates with this tool, giving small teams who don't need or want expensive accounting or ERP tools more control over their company's budget and vendor management process.
QuickBooks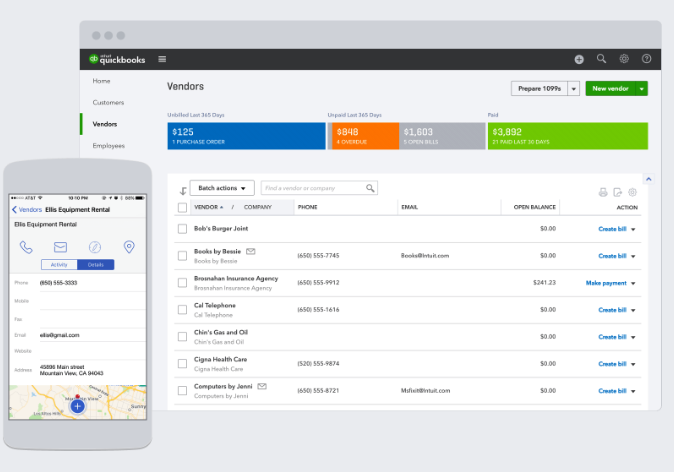 As is the case with Xero, QuickBooks is an accounting suite first, with a purchase order feature built-in for easy ordering.
However, QuickBooks has more sophisticated features than Xero. You can automate purchase orders, convert POs to bills or invoices, and email orders to vendors directly from the system. There are also features such as the ability to track the profitability of a project, track expenses, and more.
That said, we've found many of our customers use PO software with QuickBooks, as only accounting typically has access to the accounting software. That said, if you work in a small organization where multiple users have access to QuickBooks, this might not be an issue.
Whether this makes sense for your business or not depends on how often you place and manage purchase orders. While creating a PO in the system is easy, you'll miss out on some of the features that take procurement from basic task to strategic function.
Procurement Software
Finally, we'll look at some options that fall into the standalone procurement software category. In general, these solutions manage P2P tasks from requisitions to vendor management and purchase orders.
Often these tools will integrate with other solutions like your ERP and accounting systems but provide more insights into the actual procurement process, rather than treating it as an add-on feature in a larger package.
Fishbowl Inventory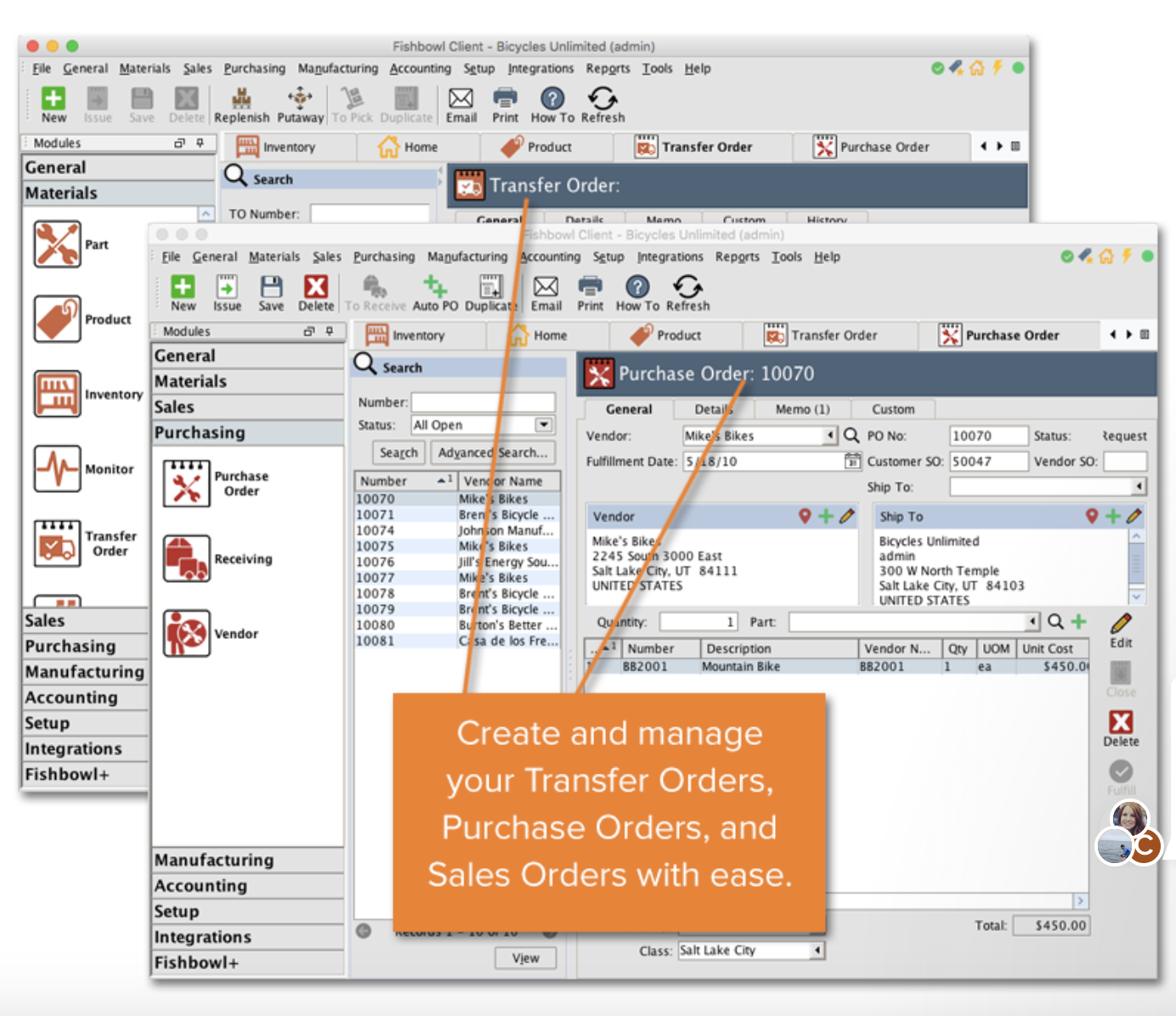 Fishbowl is an inventory management system built for manufacturers that order a lot of raw materials. While it has a procurement element to it, FishBowl is something of an outlier compared to say, ProcurementExpress.com or Procurify.
Users say that the platform works great if you're ordering the same items over and over. You can automate the ordering, receiving, and inventory tracking process, so stock is always up to date. Plus, it integrates with platforms like Amazon and Magento, so inventory records match up with the items available for sale.
Fishbowl integrates with a number of tools such as QuickBooks and Xero, allowing organizations to track inventory changes, pricing updates, etc. across departments and in real time. While the platform has a built-in PO functionality, it's not super efficient for tracking budgets and reviewing ordered items.
Key features:
Receive Products
Part Tracking
Shipping Integrations
Sales Orders
Purchase Orders
Reporting
Time-tracking
Identify where parts are located in the warehouse
Track and receive shipments
Generate barcodes
Track products by lot number, serial number, etc.
Simplifies unit conversions
Calculates total costs–i.e. Parts, labor, etc.
Kissflow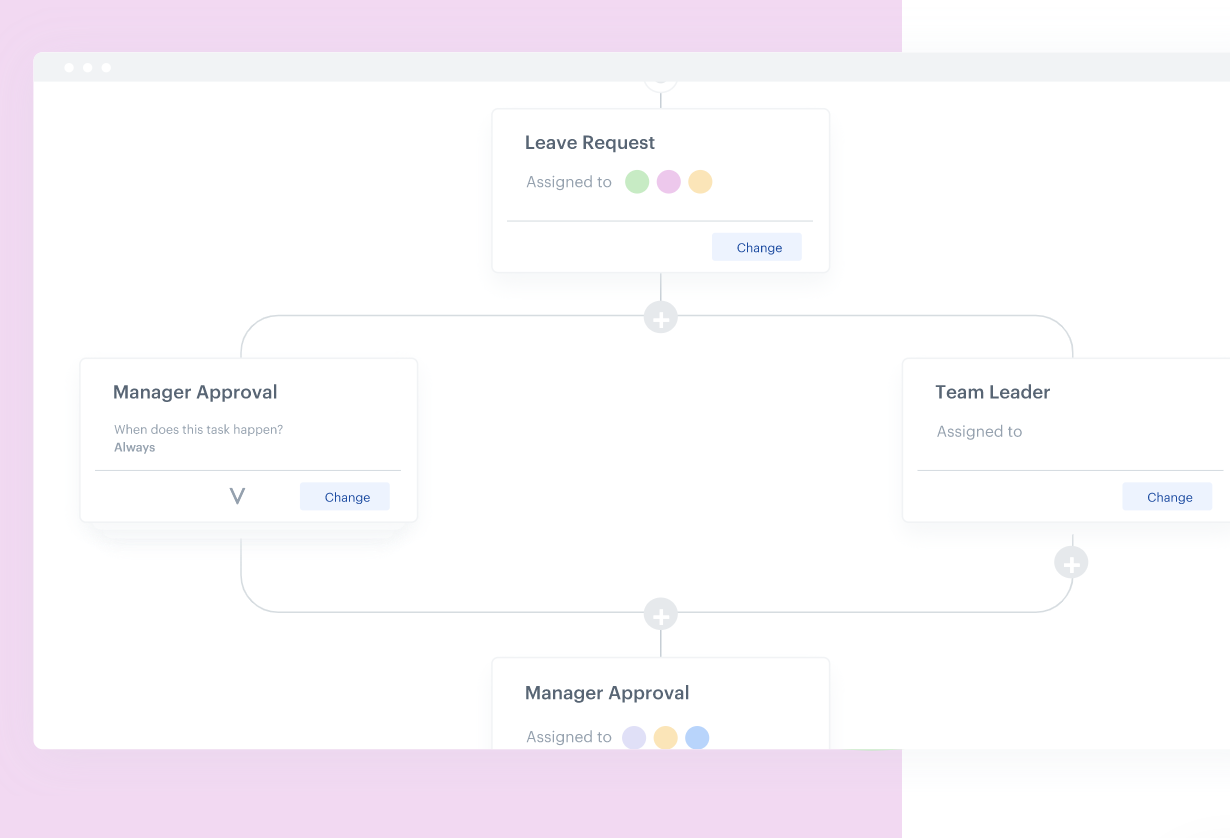 Kissflow is a name we see quite often in the procurement software space, but the company offers more than 50 apps related to various workflows a business might use, from employee onboarding to procure-to-pay.
What's interesting about KiSSFLOW is that they actually let users create their own solutions by mixing and matching the apps that work for their business model.
Key features include the following:
Standard Plan ($690/month)
Purchase requisitions
Purchase orders
Product catalogs
GRN and returns
Purchase invoices
Vendor masters
Integrations (Quickbooks and Xero)
Enterprise ($1290/month)
Standard features plus:
Vendor enrollment
Vendor rating
Vendor portal
Vendor access
Contract approvals
Custom ERP integrations
While the platform can do quite a bit when it comes to procurement, it's rather expensive. These are the starting prices, and that doesn't account for what it might cost to add in some other apps if you're so inclined.
We've found that users like the approval flow feature quite a bit—there's a visual drag and drop builder that's particularly appealing—but find the mobile app to be slow and clunky.
Procurify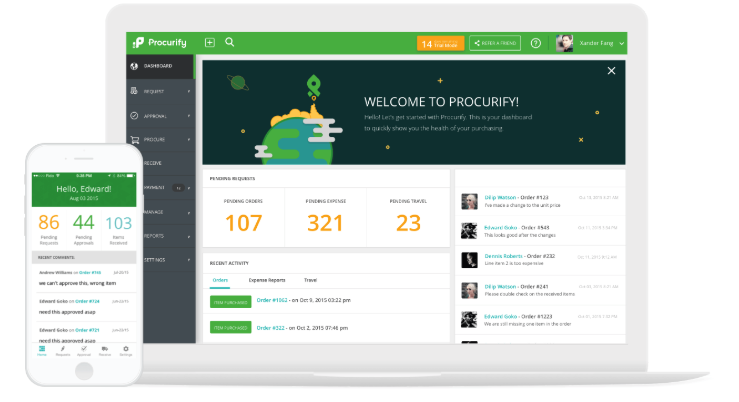 Procurify is a popular procurement solution that companies use to manage P2P, as well as track spending, order status, and more.
The tool comes with features like approval routing, three-way matching so you can match invoices, packing slips, and POs in a matter of clicks.
Key Features:
Custom Approvals
Three Way Matching
User Role Controls
Expense Tracking
Cost Allocation
Web and Mobile Apps
Procurify is an easy-to-use solution that comes with several integrations built-in, such as Oracle, Amazon, QuickBooks, Slack, and more. There doesn't appear to be a budgeting feature, though you can track purchases by vendor and manage vendor records from the platform.
ProcurementExpress.com
ProcurementExpress.com is a flexible solution for small to medium-sized businesses in any industry. The idea is to simplify the purchasing process.
You can order from anywhere on the web or through the mobile app, connect POs to budgets so that you can track spending by department or project, and have access to your entire purchase history from approvals to notes to invoices.
While our software is focused on purchasing, it integrates with your accounting software, Google accounts, and more. This way, information can be shared in real time across the organization. What's more, we'll get you up, running, and trained the same day you sign up.
Key Features:
Adaptable Approval Flows
Custom PO fields
Spend Allocation
Detailed Purchasing Reports
Budgeting
Cloud Hosting
Sourcing Management
Supplier and Contract Management
Compliance Management
Send POs to suppliers
Integrates with Accounting Tools, ERPs, Zapier, and more
Mobile App Supports Purchasing from Anywhere

Offline Functionality

Track Entire PO history
Oh, and one more thing, no contracts required.
Wrapping up
What is the best procurement software? The answer isn't cut and dry. We could say that, of course, ProcurementExpress.com is the best option, but the truth is that it all depends on how purchasing works within your organization.
We have a lot of customers that use QuickBooks or SAP along with ProcurmentExpress.com. All platforms "talk" to each other, while each is used to perform the tasks it does best.
The main point we'd like to leave you with is this: accounting platforms and ERP systems don't provide the same visibility you'd get from a dedicated procurement solution.
If you're still not convinced, book a demo and we'll give you a personal tour.
[content_upgrade cu_id="4445″]Free Download: The Features to Look for in Your Procurement Software[content_upgrade_button]Click Here[/content_upgrade_button][/content_upgrade]