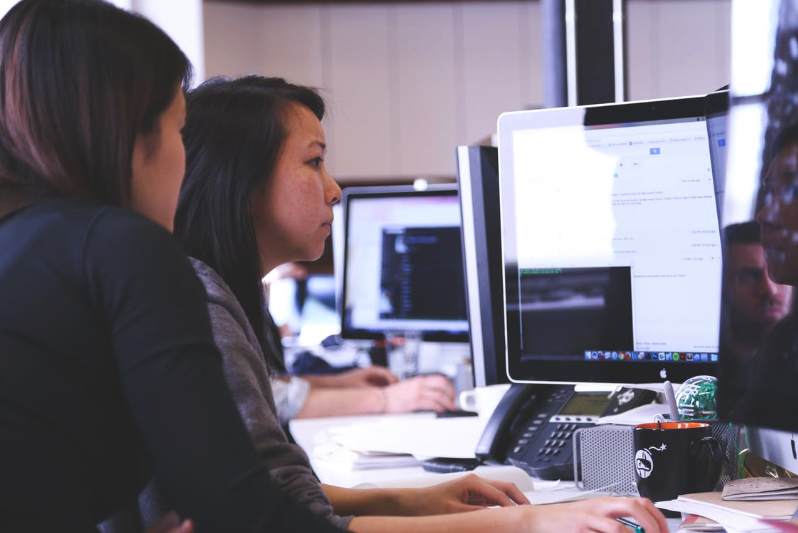 Organizing your purchase order workflow might sound like a massive, time-intensive undertaking, but inefficient workflows can have a negative impact on your bottom-line long term.
A purchase order management workflow is one internal business effort that is far more important than you might imagine. Procurement teams often fail to implement PO best practices because they're making minor adjustments to a process that started before we had all manner of digital tools at our disposal.
[content_upgrade cu_id="4355″]Get the bonus content: What Can an Effective PO Workflow Do for You?[content_upgrade_button]Click Here[/content_upgrade_button][/content_upgrade]
Review Your Existing Workflow
You'll need to create a benchmark if you want to improve. So, let's start here: do you know how your existing system is set up?
Walk through the flow: how does your purchase order process begin? From there, try to answer the following questions:
How do orders get approved and what is the process for sending orders to the vendor?
After items are received, how do you record that information in your system?
Are there manual processes in place? Is data stored in separate locations?
Does your accounting software sync with ordering system?
How long does it take to get a PO approved?
How much room is there for human error?
Are there any bottlenecks in your current workflow?
As a point of reference, here's what a purchase order workflow should look like. It starts with a requisition, moving through a series of steps until accounts payable approves and pays the invoice.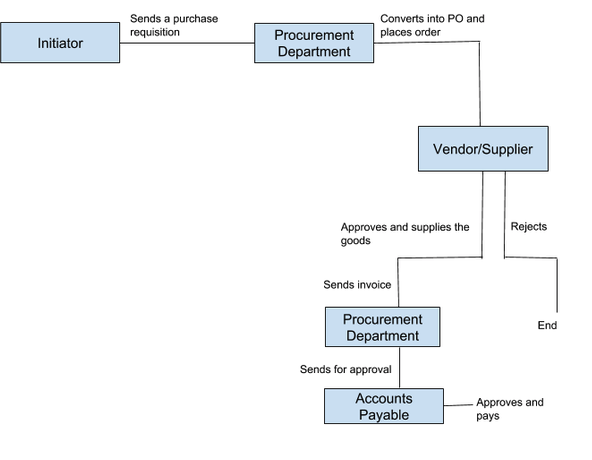 Create a Centralized Supplier List
A central supplier list is a key component of your procurement workflow because it improves productivity for both the procurement and the accounting teams. All of your product information from pricing to SKUs and style numbers are pre-loaded into the system, reducing instances of data entry. While this sounds like a small detail, an approved, centralized list allows you to increase visibility, reduce costs, and monitor supplier performance.
Once you've made your supplier list a part of your purchase order workflow, you can start approaching your procurement process more strategically.
Bring Purchasing Into the Cloud
During your audit, you might notice that without a central hub for all purchasing activity, it's hard to keep track of purchase activity and documents you may want to refer back to in the future.
[bctt tweet="Digital procurement allows teams to focus on their main "mission," making strategic decisions that impact an organization's bottom line and position in the market" username=""]
According to Deloitte, digital procurement allows teams to focus on their main "mission," making strategic decisions that impact an organization's bottom line and position in the market. While you might not be ready for blockchain and cyber-tracking, this graphic emphasizes the power of an integrated, cloud-based system.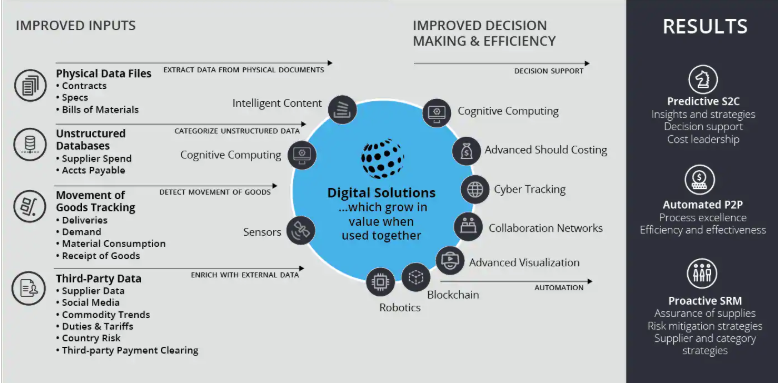 Get started by setting up your procurement software. Then upload your supplier list, along with products and pricing.
Procurement's reach goes beyond creating and sending POs, it extends into other areas such as finance and accounting. Your purchase order workflow has an impact on your entire organization, but PO-related activity typically centers around these three groups:
Requesters–likely lower level procurement staff or employees from other departments.
Procurement–Procurement managers/buyers.
Accounts Payable–Accounting team tasked with paying vendors.
Accounting software, project management tools, and inventory tracking applications can all work together to paint a picture of your organization's financial health—and productivity.
The goal is to optimize your workflow so that everyone can see what's going on. ProcurementExpress.com integrates with Quickbooks and Xero, which allows you to create a PO in our software and it will automatically create a corresponding record in Quickbooks.
Implement Approval Flows
Without an automated approval process in place, teams waste time, money, and information gets lost in the shuffle.
Worse, manual processes result in poor communication and data entry errors that can lead to delayed shipments, unpaid invoices, and poor document management.
The benefit of automating approval flows is the improvement with transparency and compliance, as administrators can set parameters based on a set of criteria.
They also help teams stick to a budget—approvers can review pending orders against total spend, then make a decision based on historical data. It also helps from a strategic point of view, allowing procurement to evaluate vendor pricing and performance—as they're likely to catch delays or price increases as they review order histories.
Purchase order approval flows vary by company size, type, and other factors, but regardless of individual details, the flow remains pretty much the same.
Submission
Approval
Permission Levels
Due Dates
Budget
To implement the process, you may need to run a meeting with key stakeholders to decide who can create purchase orders, who can approve them. Decide how many approvals are required for each order. We recommend keeping the number of approvers at a minimum, as
Build in specific rules for situations where a staff member submits a PO from an unapproved vendor. Or, perhaps pushing the PO through means going over budget.
Once the rules are in place, automate. The hardest part about the process is making the decisions about which vendors to include on an approval list and which employees qualify as approvers.
ProcurementExpress.com lets admins set up alerts that let approvers know when an order comes through, and from there, they can review and approve from any device.
Create Budgets for Better Order-Tracking
In ProcurementExpress.com, you can set budgets for specific projects or just purchasing in general.
The benefit of bringing budgets into your purchase order system is that you can review spending in real-time, and make adjustments as needed.
CFOs depend on data, as it allows them to make accurate cash flow predictions. Increasing visibility—through real-time budget tracking, as well as reporting tools—gives everyone from AP to procurement a clearer picture of the organization's financial status.
Bringing these additional stakeholders into the process allows everyone to plan according to cash flows and capitalize on discount opportunities.
Reviewing Supplier Performance
Again, this brings us back to the idea of creating a centralized supplier list and storing all purchasing records in the cloud.
Beyond uploading this information and setting approval flows to manage spend internally, you'll need to create a system for evaluating your suppliers' performance.
What is your existing process for making sure suppliers are up to par?
What happens if they send the wrong order or overcharge?
How will you record this in your system?
Additionally, a cloud-based purchase order workflow should include a method for reviewing quality, price, delivery times, compliance, and service.
Consider how these elements align with your company objectives. Reviewing order history along with supplier performance gives you the ability to take advantage of discounts, negotiate rebates, and gives all internal stakeholders access to the same information-re: pricing, freight, terms, and more.
Wrapping Up
Purchase orders are a vital part of any business that relies on goods and services to fulfill their customers' expectations. Which, let's face it, is just about every company on the planet. Yet, teams often fail to understand how this seemingly simple process lays the groundwork for more "sophisticated" strategies.
ProcurementExpress.com is all about making things simple in order to free up time for improving vendor relations, fine-tuning your negotiation strategy, cutting costs, and adding value. Book a time to chat and we'll show you around.
Click here to learn more about the massive impact of an effective PO workflow[content_upgrade cu_id="4355″]Get the bonus content: What Can an Effective PO Workflow Do for You?[content_upgrade_button]Click Here[/content_upgrade_button][/content_upgrade]