Here's how it works
4 steps to simplify your purchase order process
Our purchase order number generator enforces PO security
Requests are automatically sent via your custom approval route
Managers action POs and everything gets recorded
Accurate, comprehensive reports…anytime
Create purchase orders fast – approve instantly.
Users create purchase orders
Automatically, they're sent to managers by email
OK them in the field on any device
Set up budgets, customize purchase orders, set up approval routing, invite team members. ProcurementExpress.com accelerates purchase orders, gives you close control over budgets and liberates you from paperwork.
'Simple and easily updated, customisable purchase orders look professional. Can amend existing orders easily and track department budgets. Helped achieve ISO9001 :2015.' – Ryan Johnston, Ground Developments
Built to fit your business
Custom onboarding for everyone:

no templates and FAQs

Split access and responsibilities:

limit access, restrict or expand budgets

Split invoices and charge types:

split invoices by cost code, charge by division
Created to never let you down
16hr support:

talk to a real person, get back on track

Bespoke development service:

we'll tailor the tool to your needs

Concierge service:

we build your ProcurementExpress.com instance for you – for free
Designed for you to use
Searchable PO database:

find keywords and phrases in thousands of POs

Running reports tracks all PO activity:

find live reports on purchases

Customizable formatting:

Use the PO layouts and file types that work for you
Save time and money.
Intuitive interface:

anyone can use it, no training required

Cloud hosting:

nothing to download, nothing to transfer

Status reports:

track spending across departments at any time

Same day implementation:

get your entire team set up and ready to go in just minutes

1-click PO approvals

from any device, anywhere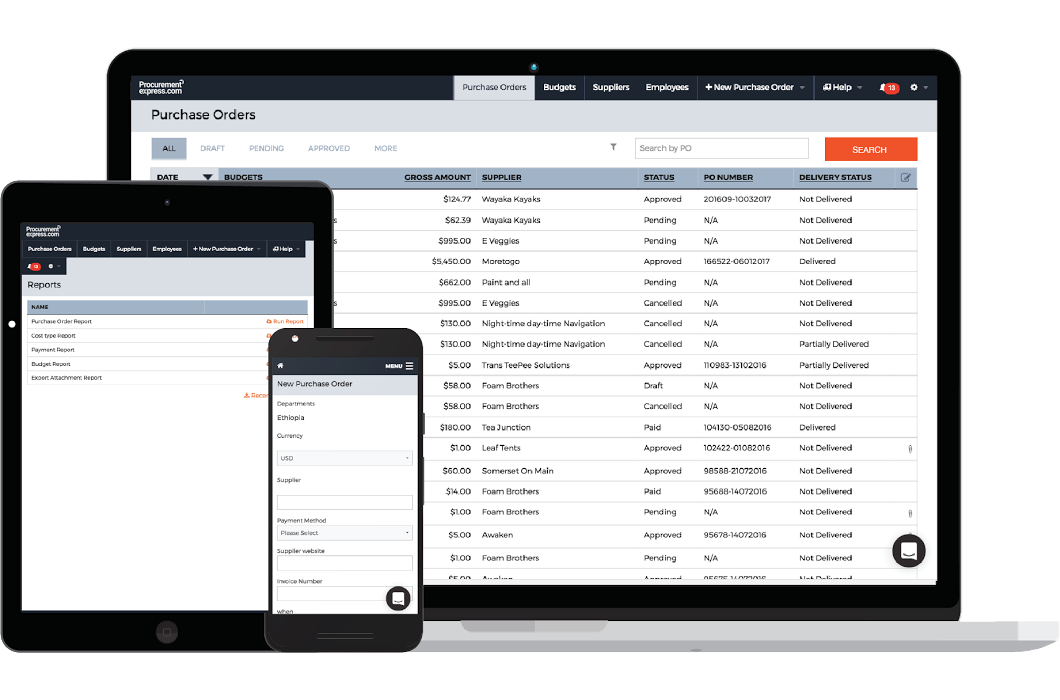 The sheer simplicity of the ProcurementExpress.com system has improved the workflow process saving the team countless hours.-
Colette Harte UNICEF, Charity
The best feature is that you can use it anywhere because it is web based, which suits us down to the ground as many of our team travel & work in remote locations. – David S., Operations Manager
m>