All this talk about advancing AI has stirred up worries about the future of work—particularly when it comes to manual labor. Let's look at Construction 4.0.
Technology is supplementing, not replacing, humans in construction. Businesses need to get ready if they want to compete in this changing landscape. Over the next couple of decades, the construction industry will face a profound transformation that will shake up everything from how we order supplies to how we work with machines.
Here are some of the ways construction is changing, as we speak, as well as how to prepare for further disruption.
[content_upgrade cu_id="4267″]5 Money-Saving Benefits of Automation–click here to get your free list[content_upgrade_button]Click Here[/content_upgrade_button][/content_upgrade]
What is Construction 4.0?
Construction 4.0 is the construction industry's version of Industry 4.0. In other words, the term represents the digitization of the construction industry. Technologies like robotics, 3D printing, machine learning, and AI are gradually being introduced to the sector, which while exciting, represents changes that teams will need to understand.
Construction companies still rely on manual labor, heavy machinery, and a business model that hasn't seen much change in the past 50+ years.
Below is an illustration of 10 disruptive technologies in construction, as predicted by the World Economic Forum. The graphic shows the massive impact construction 4.0 will have on the industry as change is coming from all directions.
Procurement teams will need to consider pre-fabrication and 3D printing along with traditional sourcing methods. Virtual and augmented reality and connected equipment will enter the mix. And, like every other industry, big data will become mandatory.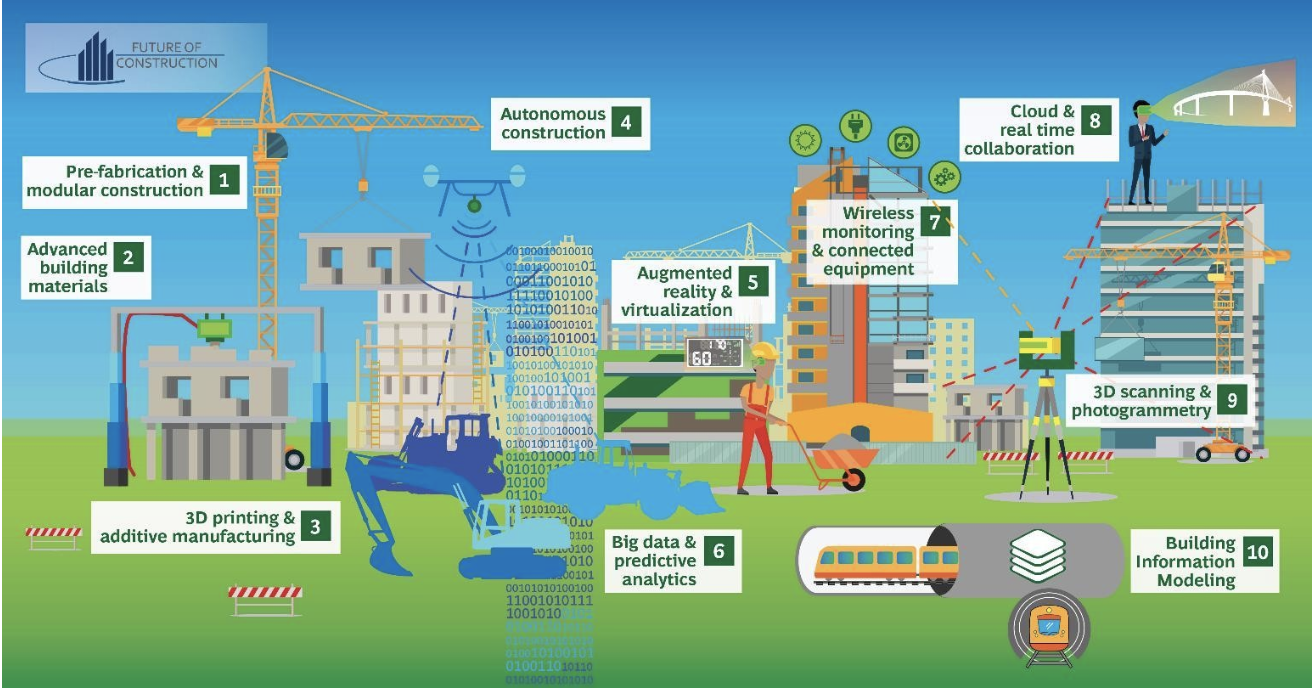 Investment in construction technology has doubled over the past decade. According to McKinsey, the lion's share of spending is going toward back-office technology like SaaS products or cloud computing, as well as building and modeling software. Other areas like artificial intelligence and 3D printing are expected to see more adoption down the road.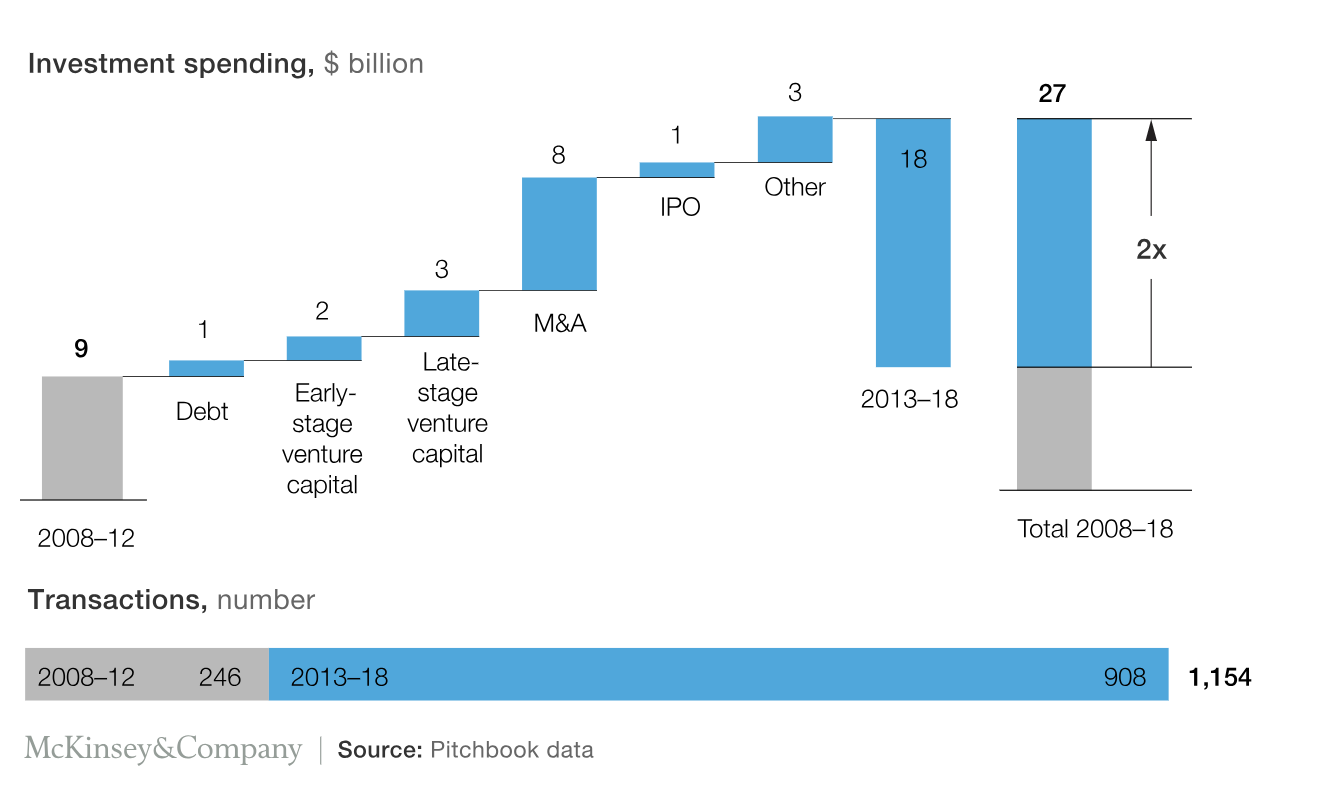 Supply Chain Optimization
According to that same McKinsey report, procurement and supply chain management are still relatively cumbersome, mostly manual processes.
Some startups have seen that procurement processes need to change with the times, and increasingly, there's a move toward creating online marketplaces for buying and selling raw materials, equipment, and even finding new subcontractors.
The benefit, as stated in the report is that players can match supply to demand and even enhance competitive bidding.
Another area that's gaining more traction is prefabrication. Construction, as it's been for thousands of years is a repetitive process. If teams can purchase partially constructed components in advance, they could complete projects in less time.
3D Printing and Procurement
Additive manufacturing or 3D printing has been around for a while now, but it's beginning to shake up construction logistics — impacting everything from production, sourcing, and planning to how procurement approaches vendor relationships.
3D printing does present a few key challenges—beyond purchasing the equipment, of course.
One is understanding which items are best suited for 3D printing. Teams must understand which items they can't print and which parts are cheaper to buy outright. Additionally, they will need to apply strategic methods to sourcing raw materials required for printing new parts.
The other big challenge lies in IP and licensing. Procurement pros may need to shift their focus on negotiating IP deals with vendors who own the rights to print a specific part.
Lean Construction
The idea of lean construction is centered around maximizing value for the customer while minimizing waste. It's not exactly a new idea. In fact, Toyota developed the approach following World War II when supplies were scarce.
However, it's much easier to develop a lean approach to manufacturing when the bulk of the work takes place within the walls of a single factory—allowing for predictable forecasting and control over processes.
In construction, the aim of going lean is to focus on sustainability and efficiency. So, the process depends on project planning methods that achieve a continuous workflow, while minimizing downtime, overproduction, and wasted workforce.
What is new is, the use of technology to reduce waste in construction. Tools like cloud-based project management and procurement software play a role in establishing a lean construction strategy, as they provide increased visibility and real-time updates.
Other technologies like Building Information Modeling (BIM) and augmented or virtual reality can reduce waste, too. One example is, we now have access to 3D designs that allow clients to see how a project will turn out, before building begins. This might reduce instances of late-stage change that leads to waste and overruns.
BIM
Speaking of BIM, this technology is also gaining significant traction in the construction business. BIM creates 3D visual representations of construction projects.
While construction companies have long used 3D models, the latest BIM technology facilitates a more collaborative planning process. All stakeholders from manager to designer to client and subcontractor can add their input to a project. Later, teams can use this information to decrease building waste and get everyone on the same page.
Automation in the Back-Office
[bctt tweet="We're starting to see how technology in the back office improves the procurement experience for all stakeholders from clients to vendors and internal personnel." username=""]
One issue we've seen come up over and over is this idea that the hardest part of adopting new technologies is the people, which makes sense. PwC's Industry 4.0 report stated that all employees must "think like digital natives."
According to another McKinsey piece, construction companies will need to improve their training process across the following areas:
Project Planning—Managers and engineers will need to be trained in setting workflows, billing, and working with subcontractors.
Performance Management—Employees must develop a keen understanding of how the measure spending and performance against budgets.
Risk Management—Competitive procurement teams need to develop mitigation plans and perform risk assessments based on datasets and the global economy.
Sourcing Strategy—Beyond reviewing suppliers, construction teams will need to develop a method for comparing the costs of ordering pre-fabricated materials, versus printing parts, or ordering the old-fashioned way. Because there are more things to consider, companies will need to incorporate a cost-modeling process or another technical solution to keep margins low.
To measure performance, companies need to store their data in a single location, where all relevant parties can track orders, review estimates, and know where every project stands.
Procurement professionals, across all areas, are using technology like ProcurementExpress.com to refine project planning and vendor management processes. However, the E&C industry, on the whole, could benefit from some additional education.
The McKinsey article recommends that teams partner with local civil-engineering programs or universities to provide additional training to keep pace.
Unfortunately, that advice assumes construction companies—notoriously short on cash flow—can afford to supplement their employees' educational development.
Wrapping Up
Construction technology is finally starting to gain traction, though we suspect it will take time for changes to take effect in the E&C space.
Maybe someday soon, construction teams will work on fully-optimized, zero-waste job sites and handle procurement tasks by turning on their printer.
In the meantime, we do recommend that teams quit using paper already and bring their projects, POs, and budgets into the cloud.
Take the first step toward Construction 4.0 and sign up for a free trial of ProcurementExpress.com. It's easy, we promise.
[content_upgrade cu_id="4267″]Subscribe now to get your free download — 5 Money-Saving Benefits of Automation[content_upgrade_button]Click Here[/content_upgrade_button][/content_upgrade]