Embed Zapier templates on the app
With Zapier you can Integrate with 1000s of apps and these Integrations are called Zaps and it so easy to set up the Zaps all you need to do is:
"Login -> Click on the setting icon -> Click on Integrations -> Click on Zapier ->A list with Preset Zaps will appear"
A change was made to the Zapier integration in the app. A user can now, with just a click of a button set a few automatic zaps when they go to the Zapier Integration in the app.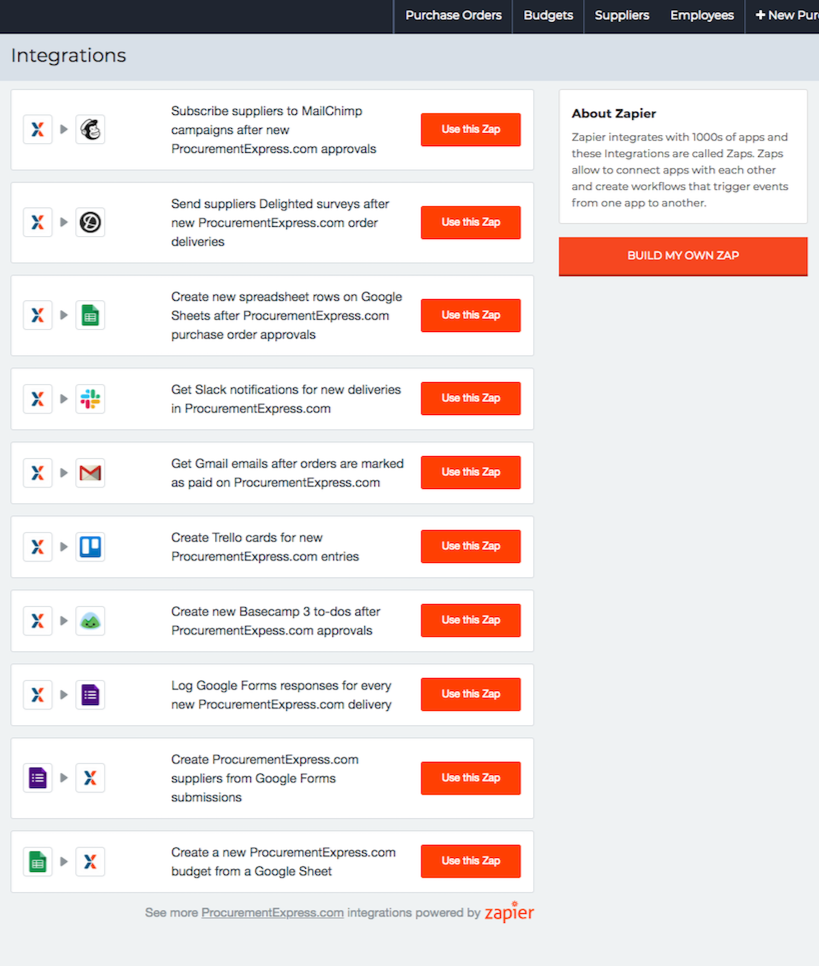 ---
Added a collapsible Panel to Supplier Info
Do you need the supplier information now all you need to do is:
"Click on any PO and open it -> Search for the supplier field -> Click on arrow -> A collapse panel will appear showing all the Supplier information"
A Collapse Panel was added to the Supplier field on a submitted PO.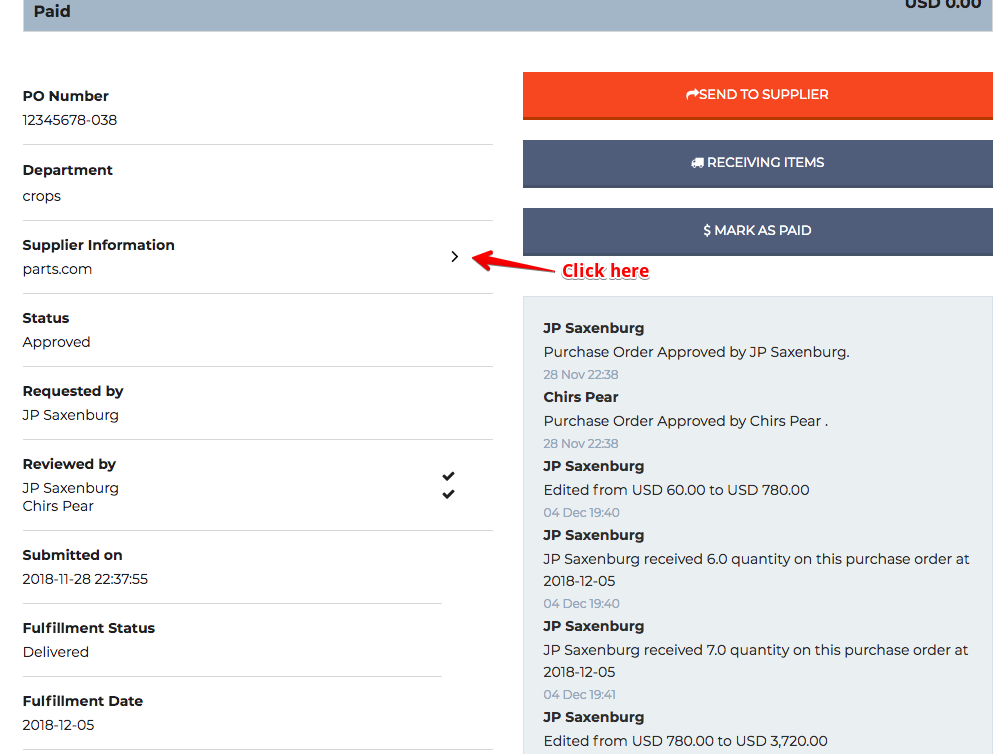 ---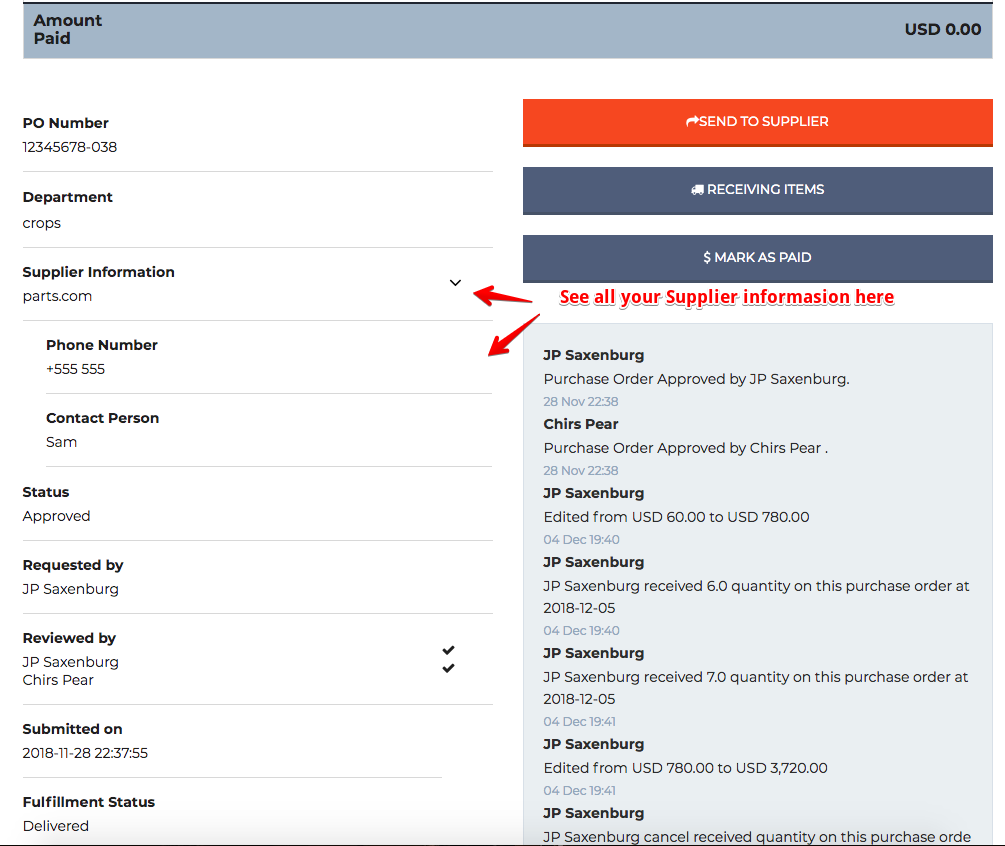 ---
Approval status was added to the Po layout
Not knowing what is the status of a Po? Has it been approved or paid? Well now you can just:
"Login -> Click on any Po -> On top of the Po page -> you will see the Status"
When a Po is send off for approval it will look like this :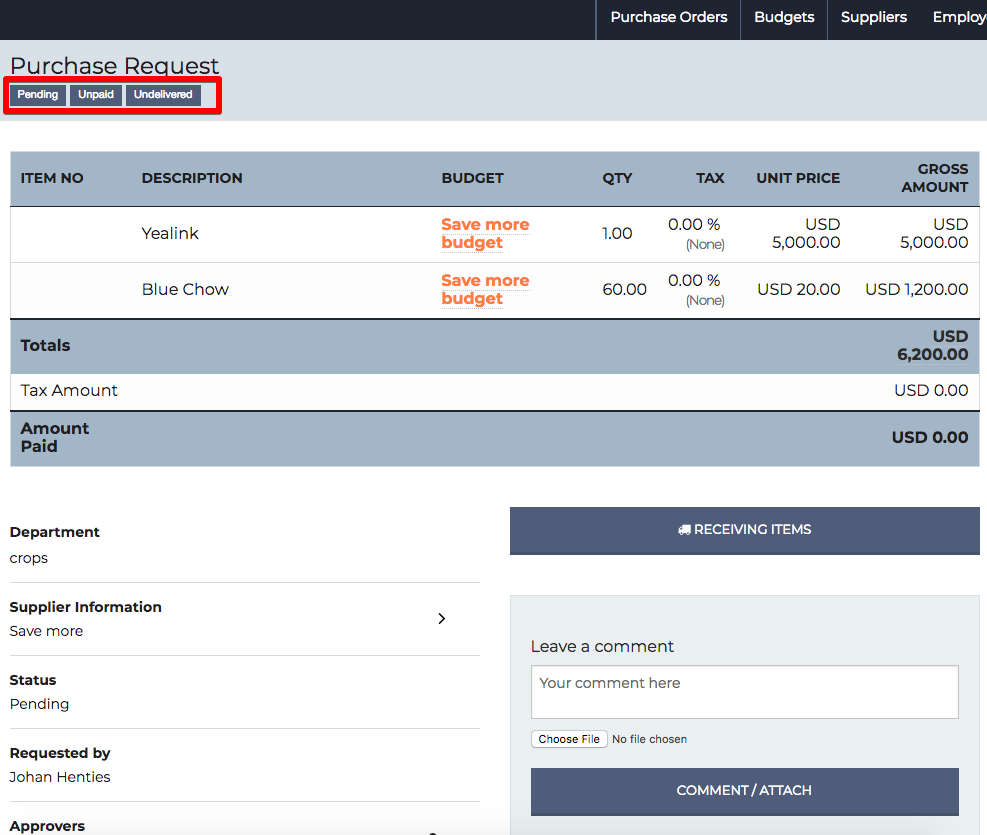 When a Po is Approved, Paid and Delivered it will look like this :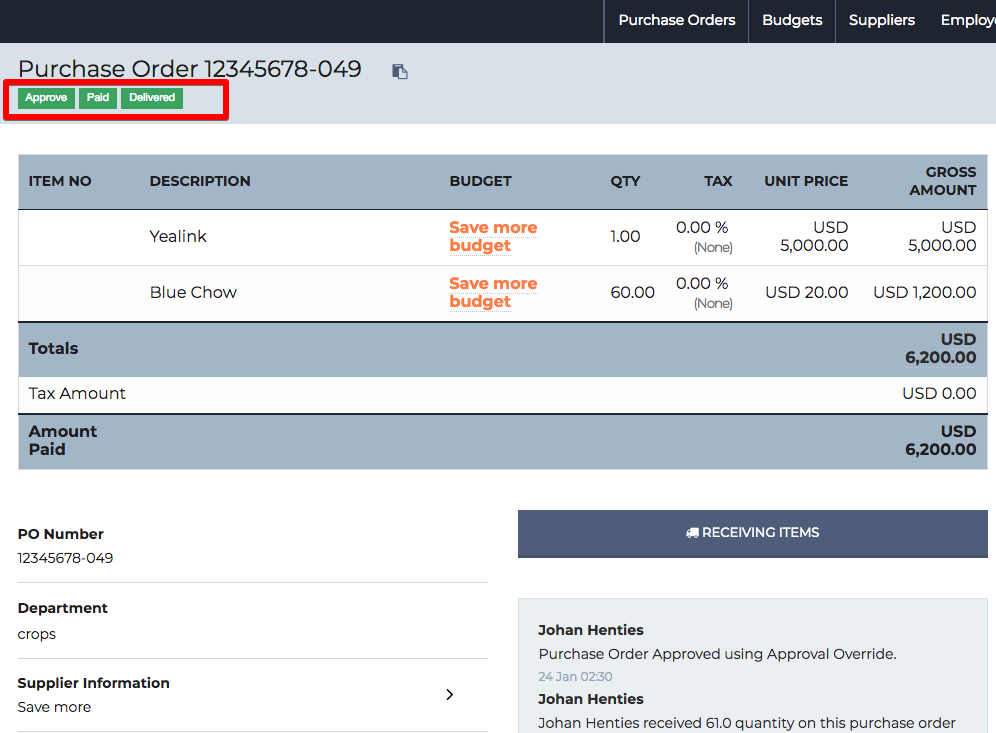 ---
Supplier Change logs
Are you always asking "who made that change to the information of a supplier?" Now you can see who did it by just:
"login -> Click on Suppliers -> Click on the a supplier -> Click on CHANGE LOGS"
A Supplier change log was added to the suppliers so that a user can see when and by who the supplier was edited or added.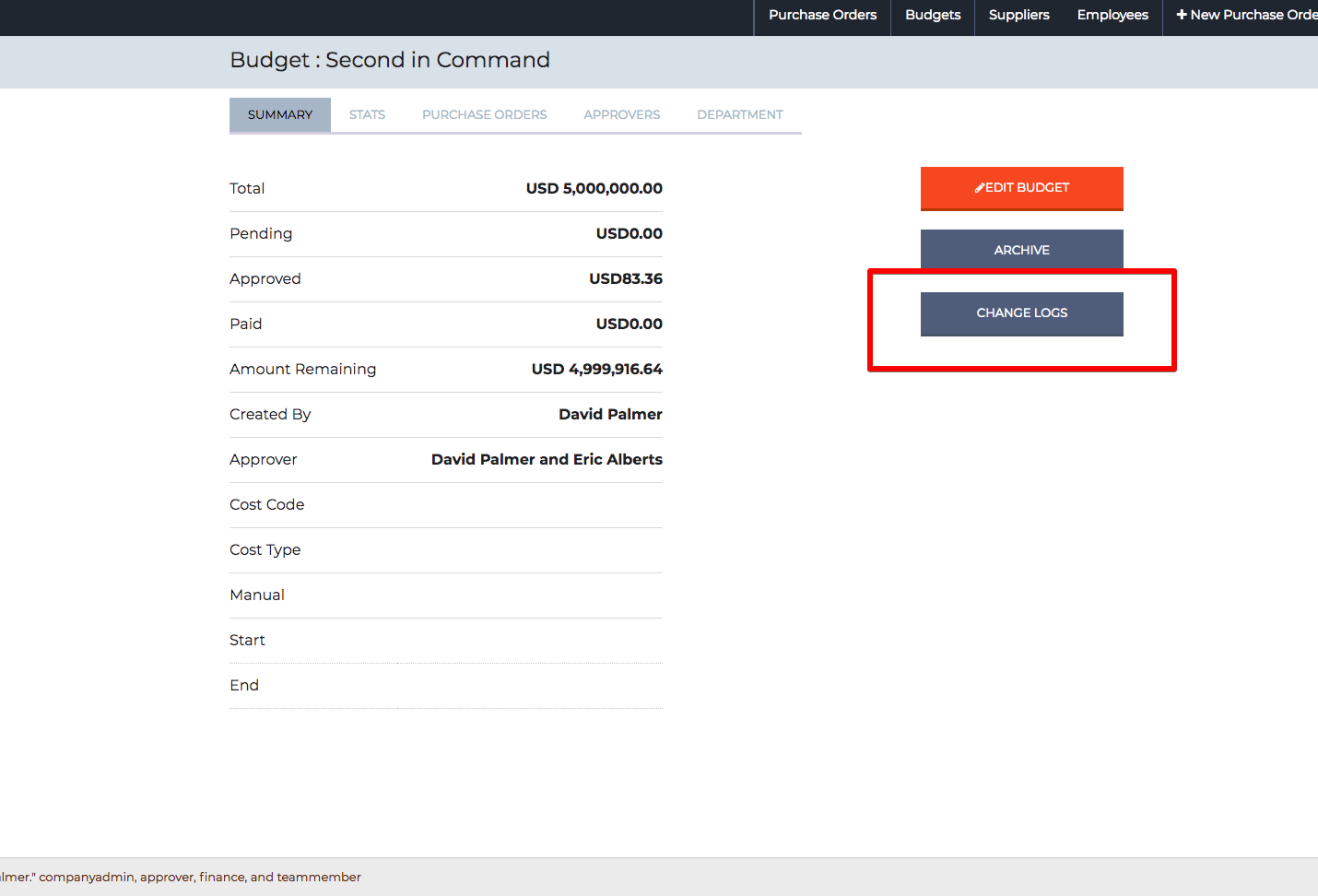 ---

---
Request to freeze/lock Column header bar
Scrolling down and not seeing the Column bar can be so frustrating but now you can see the column bar:
"login -> Click on Purchase orders -> Scroll down"
The Column header bar is now frozen in place when scrolling up and down on the app so that the user can still see what columns.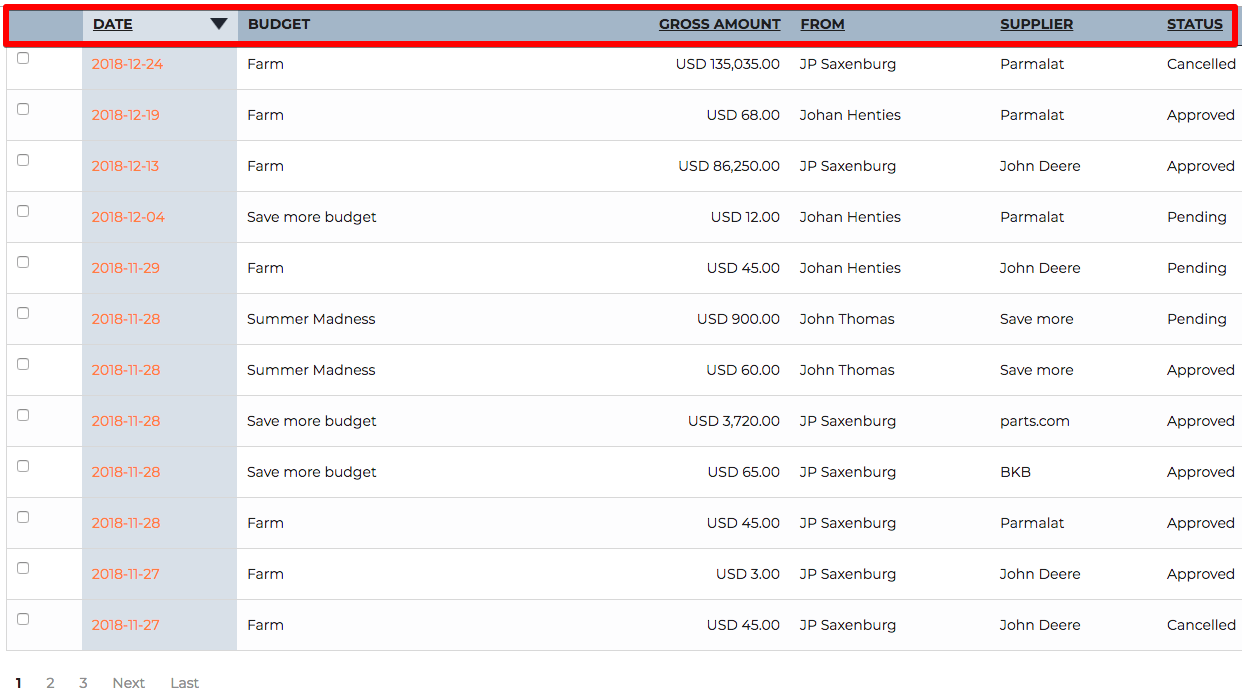 ---
Create Purchase Orders with PushCart Chrome Extension
Making an online purchase and copying the product info and all the product codes to Procurmentexpress.com was always time-consuming but now:
"Search for Procurementexpress.com on the Chrome store ->Add the Extension -> Now you will see the ProcurementExpress.com logo if you look at the top right side of your screen"
Browse your favorite shopping site, click to add your items to the shopping cart as usual. When you're done shopping, open PushCart by clicking on the

Most ProcurementExpress.com users will only have one company, but if you have multiple, select the company you want to allocate the purchase to.
This will be saved as the default for your next purchase. Select a Department. If you don't use departments you can skip this step. Now you can choose a budget and a supplier. Currently these should already be created within the ProcurementExpress.com, however, if they don't exist, you can select a temporary budget and edit the PO later.
It will be created as a draft automatically, so can be edited later. If you use a manual approval route, select the approvers for this purchase request. Once the form is fully completed, press "Create PO". As long as the cart is supported, a new PO draft will be created and ProcurementExpress.com will open with your new PO already filled out.