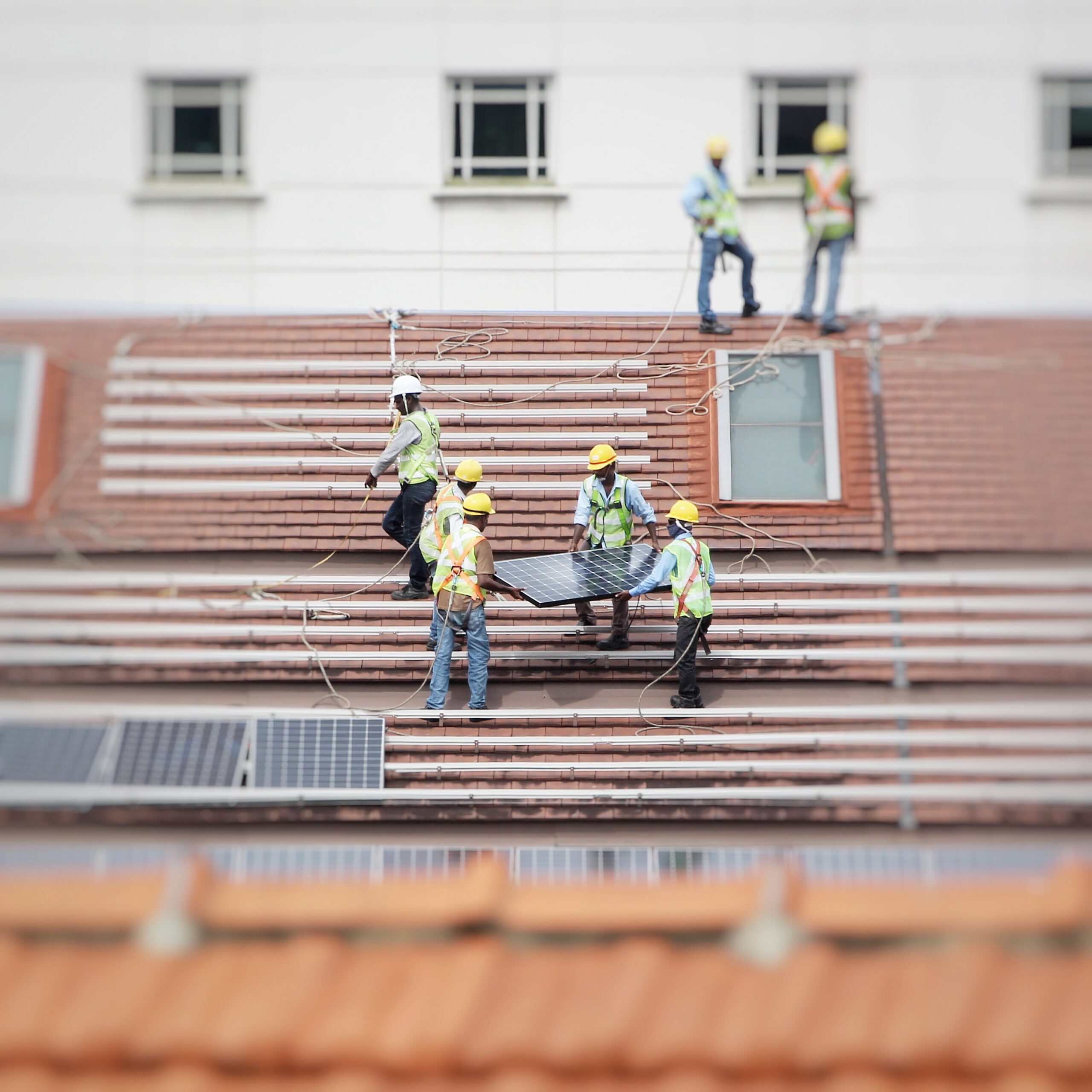 Project overruns are a regular occurrence in construction. Statistically, around 85% of projects clock in over budget due to some combination of poor planning, uninformed estimation, or a lasting commitment to analog processes.
Here's what to Do If Your Project Goes Over Budget.
Whatever the cause, overages shouldn't be dismissed as the norm. Arming yourself with the right tools and information can help you beat these staggering odds with planning, communications, and accessible insights, especially when your project goes over budget.
Here, we'll go over some of the common reasons for budget overruns, as well as how to course-correct and prevent them from happening in the future.
[content_upgrade cu_id="4566″]Free Download: Learn from Past Budgeting Mistakes: Tips for Keeping Your Next Project on Track[content_upgrade_button]Click Here[/content_upgrade_button][/content_upgrade]
Change Orders Aren't Part of the Plan
Change orders are one of the more difficult areas when it comes to construction budgeting. Change orders happen when the client or contractor realizes that something about the design just isn't working, or that new specs or materials need to be introduced to get the job done right.
Those new requirements, of course, often lead to overages, which do a real number on the original budget.
What's the Fix?
If you discover that a project has hit an unexpected snag, don't delay in communicating this to stakeholders. From there, you'll want to lay out your options and discuss them with the client, finance teams, and anyone else involved in making decisions about the project.
If you have one, now is the time to deploy your contingency plan. This might mean exploring options for scope reduction, releasing contingency funds, or finding lower-cost labor and materials to wrap things up as close to the budget as possible.
Preventing Change Order Overruns
You can't predict every situation that calls for a change order. Damage caused by poor weather conditions or an indecisive client is out of your control.
However, you can make sure that you address potential changes in the contract phase, carefully detailing when a change order provision applies and explaining the policies and budgetary adjustments needed to prevent that your project goes over budget
By the way, you can edit budgets in ProcurementExpress.com by simply opening a budget and clicking the button that reads, "EDIT BUDGETS."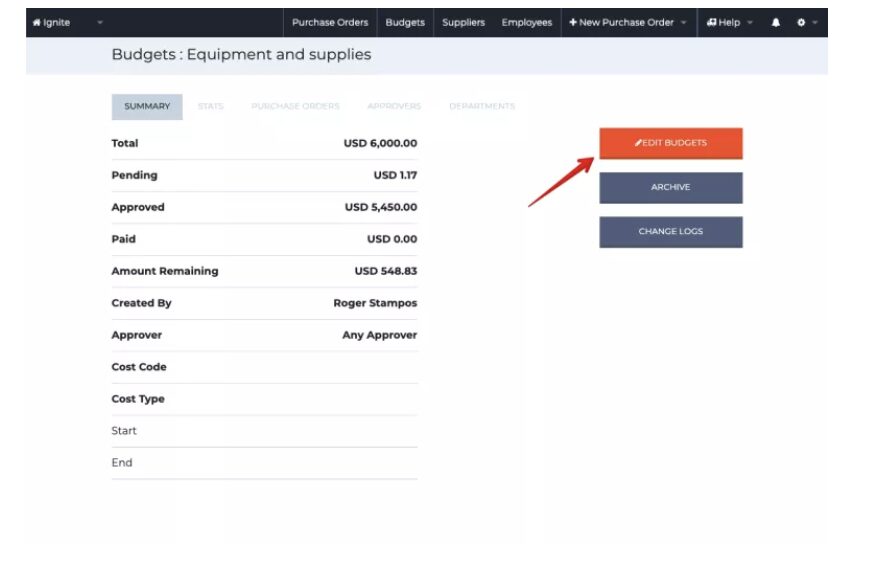 Some contractors charge more upfront for a contract, anticipating that issues or disputes might arise. With that said, you'll want to plan ahead for all scope changes, building in a range of possibilities and a plan for covering any additional resources.
Communication Issues Are Slowing You Down
Communication is essential in any business. When it comes to construction, with its tight margins and large-scale projects, the need for transparency and ongoing communication is even more vital. 
Project managers need to be able to explain what is needed and in what time frame–coordinating with suppliers, contractors, clients, and the in-house staff.
Misunderstandings during the planning phase can result in missed milestones and a different interpretation of how tasks should be performed.
Correcting those issues can lead to delays and wasted materials, not to mention the costs associated with the additional labor you're now responsible for paying.
What's the Fix?
If there are communication errors, you can change course by implementing a few new tools and policies that explain how they are to be used. One solution here is to make the move to cloud-based communications tools and project management apps that can be accessed in real-time.
Project managers benefit because this technology allows them to look at issues from anywhere and make informed decisions in less time. Additionally, faster communication can prevent problems from spiraling out of control. 
For on-site workers, this gets a bit more challenging. These folks probably don't spend a ton of time in front of a computer, so it's hard to be in continual contact with project managers and in-house staff. As such, you'll want to arm them with mobile solutions that allow them to submit order requests and daily reports from their phones. 
It's All in the Planning
Every project must begin with a good plan. While this may sound like an obvious statement, it's in the set-up that we often see construction projects fail. In other words, they never stood a chance.
As with any project, the process begins with research. Knowing the goals of the project, as well as the requirements for the new building, will help you start creating the budget.
The next step is assessing the site. What are the conditions and does anything need to be done before the project begins?
How much will it cost to procure the required materials, labor, and equipment? What are the design options? Is there existing documentation regarding site requirements?
Essentially, you'll need to make sure that the plan covers everything from procurement to your company communications flow. We recommend that the plan includes the following components:
Requirements 
Schedule 
Communications
Financials
Change Orders
Quality Control
Send Informed Estimates
You might be tempted to apply the same rules to every estimate, sending a uniform "cost per square foot" to potential clients. Unfortunately, this is one area where you really don't want to cut any corners. 
Look through past order data to get a baseline of how much you can expect to pay for materials. Take note of any recent price changes and identify whether you need to find any new vendors to meet the requirements for this proposed project. 
Before you send the estimate, check in with all vendors and sub-contractors to confirm their rates. And finally, build in a 20% contingency barrier to cover any surprises. 
While this isn't the prettiest graphic around, it provides a clear breakdown of how to effectively build estimates.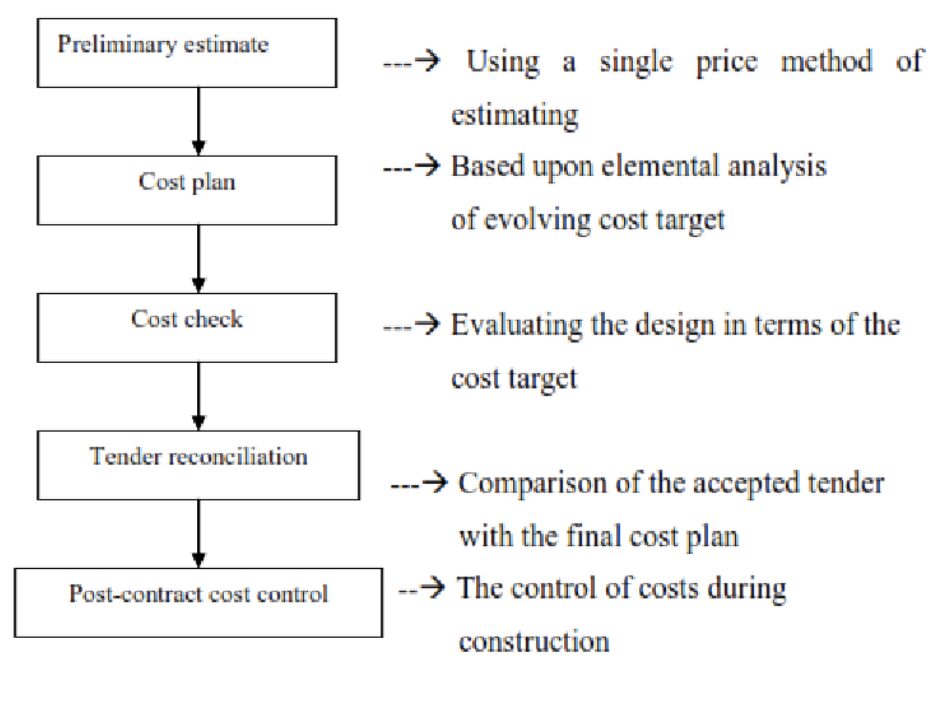 Once a project is over budget, it's hard to compensate enough to get things back on track. Ideally, project managers are closely tracking the budget so that they can take steps to minimize the damage sooner rather than later. 
According to a report from McKinsey, paper-based processes are one of the main issues facing the construction industry. And while this report is a few years old, we still see construction companies lagging when it comes to embracing the digital.
The problem with manual processes like paper purchase orders is they don't support cross-team collaboration, nor do they provide efficient document management. Further, they hinder project leaders from making smart decisions in a reasonable time frame.
Construction companies need to digitize all operations from accounting and finance to project management, procurement, and on-site reporting. 
Update Your System for Tracking Spending Against Your Budgets
All purchasing should be limited to a pre-approved set of vendors, with POs tied to budgets for increased visibility. 
Long term, project managers should track performance by keeping an eye on the budgets. Something like the ProcurementExpress.com dashboard is a great way to keep budgets on your radar. If anything catches your eye, you can dive deeper, looking into who approved that huge order or where the bulk of your spending happens.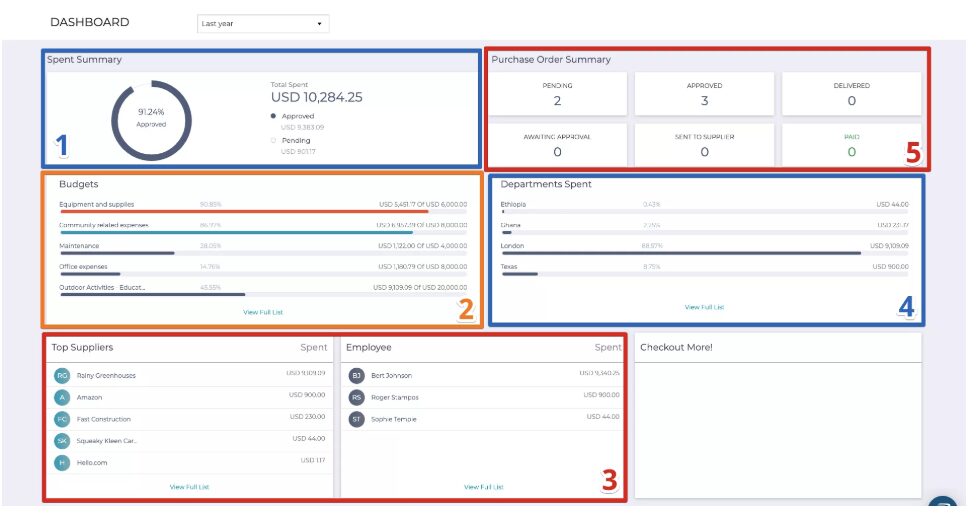 Keep Project Information in the Cloud
Everyone from engineers and sub-contractors to designers, project managers, and procurement teams need to be on the same page. Make sure things like the current plans, contracts, and approved suppliers are updated in real-time and that everyone can see these documents. 
Finding Solutions for Over-Budget Projects
You'll want to figure out how severe the problem is, looking at how much of the project has been completed and how much of the budget is left. Additionally, you'll need to assess what materials are needed to complete the rest of the job.
This information serves as a baseline for forecasting how much it will cost to finalize the project. From there, you can explore your options for reigning in spending during this last leg, including the following:
Can You Reduce the Scope of the Project?
Reducing the scope of the project is another potential solution, but you'll need to tread very carefully here. The project must still hit the objectives laid out in the beginning, without taking a hit in terms of quality.
Is it Possible to Source Additional Funding?
Is it possible to lock down additional funding? If overages are caused by poor planning by your company, this may be a hard sell. In that case, you need to eat the costs and learn from this mistake.
However, if overages are happening because a client is changing their mind about certain aspects of the project, the funds should come from them.
Where Can You Reduce Costs?
Of course, reducing costs is the most obvious tactic when it comes to minimizing the issue. However, you'll have to look for effective ways to slash costs without compromising on quality. Can you use lower-cost materials or labor solutions?
Is there an opportunity to save by bundling upcoming orders, or to take advantage of an early pay discount?
Wrapping Up
One of the best ways to prevent budget overages is to learn from past mistakes. No matter what's behind project overruns, the main thing you'll need to keep in mind is that data is on your side.
Past projects offer insights into trends and highlight mistakes, patterns, and any potential for improvement. The key here is making sure you add some controls in place, as well as centralized reporting tools that allow PMs and other stakeholders to identify potential problems before they wreak havoc on your profitability and reputation.
Learn how ProcurementExpress.com makes managing complex construction projects easier by taking a look at our suite of features. 
[content_upgrade cu_id="4566″]Subscribe for the free download: Learn from Past Budgeting Mistakes: Tips for Keeping Your Next Project on Track[content_upgrade_button]Click Here[/content_upgrade_button][/content_upgrade]