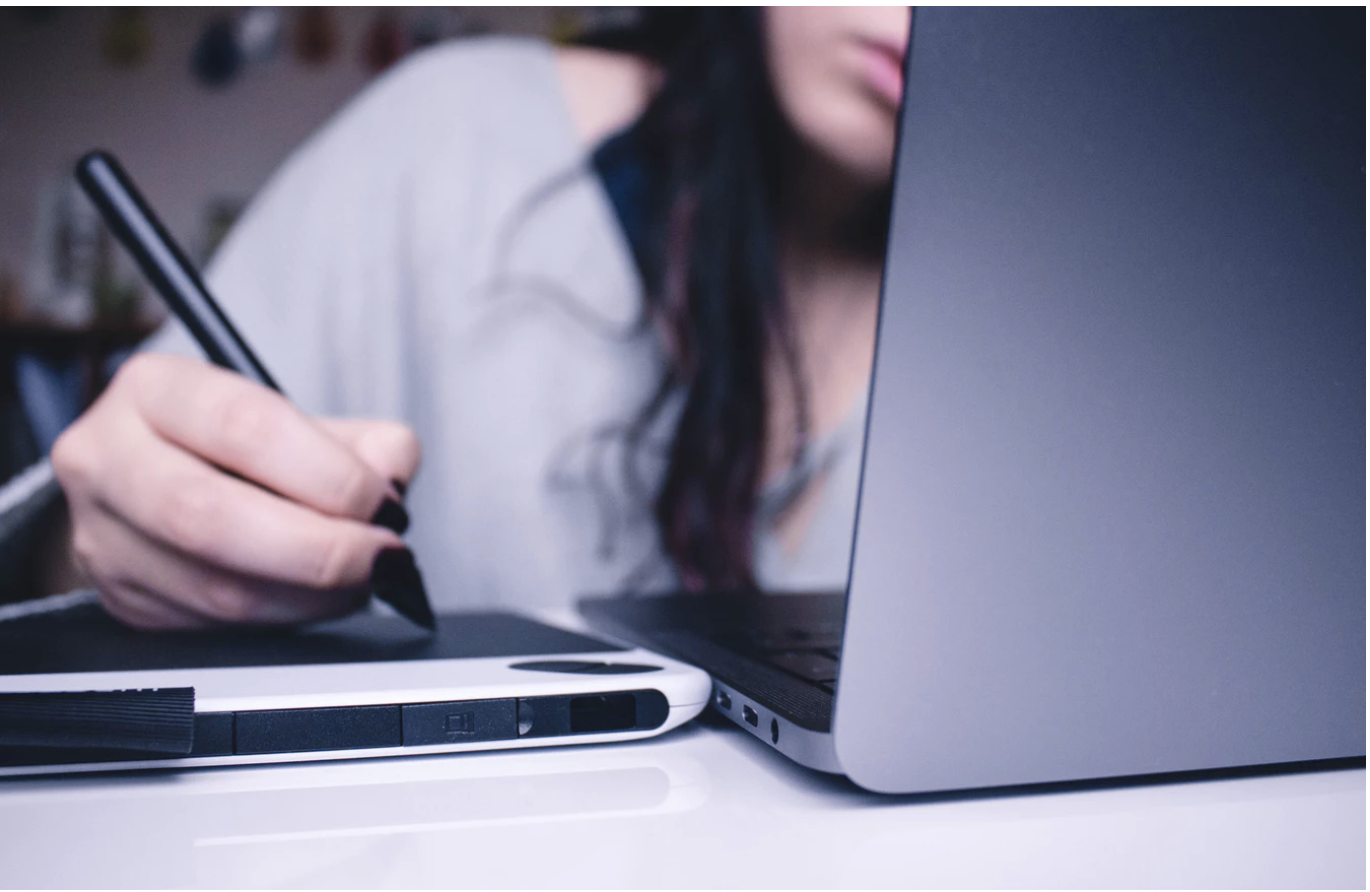 For many companies, controlling spend is one of the biggest challenges they deal with day to day. How does your company manage spending?
That challenge is amplified when you bring travel costs, wasted inventory, poor budgeting, and multiple vendors and their associated invoices into the mix.
Below, we've compiled a list of several ways you can reduce spending in your company, from taking a more strategic approach to purchasing to timing bill payments to optimize cash flow.
Read on to take a look at our tips for getting your company finances more organized.
[content_upgrade cu_id="4473″]A Few Small Ways to Reduce Company Spending — free download[content_upgrade_button]Click Here[/content_upgrade_button][/content_upgrade]
Review Vendor Performance and Renegotiate Terms (Often)
With external purchasing being one of the largest expense categories for most companies, it's no wonder that procurement is synonymous with cutting costs or, as management consulting firm McKinsey & Company puts it, unlocking value.
According to the firm, over 75% of procurement contracts they reviewed did not have defined KPIs that set expectations for supplier performance and found that poor performance resulted in a number of indirect costs.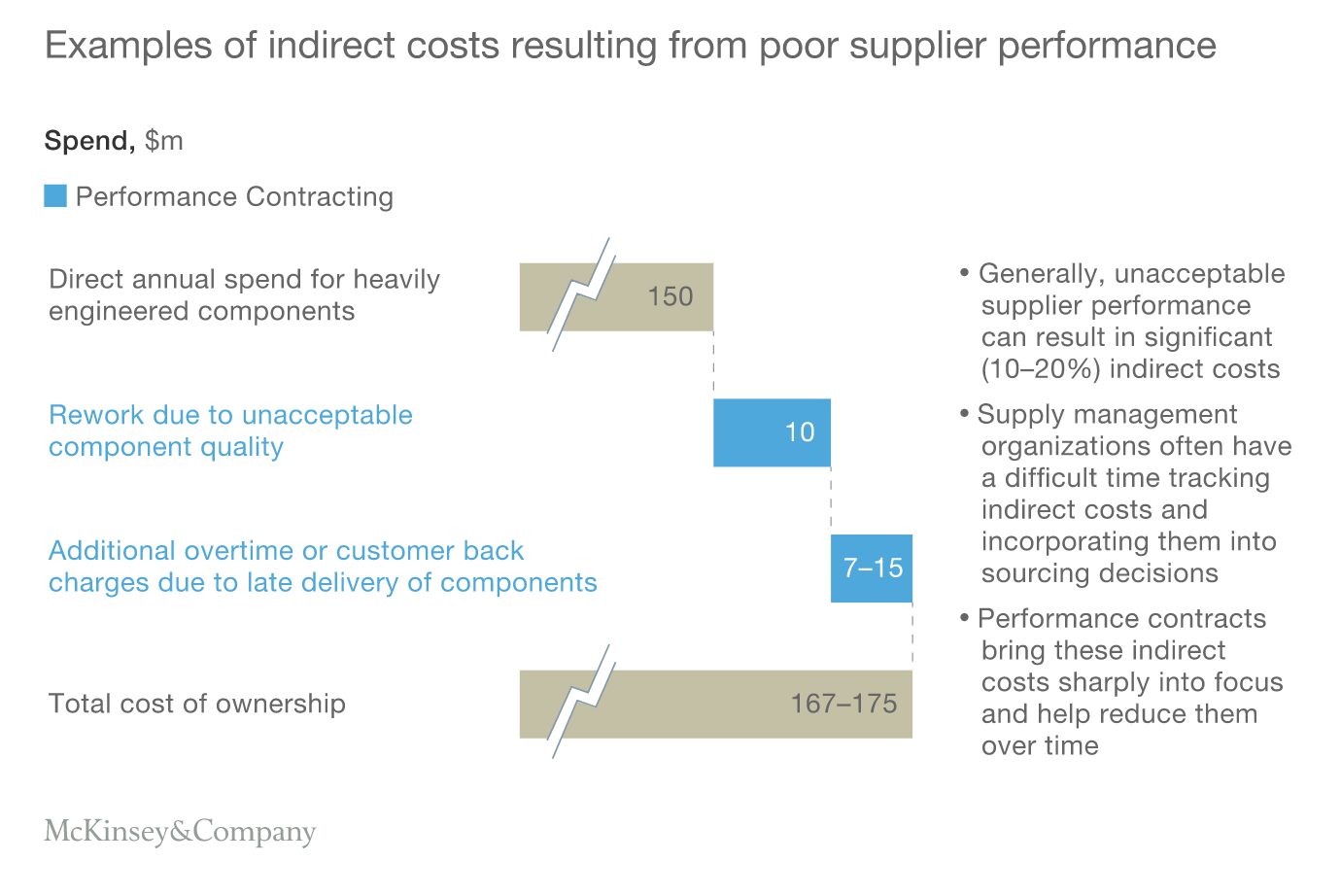 Beyond meeting certain quality standards, procurement can reduce spending by consolidating shipments and asking for things like volume or early-pay discounts.
Often companies end up paying more than necessary by failing to negotiate better terms.
Enable Cross-Departmental Collaboration
Often organizations fall victim to the results of siloing off procurement from the rest of the organization, which is a costly mistake.
As such, modern procurement systems need to sync up with accounting software, CRMs, and inventory management tools so that there's a unified view of budgets, spending, and sourcing.  
It sounds simple, but bringing procurement into the design process, production, and financial planning allows everyone to come together to make smarter purchasing decisions without compromising on quality.
For instance, procurement and R&D can work together to assess the cost of different materials and look at more cost-effective alternatives. Sales teams can give procurement a sense of what customers expect from the final product.
This graphic from the Hackett Group is a few years old, but it does a good job of illustrating how the role of procurement is all about managing value on an organization-wide level.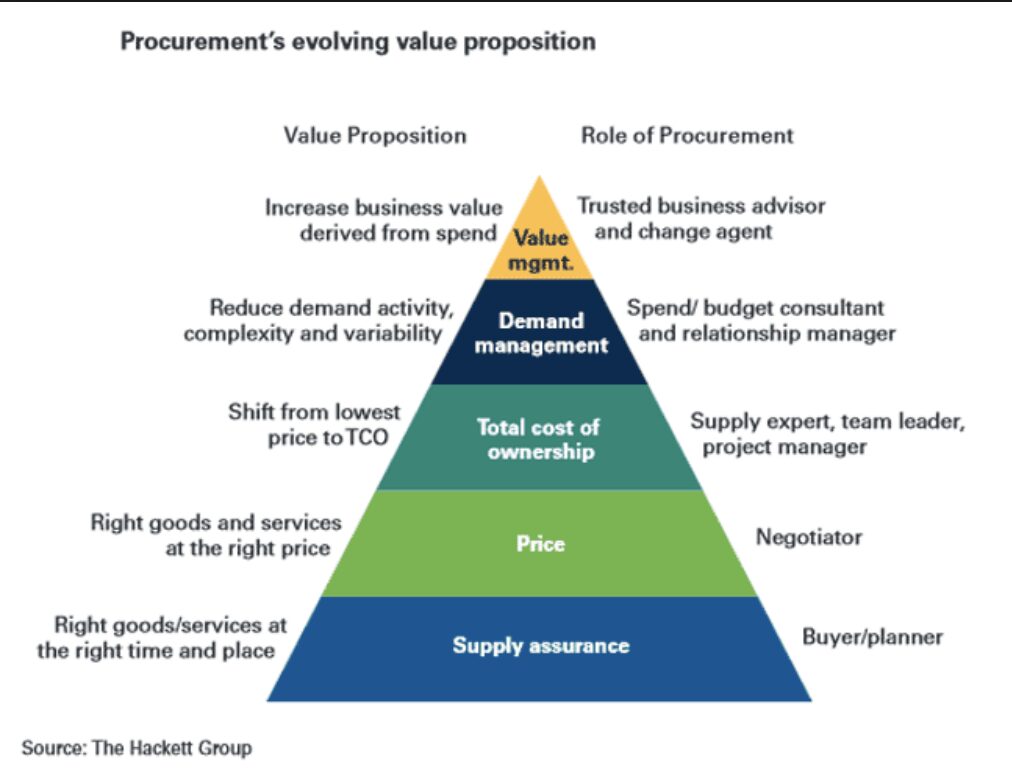 Collaboration in the context of saving money also means looking closely at the supply chain for opportunities to cut costs. For instance, does it make sense to outsource production for some items or produce them in-house?
Is there an upcoming product launch? If so, procurement teams can help identify vendors and materials that produce the best quality product without resorting to materials that are hard to find or expensive, which threaten to undermine your company's position in the market.
Time Your Purchases Accordingly
To avoid any situations where you're experiencing low cash flow, time your purchases strategically. Doing this the right way means that you'll need to put a cash flow plan into action.
Here, we've included an example of a fake company's cash flow breakdown: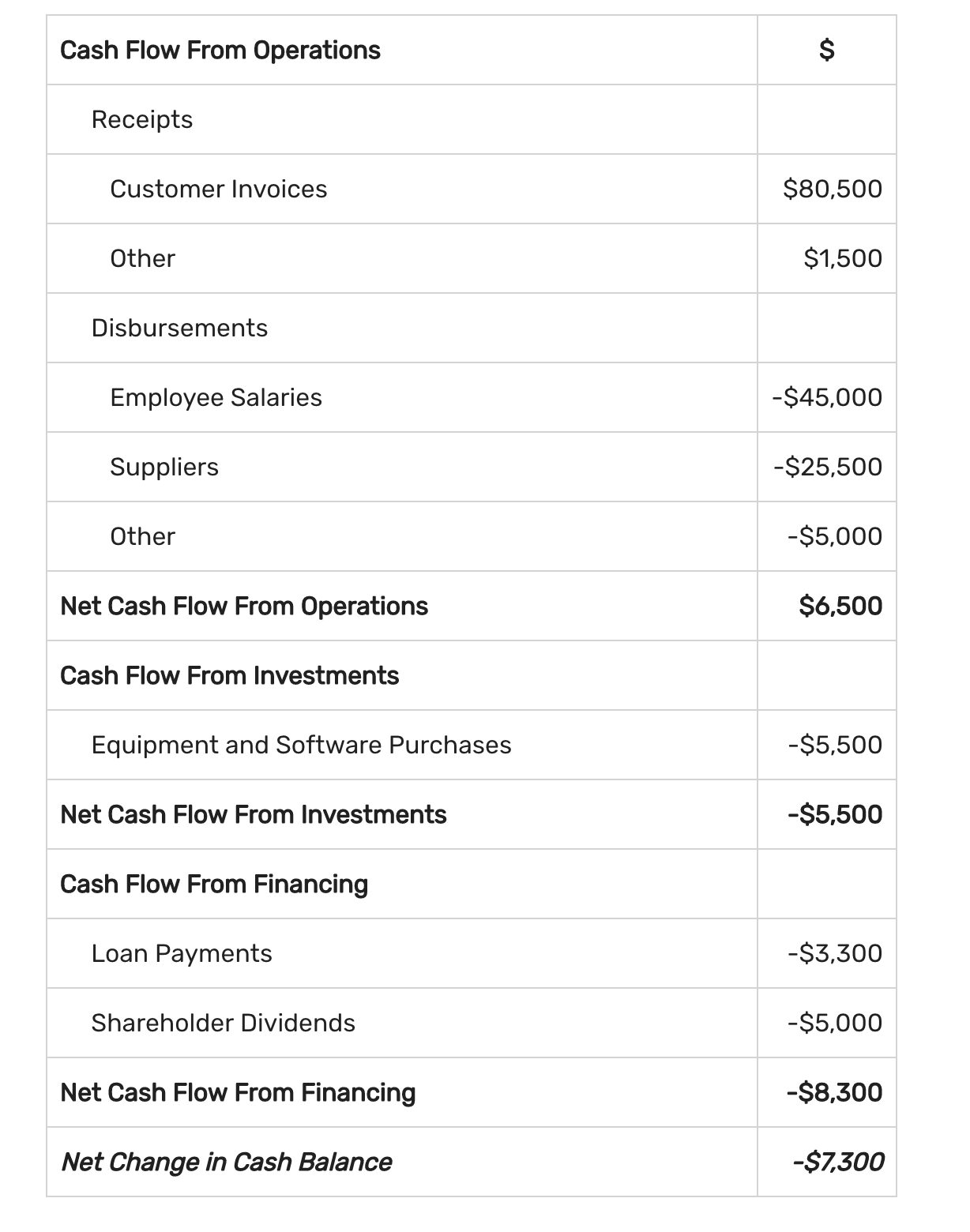 As you evaluate your own spending categories, try to identify where you can free up some capital. How can you streamline your accounts receivable process so that clients pay faster? Perhaps, consider offering a discount for early payment.
On the accounts payable side, are payments going out right on the due date? Is it possible to stagger bill payments? Are AP and purchasing on the same page?
Make sure that your procurement solution syncs up with your company's accounting software so that new orders don't go through right as a large bill becomes due.
But that's a whole other topic, which you can read more about in this report from Deloitte dives deeper into some cash flow best practices.
Always Pay Bills On Time
This seems like a no-brainer, but it's easy to forget to pay an invoice if you're juggling a bunch of different things and don't have reminders set for aging bills.
Paying bills late means incurring late fees and paying higher interest rates, which add up over time. Worse, if you make a habit of paying vendors after the due date, they may stop doing business with you altogether.
Be sure to set monthly reminders so that no bills slip through the cracks. And remember, some vendors offer early pay discounts, which can help boost your bottom line down the road.
We should also mention that, when possible, you should pay vendors with a corporate credit card rather than checks. This will save you time, reduce paper waste, and allow you to potentially earn cashback rewards, which can then be used to pay off additional expenses.  
When Possible, Make Expenses Variable, Not Fixed
Fixed expenses are a long term commitment, while variable costs can be changed, as needed based on business needs and cash flow.
Things to consider:
Can you rent something over purchasing?
Can you avoid exclusivity contracts with a vendor?
Can you switch to performance-based compensation from guaranteed payments?
Can you negotiate contracts that don't include a purchase minimum?
The list goes on. You'll want to calculate cost savings from minimum order requirements versus placing smaller orders; the goal is to look for areas where you can build in some flexibility so your monthly bills don't get out of hand.
Sometimes, it makes more sense to buy versus rent. Make sure you carefully review the costs associated with paying for things like equipment or new technology up front. If you can afford it, paying off a large purchase all at once allows you to avoid paying interest or late fees down the line.
Set and Track Budgets
How much does your company spend per week, per month, and per quarter? If you can't answer that question, you might be racking up bills by making purchases you don't need or buying from the wrong vendor.
Putting in the time to create and track budgets can make it easier for the entire organization to manage money and maintain positive cash flow. Budgets are also a useful tool for helping teams reign in rogue spending and make sure they're on track to reach goals.
We get into it more in this article, but here are a couple of ways that better budgeting can prevent spending from getting out of hand.
Spend Allocation
One of the features included in the ProcurementExpress.com suite is the ability to attach POs to specific locations, departments, or projects. This makes it easier for organizations to get a clear picture of where funds are going and spot issues as they emerge.
Teams often try to slash costs with too broad a brush. For instance, a company might say they need to spend less on travel or expenses or reduce spending on raw materials by X%. When you break up budgets based on department or project, there's greater control.
In our system, approvers can see how much of the budget is available as they review a purchase request.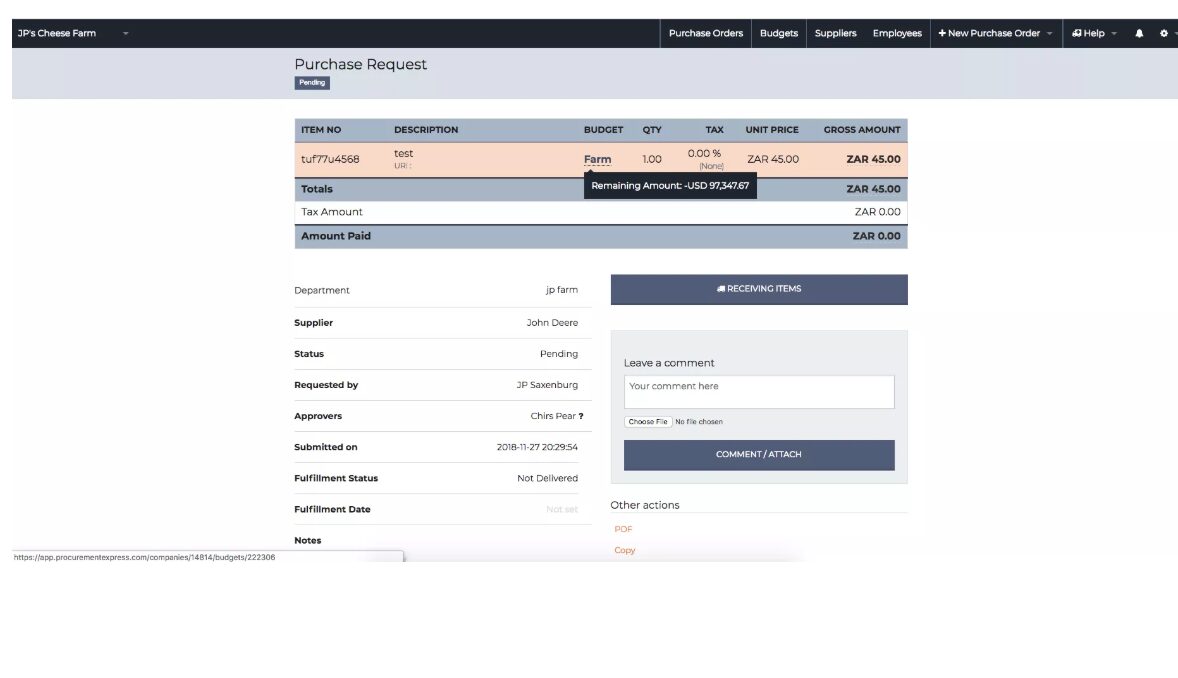 These "smaller" budgets can be linked to one overarching budget, but that separation makes more sense for day-to-day spend management.
Expense Tracking
Aside from the big purchases, which, as mentioned earlier, may amount to nearly half of all spending, the little stuff adds up, too. Make sure you have a system in place for tracking employee expenses such as mileage, travel, and office supplies.
If you have ongoing issues with rogue employee spending, consider using pre-paid cards to fund employee travel and meal costs. Internally, you can start requiring approvals for supply orders.
Wrapping Up
ProcurementExpress.com can help you manage the spending in your company in several ways. Our main offering is streamlining the purchase order process, which includes adding in approval workflows to prevent unauthorized purchasing, real-time access to purchase data, and the ability to set and track budgets.
If you'd like to see how our software can help you save money and time, sign up for a free trial for an inside look.
[content_upgrade cu_id="4473″]A Few Small Ways to Reduce Company Spending — subscribe here for these free tips[content_upgrade_button]Click Here[/content_upgrade_button][/content_upgrade]