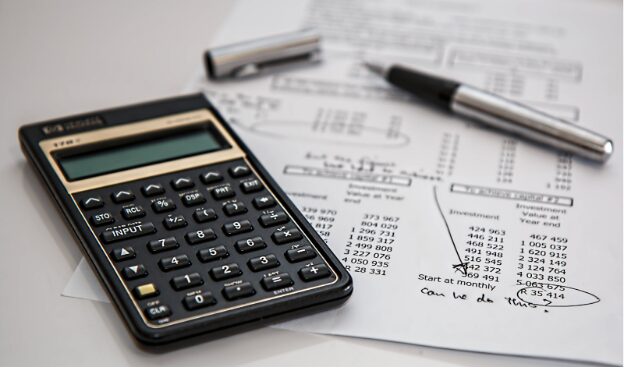 When you're running a business, it's easy to get caught up with day-to-day tasks. Are orders coming in as expected? Do you know how to manage the budget in your company? How do you manage the budget?
Budgeting is a vital part of the procurement process and organizational success on the whole. From fraud protection to forecasting, the budget serves as the foundation for strategic procurement, for growth, profitability, and cost control.
As with managing expenses, creating a procurement process, and putting together a preferred supplier list, businesses must put together a formal process for creating and maintaining a budget.
Keep reading, and we'll discuss why a formal budget should not only be established but how it can serve as the backbone for strategic growth.
[content_upgrade cu_id="4425″]Free Download: Your Company Budget Checklist[content_upgrade_button]Click Here[/content_upgrade_button][/content_upgrade]
Why Your Business Needs to Manage the Budget
First, let's quickly talk about exactly why you need a budget in the first place.
Sure, a budget might not sound like the most exciting piece of your business strategy, but it serves as a roadmap for achieving strategic business objectives.
This process is all about making an educated guess about how the organization's finances will look, and based on that, how you'll control your finances, pay wages and honor commitments, and make the decisions that inspire growth.
It requires examining what happened last month, what happened three months ago, and what this month last year looked like. Then, using that information, make wise financial decisions for the months and years ahead.
For example, you might learn that a significant portion of last year's budget went to overtime pay.
In that case, you might add more people to a similar project in the future. Or, perhaps you're starting to see freight charges pile up. That revelation might inspire you to negotiate bundling terms with suppliers or buy more products ahead of time to eliminate that extra expense.
That said, you likely won't come to these conclusions without ongoing review. This little graphic provides a nice visualization of the budgeting process–you'll set the budget, forecast, and set goals–monitoring for any changes throughout the year.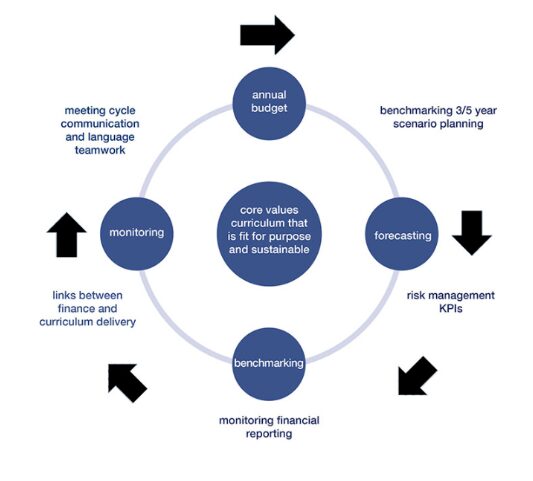 The point is that a close watch on the budget means that you can spot the small opportunities that add up to significant savings or better planning.
How to Manage the Budget in Your Company? Start with Information Gathering
According to the US Small Business Administration, a business budget should include the following elements:
Fixed costs
Expected sales and revenue
Profits
Variable Costs
Semi-variable costs
So, what you'll want to do is, start gathering financial records that correspond with those elements. Collect data from past sales, overhead expenses, and ordering patterns, if possible. At this stage, your goal is to pool all of your financial information together so you can piece together a clear picture of how much revenue is coming in and how much your organization spends on everything from wages to raw materials.
We'll say this, accessing historical data is one of the key reasons we recommend digitizing everything related to procurement and finance. Over time, you'll build up this robust database that you can use as a starting point for budgets and forecasting.
Last year's numbers can give you a sense of what to expect this coming year, but make sure you adjust for any price increases, rising demand, or changes in vendors.
Target Sales and Profits
The first step is to develop a revenue target. You'll want to start with sales and profits because this information will inform the rest of your projections, from what you'll need to order to make sure that you have enough goods to sell to whether you can start shifting your focus toward growth.
Make sure you don't overestimate. Instead, base your projections on deals in your sales pipeline, combined with historical performance.
Aside from some fleeting optimism, there's no benefit to inflating your projected sales–it will only create difficulties later on.
After reviewing sales from the past year, look at your current customer lineup. Are there more customers on the roster than you had last year? How much does each customer spend on average? Are you poised to close a few large deals?
You'll also want to think about what would happen if the market changed for the worse–what if you lost a major customer or a bunch of clients stopped buying from you?
Ideally, your financial statements should have an itemized list of variable and fixed expenses that you've incurred over the past year. This includes things like salaries, rent, freight, utilities, taxes, and more.
Estimate Your Gross Profit Margin
This means you'll need to add up how much you've spent on inventory, storage, freight, and other costs, then subtract that number from your overall revenue to get your gross profit margin.
Keep in mind that this requires some ongoing monitoring and adjusting. One supplier's price might rise, or you might find yourself paying more in freight from one quarter to the next. In any case, make sure you record these changes in your budgeting tool so that you'll have a sense of how these small fluctuations impact your ability to reach your profit targets.
Be Realistic and Flexible
As you comb through financial records, you'll get a sense of how much your company pays workers, utility companies, and vendors–and how those costs impact profitability. That said, you'll want to be prepared for some variability.
Your salespeople are working to increase sales by X% this year. What happens if you meet that goal? Exceed it? Will an uptick in sales mean you can take advantage of volume discounts from vendors?
On the flipside, you should also have an idea of what it might look like if you don't hit your sales targets. Let's say your per unit cost decreases by 15% for every 20% increase in sales, how much will you save if you see a 30% rise in sales? What happens if you see a 10% decrease in sales volume?
[bctt tweet="Your budget should contain enough information so that you can easily identify sales, expenses, and working capital and make a variety of forecasts based on different market conditions." username="procurementexpr"]
We recommend connecting your budget to your accounting software and your e-procurement solution so you can keep track of every dollar going in and out of your accounts.
Make Sure You Involve the Right Stakeholders
All staff with financial responsibilities should be part of the budget planning process. This means the procurement team, accounting, the CFO, CEO, operations, and sales all must join forces to share insights and tap into each group's unique knowledge.
You'll need estimated sales targets, as well as anticipated production costs, and a sense of how much materials will cost from office supplies to packaging, freight, and raw materials.
Each department will provide a piece of the overall budget, and combining these estimates with historical data will help you set a realistic budget. From there, with the right foundation in place, you'll be able to move forward and identify areas for growth and cost savings.
Using Budgets to Boost Performance
As mentioned, reviewing past budgets and actual numbers can be a great way to benchmark your financial performance and start thinking about spending as a strategy. Below, we'll discuss a couple of ways that you can use budgeting as a way to guarantee success.
Set Your Budget KPIs
If you want to boost your performance, you'll need to identify some key performance indicators or KPIs. Typically, you'd want to look at pricing, sales, and working capital, though the full list of metrics will depend on your company and its goals.
Here are a few examples of budget-related KPIs:
Revenue growth
Net profit margin
Growth profit margin
Operational cash flow
As you draft your budget, you'll want to make sure that the KPIs you choose follow a few key guidelines. This will ensure that you can easily measure your performance and compare it against the benchmark.
Must be measurable – KPIs should be easy to track and they should help you get a sense of how sales performance or procurement cost-savings have a direct impact on the bottom line.
Attached to a goal – Make sure you can tie each budget KPI to a specific business goal. Generally speaking, goals should be represented as a numeric figure.
Linked to a defined data source – Each metric should be linked to a clear data source.
Tracked on a regular basis – Make sure you're reporting on these metrics on a monthly basis if not more often. This will allow you to quickly identify issues that eat into cash flow or undermine your cost savings strategy.
Implement Controls
Aside from including all expenses and salaries and projected sales, managing a budget also requires implementing a few controls.
In ProcurementExpress.com, you can set maximum spending limits and approval chains that add a layer of protection against rogue spending. You can choose to make allowances for budget overruns and limit access to relevant stakeholders.
The benefit here is, once you've put your controls in place, you don't necessarily need to think about them much moving forward. Instead, you can focus on negotiating better terms with suppliers or choosing your subcontractors based on upcoming projects.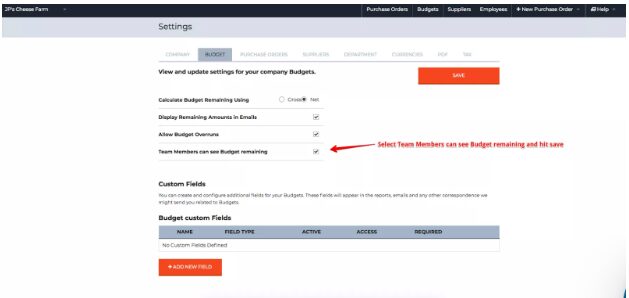 Manage the Company Budget with the Right Tools
After you've established the budget, it's vital that you monitor spending and expenses on an ongoing basis. On the organizational level, the budget serves as this guidepost for establishing sales quotas, dedicating resources toward marketing, and deciding whether now's the time to invest in new staff or gear up for that big expansion.
That's where ProcurementExpress.com steps in. We make budgeting easy by increasing visibility and directly linking purchasing to your budgets for real-time tracking. Book a demo or take the free trial for a whirl–either way, you'll quickly see that the budgeting tool offers a simple way to track spending and gain control over company finances.
[content_upgrade cu_id="4425″]Your Company Budget Checklist–Subscribe Here for Your Free Download[content_upgrade_button]Click Here[/content_upgrade_button][/content_upgrade]