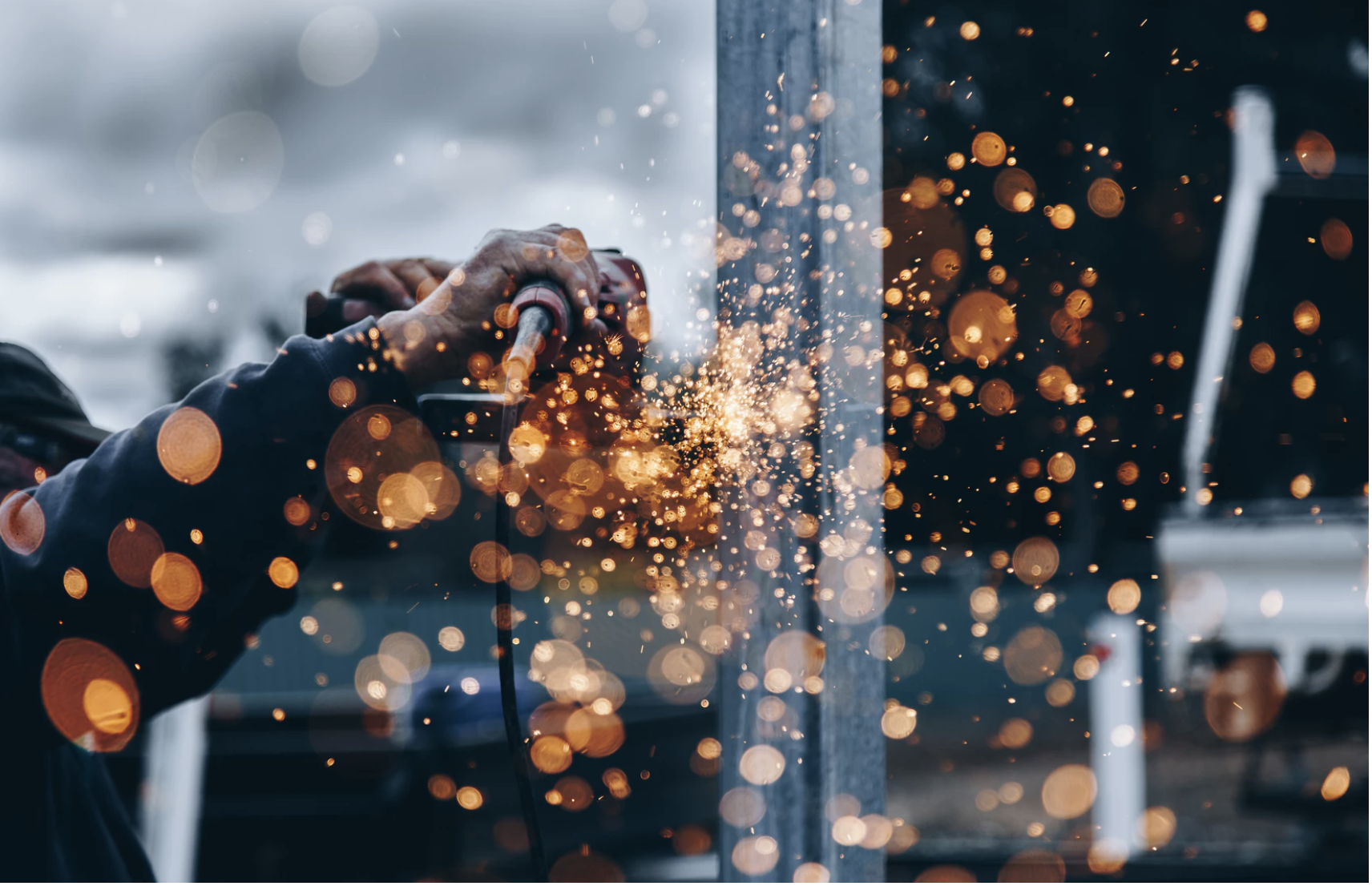 Construction companies face more cash flow challenges than just about any other industry. No two projects look the same, and even the best-prepared estimates give contractors and clients only a partial picture of the actual scope of work and the costs involved.
They manage multiple projects, purchase a large quantity of materials, and work with a variety of subcontractors and vendors.
While cash flow problems can come from several different sources, review the list below for three strategies that construction companies can use to improve their cash flow management process, thus freeing up more working capital and reducing those unpredictable highs and lows that have long been hallmarks of the biz. Let's take a look:
[content_upgrade cu_id="4502″] Free Download: 6 Forecasting Best Practices All Construction Teams Need to Know[content_upgrade_button]Click Here[/content_upgrade_button][/content_upgrade]
1. Embrace Automation
There's a lot to be said about the impact automation can have on processes like accounts payable, procurement, and more.
We've talked about this on, well, too many occasions to count. But, the point is, construction teams can benefit more than your average business services company from the latest cloud-based software.
Here are a few things to consider:
Store Records in the Cloud
We talk about this all the time, but it's worth repeating: cloud storage is essential for visibility, across the board. The benefits include improved collaboration and real-time insights into spending patterns.
Think about it this way: bringing your purchasing process into the cloud means you can check incoming orders against pending ones, cutting back on duplicates that hurt your bottom line.
On the accounting side, AP can quickly review pending orders and make notes in real-time, rather than circling back to ask a worker or a project manager for the context of an order placed months ago.
And finally, cloud-based record-keeping means that construction companies can make better predictions about how much to charge clients because all the data is right there–including vendor pricing, past estimates, and records of change orders. Armed with this information, guesswork becomes a thing of the past.
Automate P2P
Businesses that automate their P2P process stand to see some major improvements across the board, whether it's through improving vendor communications so AP can take advantage of rebates and discounts, or by automatically keeping track of order statuses.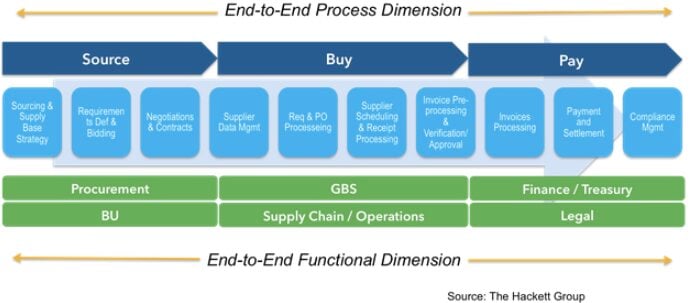 When construction companies bring an e-procurement system into the fold, it makes it easy to keep track of outgoing cash in real-time.
Approvers receive notifications any time a requisition comes in, and they can check that PO against what's still available in the budget.
Speed Up Receivables
Look, all invoices must be automated and sent out ASAP. This allows you to maximize cash flow without having to pay for additional software (well, unless you're mailing out paper invoices and waiting for checks to come in).
While the average time it takes to receive payments in construction is between 60 and 90 days, you can improve the speed of receivables by sending invoices immediately, offering incentives for early pay, adding clear payment terms into your contract, and running a thorough credit/reference check before closing a deal.
Make sure you ask customers for electronic billing, but double check with them regarding payment preferences.
Verify contact information and make sure you're sending invoices to the right person.
Process Change Orders Quickly
Most construction orders begin with a contract. This contract ensures that both you and your customer are accountable for the terms you agreed upon before the project began.
Unfortunately, projects inevitably hit unexpected snags. Bad weather adds delays to the timeline or causes unexpected damage. Or, the customer wants to make a change to what was initially discussed.
As you might imagine, change orders are incredibly common in the world of construction. The project manager should process a change order immediately, rather than waiting until a project is complete—or worse, failing to use them at all.
Change order forms are relatively straightforward and should include the following components:
A revised scope of work – this could mean less work or more, but usually, the customer is asking for something in addition to what has already been agreed upon.
Any price adjustments.
Modifications to the original contract including revised timelines, additional materials, and so on, with an outline reflecting the new scope of work.
Signatures from both the client and contractor.
The reason this is so important is the same reason that vendor contracts and purchase orders are important: you need to document everything in writing, or else you may run into some legal issues.
The point is that well-documented change orders allow construction companies to quickly collect on the complete amount owed—a benefit that will undoubtedly have a positive impact on cash flow.
Use Financing to Provide a Cushion
While financing comes with interest rates, it's a smart idea to pay for materials and supplies with credit, which can help you spread out payments and leave more cash on hand for paying employees and other business expenditures.
2. Tighten Up Controls
In construction, the old adage that "the only constant is change" best sums up the state of the industry. With this unpredictability, it makes little sense to treat budgets like binding, unchangeable forces within your business model.
With that said, you need to make sure you have a set process and rules in place that help you manage your budget with ease. We recommend creating a budget for every project on the books and tracking purchases against the pre-determined budget.
Beyond creating budgets, here are a few more ways you can improve cash flow by adding more control to your purchasing process:
Set Approval Flows
Approval flows help construction contractors improve cash flow by adding a layer of protection against human error, duplicate orders, unapproved spending, and more.
Workers can put in a requisition as needed, instead of making a note and forgetting about it or calling someone in the office. Project managers can receive requisitions at any time—whether they're on the move or in the office—and they will get an automatic notification as soon as someone creates a PO. Approval is as simple a single click.
Improve the Vendor Management Process
Managing your cash flow isn't just about managing project expectations and creating budgets; it's also about managing vendor relationships and closely monitoring performance and quality.
We've found that keeping a short list of approved vendors makes it easier for companies to take advantage of bundling discounts, bulk pricing, rebates, and potentially even longer payment terms.
Our system allows you to store vendor documents—like contracts, pricing, and freight arrangements—to a cloud-based storage system.
It's also worth noting that if you're having cash flow problems during specific times of the month or year, you may be able to improve your situation by negotiating new payment dates with your suppliers. This will allow you to schedule outgoing payments based on when your own clients pay you.
In construction, this may be tricky, especially if you have to manage new business contracts on a regular basis, since you may not be certain about whether you'll receive your payments on time or if the project will go as planned.
To help manage cash flow, even when things get a bit unpredictable, aim to make changes that allow for net 60 terms versus net 30.
Track Staff Hours
No matter how many people are on your team, salaried or unsalaried, you need to gain a complete understanding of how time is being used in order to understand how profitable your clients are.
Unfortunately, many firms don't closely track staff hours, which makes it hard to give clients an accurate estimate of how much time is being allocated toward a project. This can result in excessive change orders or inaccurate estimates, which make it hard to meet client expectations.
Tracking staff time is essential for budgeting as you'll begin to learn more about what makes a client profitable. It will also enable you to make adjustments based on how long things actually take as opposed to how long you think they should take.
3. Level Up Your Forecasting Skills
This last section looks closely at some of the ways you can start looking toward market trends and historical data to make smarter decisions about project planning and future investments. It will even help with seemingly smaller details like timing your outgoing payments so you're not taking big hits to your cash flow all at once.
Get to Know the Cash Flow Report
Reviewing balance sheets and income statements are very important, but it's also important that you spend time reviewing your cash flow report, looking out for patterns that reveal where the bulk of your liquid assets are flowing on a monthly, quarterly, or longer-term basis.
Most accounting programs will come with a cash flow report that looks something like this: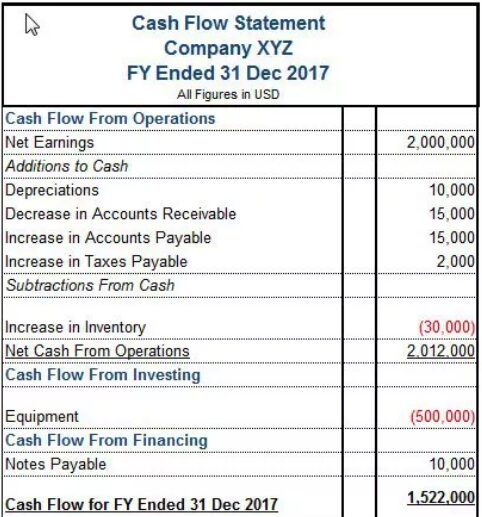 The nice thing about cash flow reporting is that it gives you a starting point for identifying any problem areas. From there, you can say, "oh, we really spent a lot this month on inventory," then dive in to see if that was due to new work on the books, or if there were some missed opportunities to save money.
Use Reports to Inform Budgeting
Look back at past records to paint a clear picture of how much you can expect each project will cost. Time-tracking reports will give you a sense of how long a project should take, and whether you'll need to hire outside contractors for a particular job.
Cash flow reports provide a breakdown of organizational spending, while purchase order histories can give you a sense of what you can expect to spend with each vendor based on the scope of work estimated for upcoming projects.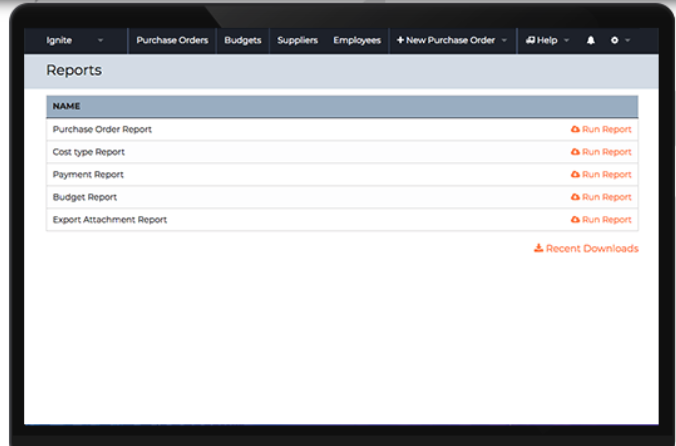 Our system allows teams to review budget, POs, cost type, and payment reports, and they can be integrated with accounting tools like Xero and Quickbooks to bring your standard accounting reports into the fold, too. These tools give companies the insight needed for better estimation and budgeting.
Get Project Management on the Case
In construction, it's likely that most of your incoming cash comes from works in progress, which means that cash flow performance is closely linked to the project manager's ability to manage a budget.
Be sure you train PMs to monitor cash flow performance and equip them with the tools they need. For example, ProcurementExpress.com comes with a handful of features that can help: these include custom approval flows and approved vendor lists, which we've mentioned above, as well as spend allocation.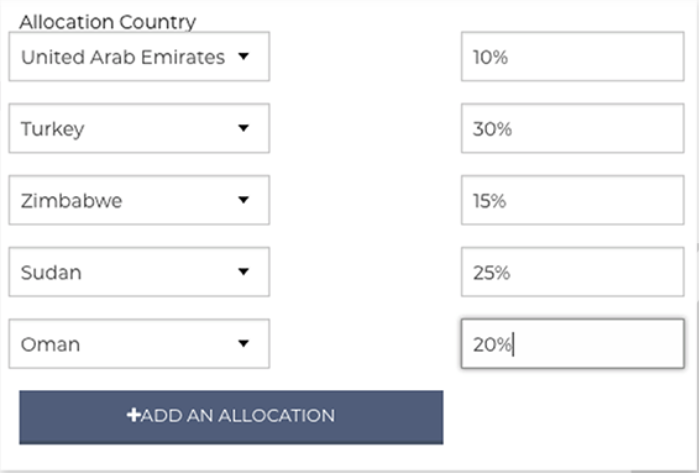 In the example we've included here, you'll notice that the user has broken allocation down by country. In construction, you can use this feature to break down allocation by project or by job site, with a percentage of your total budget allocated to each project in progress.
The second piece of this process involves parsing out budgets within projects. You can customize these to your business, with approval responsibilities tied back to the project manager who can review incoming orders based on the remaining budget for each project.
Wrapping Up
Cash flow management is especially challenging in an industry where no two projects are the same, and you're juggling many people and parts.
Together, these strategies outlined above allow construction companies to improve their cash flow for the long term, setting the tone for future success and more control over budgets, more accurate estimations, and most importantly, a clearer picture of how much money is in the bank at any given moment.
Some of these steps should be done well in advance during the planning process, while others require ongoing effort over the course of a project.
Technology is at the center of modern cash flow management. Send POs from any job site in a matter of clicks. Tie budgets to specific projects. Keep track of vendors and orders. Do it all on the go. Book a demo of ProcurementExpress.com to give your construction business the insights needed to thrive.
[content_upgrade cu_id="4502″] 6 Forecasting Best Practices All Construction Teams Need to Know–Click here for your free copy.[content_upgrade_button]Click Here[/content_upgrade_button][/content_upgrade]