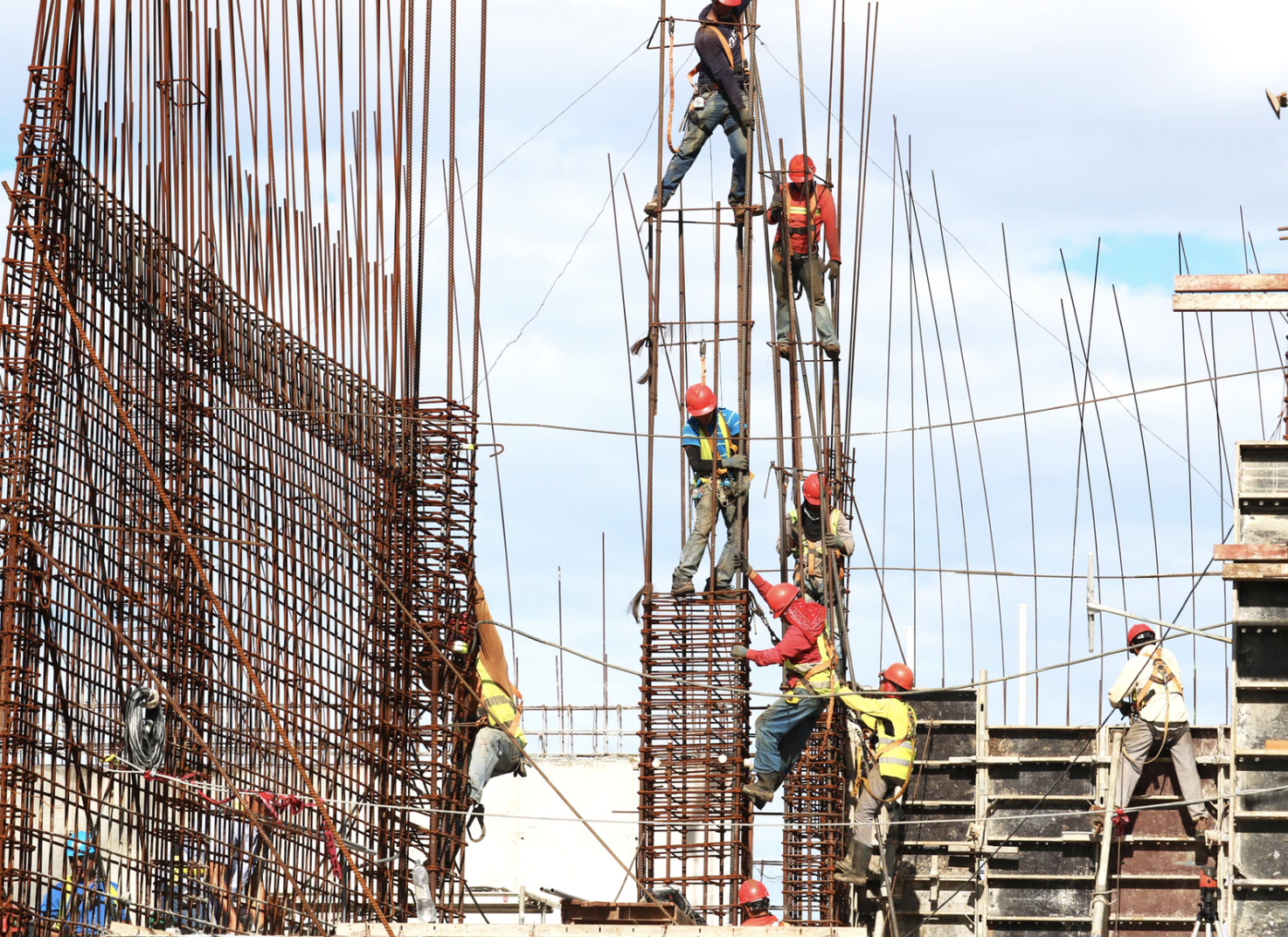 Construction daily reports are a vital part of managing construction projects. They provide an ongoing record of incidents, conditions, and the full range of tasks related to a project in progress.
The benefits of daily reports are undeniable. These documents contain a wealth of information, providing insights that can inform future contracts, estimates, and inventory management.
The problem is that supers and project managers often skip out on daily reporting or breeze through the steps. And it's not like we can blame them. Reports require a high level of detail to be useful, making this a time-consuming, tedious process for busy superintendents.
[content_upgrade cu_id="4553″]Free Download: What to Include in a Daily Report Template[content_upgrade_button]Click Here[/content_upgrade_button][/content_upgrade]
Why Do Construction Daily Reports Matter?
Roughly 75% of commercial construction projects blow past the pre-determined budget, and somewhere around 90% of projects are delayed. Reports bring some accountability into the fold, helping people identify the "why" behind overruns and delays.
Teams rely on reports to track their progress and keep stakeholders in the loop regarding which factors impact deadlines and expenses. This allows off-site personnel and clients to gain a clear understanding of a project, without ever stepping foot on the job site.
Reports also allow incoming subcontractors to gain an understanding of how the project has been going thus far–and ideally, it should paint a clear picture of progress, so anyone can come in, join the team, and start work right away.
Compare Contract Terms to What Actually Happens on the Job Site
You might assume the most important piece of construction documentation is the signed contract that guarantees payment and outlines milestones, materials, the proposed budget, and timeline.
Sure, contracts are an important piece of the puzzle, but they're also based on what you think will happen.
The daily construction report provides all key stakeholders–both on the client and contractor side–with a rundown of what's happening on-site and how it directly impacts your team's ability to deliver on the contract terms.
It's worth mentioning that construction daily reports can deviate from the terms laid out in the contract. For example, a contract might include deadlines that might not be especially realistic after that surprise rainfall. Maybe you'll need to purchase some unexpected materials and the wait time is causing a delay.
Here's an example of how you might record some of these factors. It's simple enough that supers can complete the report quickly, but it also allows for more detail if needed.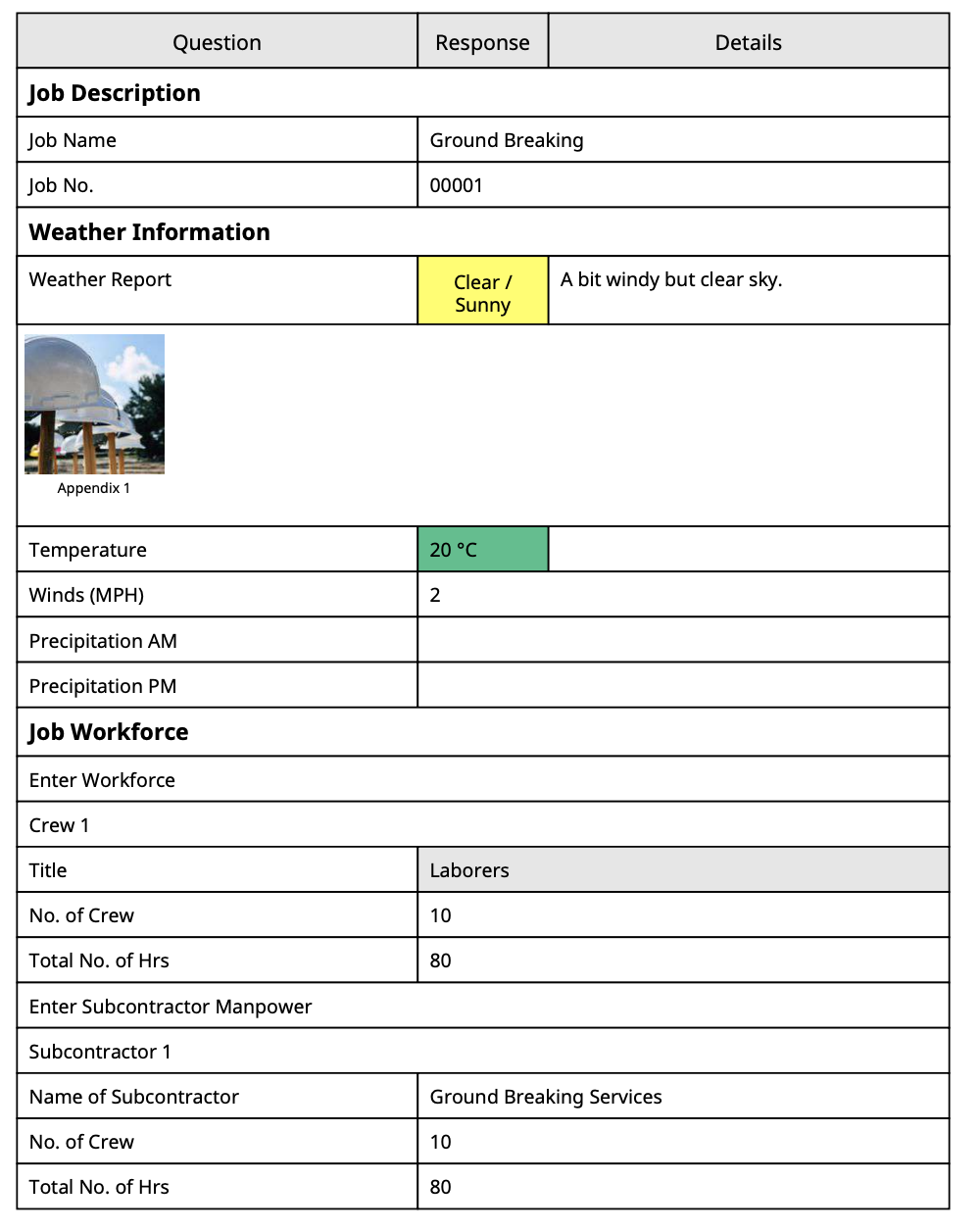 Allow Teams to Adopt a Data-Driven Strategy
Construction companies need all the help they can get when it comes to making decisions that impact cash flow and budgeting. Your daily construction reports offer an opportunity to collect data about how resources are being used, with close to real-time updates.
To ensure accuracy, you'll want to make sure that your daily report template doesn't leave too much room for irrelevant data. This reporting template provides plenty of space to record unstructured comments about the project, but it's not the most efficient approach.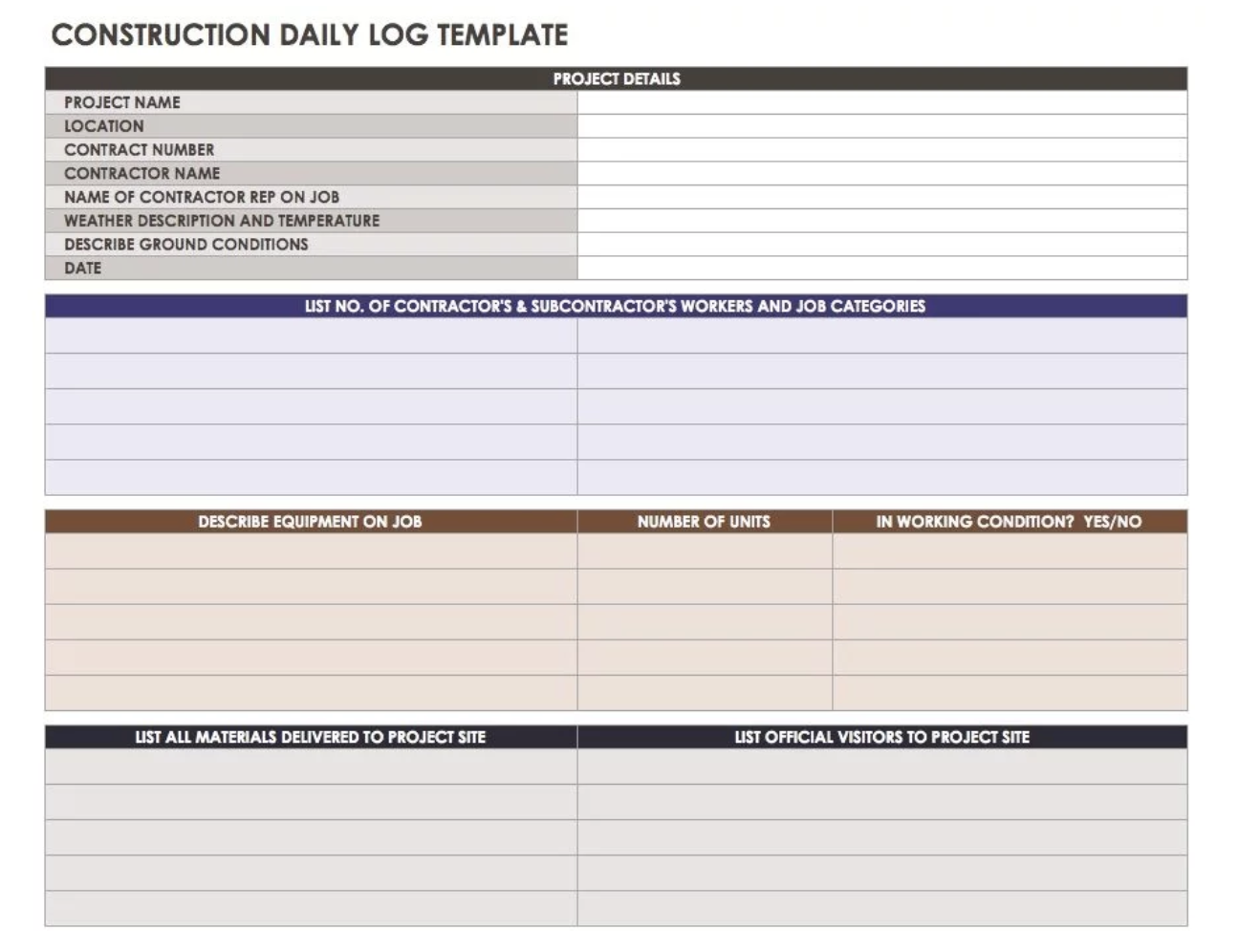 By contrast, something like this could streamline the process.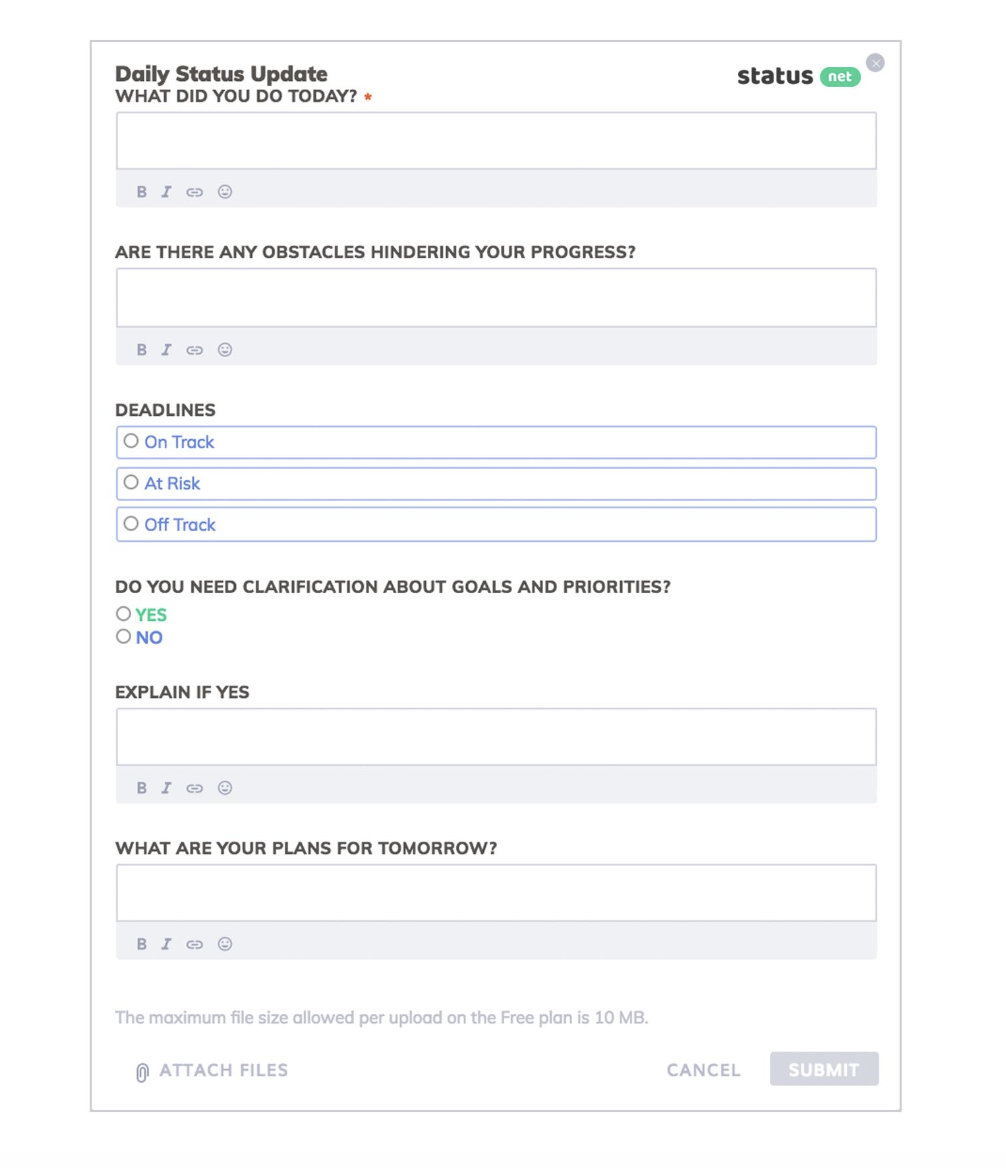 The second example isn't necessarily construction-specific, but we like how it offers some multiple-choice fields, requiring the note-taker to add comments only if something veers off course.
What Should You Include in a Construction Daily Report?
What you decide to record in your daily construction report will vary based on your business goals and the types of projects you take on. One of the most important things to keep in mind here is that whatever metrics you choose, they must be based on a clearly defined purpose and set of objectives.
Still, most construction companies record the following information to track progress:
Date and Weather Conditions
Every report should include the date work was performed and the weather conditions.
Dates will help project managers find and organize project information, as well as help them identify patterns and trends.
You'll also want to take note of any weather and temperature conditions. This adds some contextual information for stakeholders who weren't at the job site that day, explaining delays caused by rain or extreme temperatures that prevent work from getting done.
Project Information
This includes things like milestones and due dates, pending orders, and the set of tasks that need to get done. Consider this field a general overview of what's happening at the site. Additionally, you'll want to take note of whether the job site condition is good, fair, or poor. This will highlight any potential safety risks.
Work Performed that Day
How many hours of work were performed, and how does that compare with the tasks completed? Tracking who worked that day and how long it took for them to complete a task allows stakeholders to set accurate labor estimates for future projects and to make sure that subcontractors are working efficiently.
Additionally, tracking work performed can prevent instances of contractors inflating the number of hours worked, thus helping construction companies avoid overpaying for labor.
Materials Received
Were orders received? Are there pending shipments holding up the project? You may also want to record any information related to inventory management. Do you anticipate you'll need to place an order to complete the job?
Incidents
Make sure that any incidents–like injuries, damage, or stolen materials–are recorded in detail. Include photos and the names of any involved parties. This is especially important as you may need to access this document in the event of any legal action.
Comments
You'll also want to include some space for free-form comments, allowing supers and project managers to add anything of note that's not already covered by the categories outlined above.
This might include any disruptions or delays toward progress, or other relevant observations with the option to upload photos.
Where Technology Can Drive Change
Daily reports must provide an accurate account of the day's happenings. As such, reporting needs to be done in real-time. It's too difficult for most people to wait until the end of the day to document everything that happened.
If you want your supers to deliver, then make things easy on them. Provide them will digital tools that make note-taking a breeze.
Any solution you choose should come with the following features:
Real-Time Updates
One simple thing that can really transform the reporting process is a system for real-time updates. This allows for greater transparency and accuracy, as stakeholders can access information from the job site right then and there.
For on-site workers, real-time updates eliminate the need to prepare reports for leadership and may even reduce meetings by making information readily accessible to all relevant parties.
Automatic Organization
In the case of an audit, a dispute, or a negotiation, you may need to pull up information about something that happened on a particular day.
This process can be a tremendous waste of time if your reports aren't properly organized.
Simply including a date on the top of each report isn't enough. You'll also need to make sure that all reports are automatically added to a searchable, central database. Benefits include improved decision-making, ease of use, and a reduction in double entry and manual inputs.
Collaboration Tools
Reporting tools should also make collaboration as easy as possible. Cloud-based technologies and real-time updates make this possible, ensuring that information reaches relevant stakeholders, no matter where they are.
This increased visibility allows for decision-making on the fly, which can help leaders to mitigate risks of overages or major delays.
Bottom Line
Daily reports can be a pain for construction teams, but they're an essential tool that allows you to deliver better outcomes to your clients.
Digitizing the process gives teams the ability to deliver more accurate estimates, improve the forecasting process, and save money. While you can't fully automate the reporting process, making things easier on your team will breed higher adoption rates.
The bottom line: the teams that know the most about daily operations will make better business decisions–which, of course, means more money and more control over your budget.
To learn more about how ProcurementExpress.com can help construction teams improve reporting, ordering, and document storage, take a look at our testimonials.
[content_upgrade cu_id="4553″]Free Checklist: What to Include in a Daily Report Template[content_upgrade_button]Click Here[/content_upgrade_button][/content_upgrade]
Get Top Rated Purchasing Software & Replace The Purchasing Book.