Simple Purchase Order Creation
The days of using a purchase order book or excel to manage purchasing are over. Team members can easily create a purchase request in minutes with our intuitive interface.
Status reports
Track spending across all departments and budgets at any time.
Integrate with your favourite apps
Synchronize your purchasing data with your accountancy package and many of your favourite applications. No more manual inputs or lost paperwork. Everything stored in one place and kept up to date.
Offline Functionality
Remote teams can create purchase requests on the fly, even when they are out of coverage.
Fast Purchasing Approvals
Managers can comment, approve or reject on purchase requests straight from their inbox - without logging into the app! Set-up approval limits for multi-level approvals.
Supplier management
Allow suppliers to upload invoices and view all of their orders directly in the app.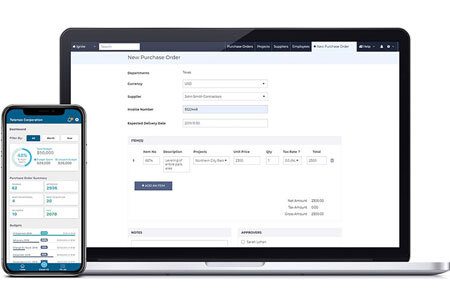 Manage purchasing from any device
It's never been easier to handle every stage of the procurement process. You'll have the ability to send and approve POs at any time, from anywhere, using the beautifully-designed iOS, Android and web apps. Revolutionize the way your organization manages purchasing.
Simple. Powerful. Fast.
Gain total control over company spending while saving annually
Recent Awards
We've already won three "Best in Category" Awards in 2020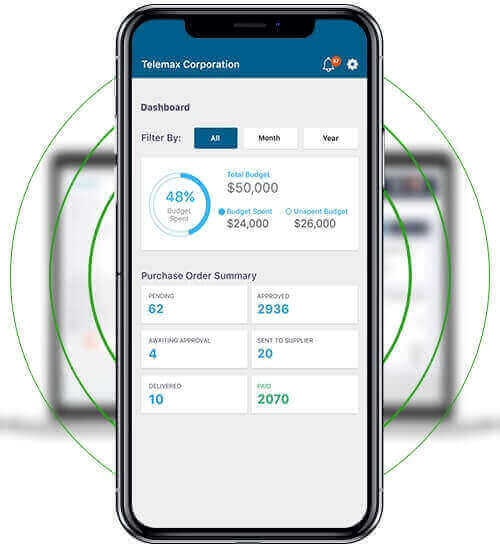 Keep All Your Documents In One Place
Upload invoices, documents, photos, PDFs and more to purchase orders, so you never have to keep a local file copy again.
Integrated with Zapier
Connect ProcurementExpress.com to 1000's of apps and tools with Zapier.com
Award-winning Support
'Online Chat Support- It is great that the support team is always active and replies instantly. They are experts and solve problems very quickly' - Gaurav P.
What Our Customers Say
350+ (4.7/5 star) reviews on Capterra.
So easy for everyone, even the technically challenged!! ProcurementExpress.com is AWESOME. The company, the support, the program. I can't say enough.
It is super easy to raise a purchase order which is allocated to a budget. The templates are editable so you can get your company branding on there. We needed a simple solution for our on-site employees, and it is working well!
It's one of the greatest programs ... I can run reports off everything I've created. Allowing me to check if it's been done yet or not.
Using ProcurementExpress.com is a breeze compared to products that I have used in the past. Easy to use on a variety of platforms. Extremely user friendly and easy to train employees on the system.
How it organizes each account and keeps me balanced. I am able to look in to see what we spend in each category
I would recommend ProcurementExpress.com, as the best that I have come across in +30 years of working for 10 or so different organisations.
Frequently Asked Questions
Can I bulk import my staff and budgets?
Yes, but there's no need. Our team will do it all for you. Just give us your information in a spreadsheet and we'll handle the rest!
We need custom purchase orders. Can your purchase order software handle our needs?
You can add, remove or change as many fields as you want on your purchase orders. Give us a call and we'll set it all up for you.
Gain Total Control Over Purchasing
Get started with a 7-day free trial - no credit card required.